Château Guiraud showcases an escape from the world where honeybees buzz from flower to flower, birds sing a song as you stroll under the canopy of the plane trees and the sweet scents of Sauternes fill the air. The emphasis of an authentic experience identifies the reasoning behind their recent winning of the Global Best Of Wine Tourism Award.
An experience like no other
A visit to the region can lead to endless fun filled activities and experiences including a visit to see the Ciron, the mysterious hot spot valley with biodiversity at the origin of its wines. Clementine castles like Cazeneuve sit on the slopes of this river, exposing visitors to the authenticity, history and natural beauty of Sauternes.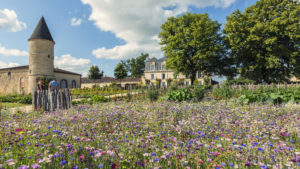 The estate not only produce great quality wines, but further create an exceptional experience surrounding them. A tasting involves more than just a glass. It involves an informative teaching, a sensory experience where staff taste with you and a pairing of local dishes at the restaurant La Chapelle. Soon visitors will be able to experience it all with a stay at Château Guiraud, as they await the opening of their hotel.
Experience a wave of emotions as you dive into the region and its wine history, allowing you to apprehend this symbiosis with natural elements such as sky, earth, sun etc.
Sustainability is the core of Château Guiraud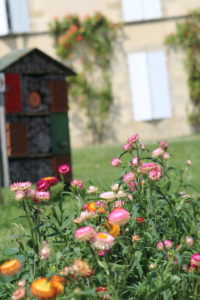 With 100 hectares of vineyards, Château Guiraud commit to the organic farming of Guiraud and permaculture. Sustainability is at the core of Château Guiraud, which is evidently shown through their sustainable services offering short circuits, locally sourced produce and the use of local service providers.
In addition to practicing organic production, Château Guiraud promote biodiversity through two insect hotels located around their organic gardens. The insect hotels, the hedges, the pools, the beehives and the vines themselves are all havens for the insects that are essential to keeping Château Guiraud pest free.
Taste the flavours of Bordeaux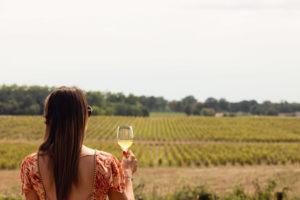 Château Guiraud became the first 1855 Classified First Growth estate to open an on-site restaurant called "La Chapelle". Enhance your experience with a terroir-inspired gourmet meal in the setting of a former 18th century protestant chapel. Local and organic produce is found both on the plate and in the glass, igniting the feeling of home and enhancing the true gourmet experience! While you indulge in the flavours of Bordeaux, you can enjoy the beautiful sights of the vineyard and the Château, making the moment one not to miss.
No matter the day or the season, you'll be presented with unbeatable landscapes, authentic wines and delectable local dishes. It's a destination made to leave you feeling different.
Château Guiraud & Studio Tonneli Photos Credits