Bodegas Roda in Haro has sustainability in its DNA.  Since its founding in 1987, the winery has carried out several R&D projects that emphasise sustainable practices in its vineyards, its winemaking processes and for the production of energy.
One of the most recent, Ship2Fair, "aims to foster the integration of solar heat in the industrial processes of the agro-food industry."
The Ship2Fair project earned Roda a 2022 'Best Of Wine Tourism' award for Sustainable Wine Tourism Practices from the Great Wine Capitals Global Network.
Agustin Santolaya, Roda's managing director recently told Haro Digital, a local news website, "We were already very sustainable in our winemaking processes, but we had to take a step forward with the generation of energy."
Using vacuum tubes to harvest solar energy
The energy generation process begins on the roof of the winery where several rows of vacuum tubes absorb solar energy.  When asked why the winery doesn't use solar panels, Vega Angulo, the head of Roda's enological laboratory, explained that vacuum tubes are more efficient at capturing solar energy because the sun always strikes at the right angle and are more energy efficient. The vacuum tubes are cold to the touch even though the water inside is hot. The positioning of a solar panel is not  as efficient because the sun's rays strike the panel at different angles throughout the day.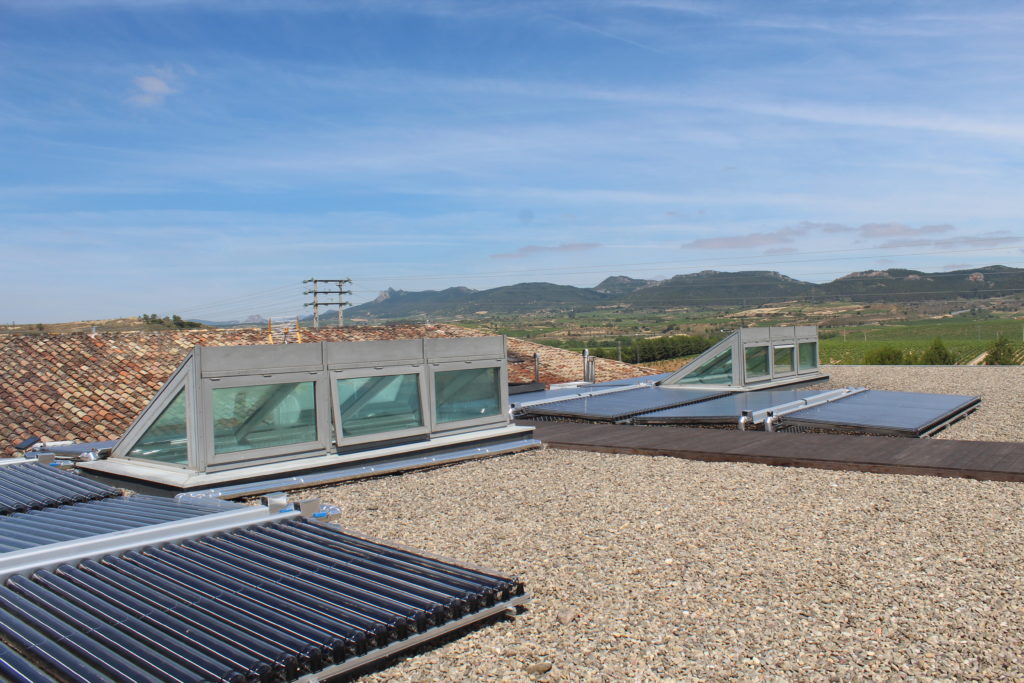 Water circulating through the tubes at 70ºC (158ºF) is used to heat the winery as well as for several winemaking processes including warming fermentation vats if necessary and for heating the malolactic fermentation cellar. Hot water that is left over is cooled to 7ºC (44.6ºF) by means of a system of absorption.  This water is used to cool down fermentation and storage tanks, the barrel ageing cellars and the winery offices during the hot summer months.
Another use of both hot and cold water is to remove excess moisture from the air of Roda's 19th century underground barrel ageing cellar.  Santolaya says that the drier air inside the cellar stimulates the ageing process of wines in the cellar.
All these processes are explained to tourists who visit the winery.
Keyline planting following the topography of a vineyard – a doubly sustainable process
The latest project is underway at Roda's vineyard on a hill overlooking the village of Cellorigo on the high western slopes of Rioja Alta.  The vines are planted following the topography of the hill rather than in a straight line. The "keyline" or "hill line" method of planting is meant to lessen the runoff of water and soil erosion.  Managing Director Agustín Santolaya says that this method of planting "will produce three harvests – grapes, water and soil."
This is sustainability at its best.
Tom Perry, Inside Rioja
Photo credits:  Bodegas Roda