Owners of Chateau Venus, Emmanuelle and Bertrand Amart, have two passions, wine and flying, and they are more than happy to share both with you.
They are both from Bordeaux wine families, originally from the Medoc and the right bank so it seems appropriate that they are now established in the Graves, often seen as an elegant marriage between the power of the Medoc and the elegance of Saint Emilion.
They met in Saint Emilion while studying wine and, after travelling to wine regions in the US and Australia, they decided to return to Bordeaux to put their new found knowledge to good use. In 2005, they bought four hectares of vines near Illats in the Southern Graves, close to Sauternes. They created a brand new identify for this small vineyard: Château Venus,
They now farm nine hectares in total, making the wine in a brand new, purpose-built cellar. As well as Chateau Venus, they also produce a small Cuvée Apollon, fermented and aged in oak and a second wine Les Délices d'Apollon. The red wines are a blend of Merlot and Cabernet Sauvignon and the tiny production of white is the classic Bordeaux blend of Sémillon and Sauvignon Blanc grapes.
They welcome guests to the vineyard and cellar to discover and taste the wines, but the wine is not all they have to share.
Their other passion is flying. As well as a wine maker, Bertrand is also a qualified pilot. The new definition of a 'Flying Winemaker'. Along with two other local pilots he has created an offer of seven different flight itineraries over the vineyards of Bordeaux. These include the neighbouring vineyards of Sauternes, Graves and Pessac Léognan but they will fly as far as Saint Emilion to the East or to the coast over the 'Bassin d'Arcachon' to the West. You can also ask to fly over the historical monuments of the region – of which there are many and they can also create a tailor made itinerary for you, flying over your favourite Bordeaux properties.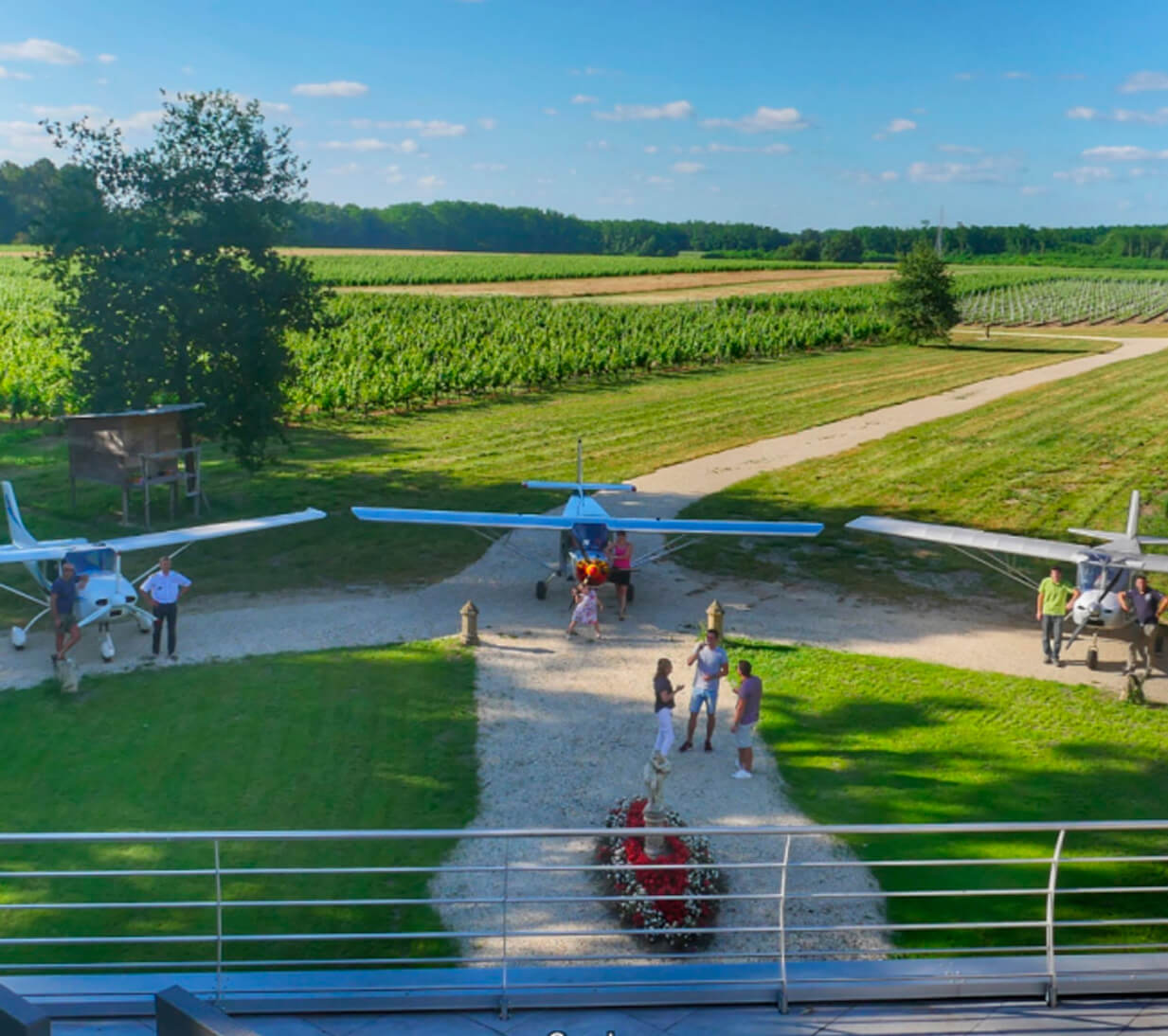 You take off from their runway at the Chateau. Seeing the vineyards of Bordeaux from above is a great way to understand the lay of the land and how the great mosaic of the vineyards of Bordeaux works. From the air you can start to understand the diversity of Bordeaux and why the region produces such a range of appellations and wine styles.
They have teamed up with neighbouring classified monument and wine producer, Château de Cérons, also a Best Of Wine Tourism winner. They offer a unique flight over this beautiful Chateau, a classified monument. Once you are back on terra firma you can taste a range of wines from each of the properties including the unique Sweet Whites of Cérons. You could even stay over at Château de Cérons for a picnic in the grounds.