The project
Sally studied WSET courses and decided that if she were to get serious about wine, she needed to get her hands in the soil and her arms around the barrels. So, in 2015, she signed the contract to buy what has become Château George 7 in Beautiful Fronsac on the right bank of Bordeaux.
First, she started with a small house, empty winery and tractor barn in a parcel of 35-year-old vines in the heart of the Fronsac appellation.  In 2017, Château George 7 was born.
Then, she took over the working of the 3 hectares of vines (although frost put paid to any real harvest from 2017) and the winery was ready for her first full vintage in 2018.
In renovating the relatively recent and modest buildings she wanted to differentiate herself from 7th generation, wine dynasties with historic châteaux that surround her. Her mission is to blend the best of the heritage and tradition of Bordeaux with a touch of modern innovation, for wine that is using technology and forward-looking wine-making approaches.
The experience
Regarding the tasting room Sally's reached further afield for ideas. Travelling through other wine countries (South Africa, New Zealand, etc..) she was inspired by the customer experience there. Therefore, she wanted to create a similar experience for visitors to Château George 7.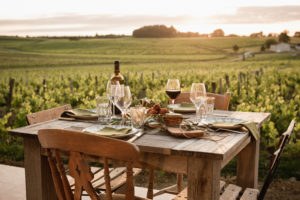 Now, her boutique winery and tasting room welcomes guests helping them to discover the region and her wines. She offers tastings, home-made lunch or private dinners. The terrace overlooking over the vines is the perfect place for a sunset tasting.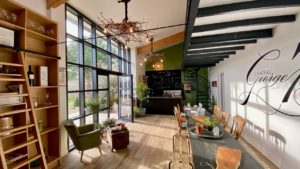 Also, the importance she accords to sustainability in the vineyard runs through the decoration and furnishing of the tasting room. Renovated original harvester furniture and the lights made from vines. The atmosphere reflects her holistic approach to sustainability,  that visitors are really interested in learning more about.
The person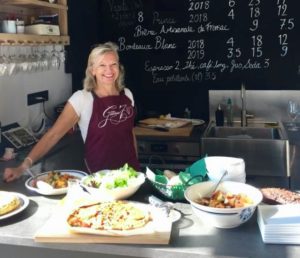 Moreover, Sally loves being in touch with the end consumer. Building a relationship with them and of course selling them wine. She welcomes visitors personally, sharing her passion for this new adventure, a passion that people really seem to relate to.
She is thrilled this unique take has been recognised by Great Wine Capitals in awarding her Gold in the Architecture and Landscapes category of the Best Of Wine Tourism awards.
Sally likes to think that she is adding to the diversity and richness in Bordeaux. From the wines she makes to the wine experiences she offers. I couldn't agree more.
Learn more about Château Georges 7 there: #BOWT Chateau Georges 7
Photo credits ©Château George 7 
 by Wendy Narby