Antónia Adelaide Ferreira was an iconic figure from winegrower Douro, mostly in the Port wine production. She was a woman that lived from Douro and lived towards Douro, she helped that region to develop and modernize and whom, even during the big misery that was phylloxera, never gave up, she kept fighting for Douro, "her" Douro.
These Ferreira Cellars in Vila Nova de Gaia are not only the representation of her legacy but the best tribute that can be paid to her, with that incredible location near the river she loved so much. They were built on top of an old convent, with those big granite walls, the ground lined with the walls, huge corridors, now full of old wood barrels, of several dimension, where different types of Port wine rest and age. Aided by that silence, that smooth shade, the minor temperature fluctuation and constant humidity, that will join them over the years, until they are bottled and drunk. There are old wood casks, even very old, of different sizes, from the old barrels, that were brought down from Douro in the traditional "rabelo" boats, till the huge tunnels and vats, that sometimes keep some tens of thousands liters of Port wine, that can be appreciated by the visitors of these traditional cellars, in the various visit types available.
Ferreira is a brand that was always kept, until now, in the hands of Portuguese owners and that has been more and more known and respected, producing some of the best Port wines in Portugal, that are also exported to important international markets.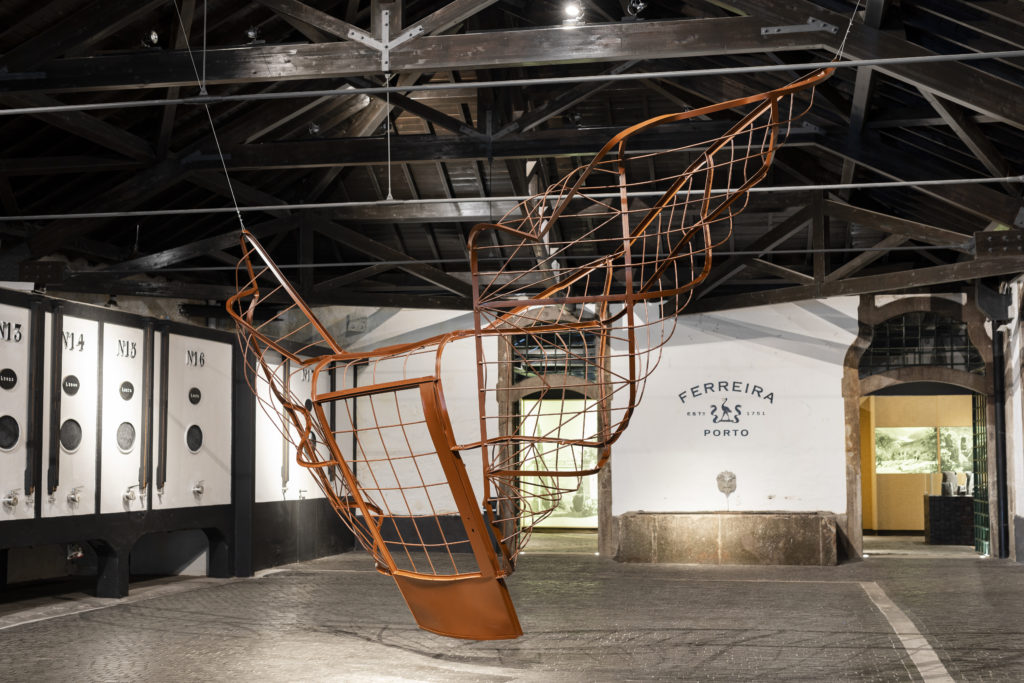 Visiting Ferreira Cellars, is to dive in the Port wine history and to know deeply all the story of this remarkable woman that was D. Antónia Ferreira, affectionately known by Ferreirinha. All the architecture of those huge facilities was kept, from the floors till the big walls, going through the immense ceilings also in very old woodwork. There, everything takes us 250 years back when, in 1751, a traditional Douro family created this Port wine brand, that lasts, intact, until now.
Right in the entry, we are conquered by the breathtaking dimension of the space and its accurate preservation. There is a small museum, so that we can dive in the history of Ferreira and appreciate the amazing path of this woman. There is also a private cellar, with restricted access, where jewelry of the house lays, with vintage Ports dating back to 1815.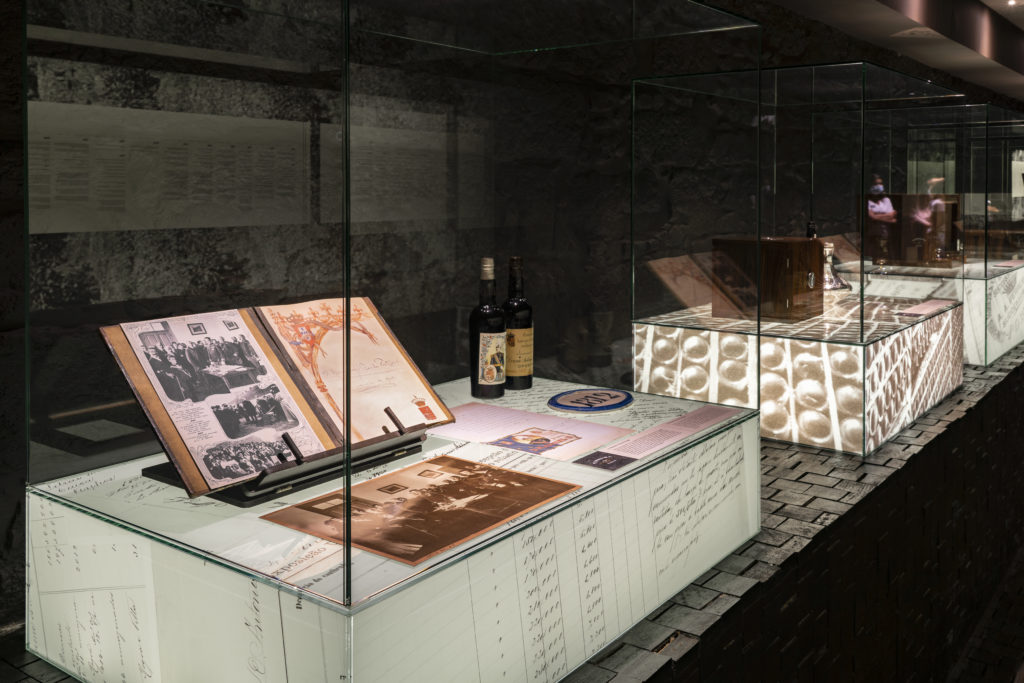 Then it is a delicious tour through this immense galleries, appreciating the dimension of the permanent Port wine stock, in all its typologies. We keep going up, always with the company of barrels and vats, where activity never stops, be it to receive more wine that comes from Douro, be it to do wine racking or to prepare wine bottling, throughout the year. Arriving upstairs, there are also some very old pieces that belonged to the wine production, reminding old times, and a lot of photos that represent the history of this secular house.
Now we miss something very important to complete a visit to Ferreira, the Port wine tasting. We cross the street and, on the other side, is the tasting room. A large room with all conditions, is where they will present us with some possibilities of Ferreira Port wine tastings.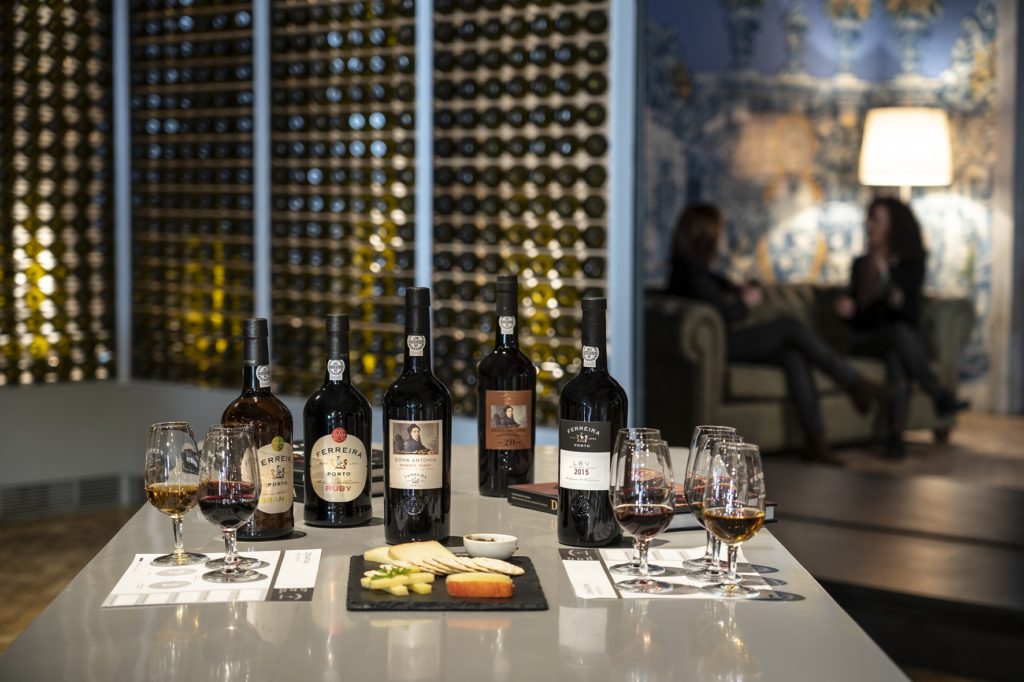 We can start with white Port, more and more popular, dry, fresh and young, very enjoyable, always served at the correct temperature. It is with this type of Port wine that they prepare tonic Port, adding to white Port wine, tonic water, ice, lemon and sometimes some mint leaves. A simple but very fresh cocktail.
Next is a White 10 Years Old Port, a type of Port that appeared later, but already a great success. Ferreira´s Old White is remarkable, great complexity, very fresh, with acidity strongly present, balancing the whole wine. Tawnies are required, and 10 Years Old Tawny is amazing, still with a lot of freshness, but also with those delicious dry fruit aromas, that will reveal much more intense in the mouth, leaving a wonderful end.
At last, tasting Ferreira Vintage 2018 is, by itself, a unique experience. Not only because it is an outstanding Port wine, but also because it was one of Ferreira´s Port that got the highest score from the famous north American wine magazine Wine Enthusiast – 100 points.
It is a perfect Vintage from an extraordinary year. Dense, a lot of red fruit, powerful, spicy, still very young, continuing to evolve, sometimes surprising, almost a masterpiece!
In 1988 Ferreira company created prize Dona Antónia Adelaide Ferreira, to recognize, every year, successful portuguese women, doing justice to the trajectory of this great woman.
With a glass of Ferreira Port wine, lets toast to te memory of Ferreirinha…
Learn more
Ferreira Cellars : Website
2022 Regional Winner – Caves Ferreira
Text by José Silva
Photos by Caves Ferreira