Easily accessible by car – just 30 minutes from the UNESCO city of Valparaiso and less than an hour from the capital, Santiago – the winery draws on 150 years of winemaking tradition to inspire visitors with the flavours, colours and aromas of the Casablanca Valley wine region. As well as producing celebrated wines, its active community-building and planet-nurturing focus earned it a coveted Great Wine Capitals Global Best Of Wine Tourism Award for sustainable wine and tourism practices.

Sparkling wines, views and gastronomy
Sparkling white wines are a speciality at Casa Valle Viñamar and each guest is welcomed with a complementary glass on arrival. They produce almost a dozen different styles which visitors can sip from inside the impressively large, white Venetian-style house which offers stunning views of the vines and scenery beyond.
The winery is named after one of Chile's most prized sparkling wine brands, and the Casablanca Valley's cool coastal climate and rich soils are perfect for growing the Chardonnay, Pinot Noir and Sauvignon Blanc found on the 98-hectare vineyard. Sparkling wine tastings are not common, and Experience Manager, Carolina Azócar, says the winery uses this to its advantage.
"Here, we have very specialised sparkling wine tastings which is often an interesting and new experience for wine lovers. 'Casa Valle Viñamar' is born from the renowned brand of sparkling wines – Viñamar – known for its range of sparkling wines that are a favourite among Chileans" Carolina said.

The winery's experiences are designed to inform and showcase the wines, food and spirit of the Casablanca Valley. The ultra-premium tour and tasting, includes a tour of the vineyard and underground cellar, and "Game of Senses" experiences are both popular. Those seeking the ultimate immersive experience can try the "Trip through Casablanca" 4-course lunch in the Macerado Bistró vineyard restaurant, which pairs wines with elegant dishes made from fresh local produce.
"We gain new fans every day! They love our culinary experiences, where you get to try new local flavours and preparations with our experiences that tell a story. We also receive lots of compliments on our service; we put extra attention to the details" Carolina said.
"We want people to fall in love with our wines, the valley and Chile as much as we do! We always have in mind that the visitors give up their free time to visit us, so we feel the responsibility of entertaining them and making their day and their time enjoyable and hopefully memorable" she said.
For an extra dimension, visitors can listen to the Casa Valle Viñamar's Spotify playlist.
Celebrating the spirit of sustainability and community
Casa Valle Viñamar's prioritisation of people and planet caught the attention of the Great Wine Capitals Best Of Wine Tourism Awards judging panel. Carolina says it flows from the genuine commitment of the winery's mother company, VSPT Wine Group, which has interests in 8 vineyards across Chile and Argentina. The group has a commitment to local community-building initiatives and is striving to become carbon-neutral by 2030.
Almost everyone who works at the winery is from Casablanca or small neighbouring towns. Members of the 20-strong team often greet visitors outside on arrival, and Carolina says the warmth and authenticity visitors experience is because "…the culture and the spirit of Casablanca runs in our blood." The winery also collaborates with local entrepreneurs, providing spaces for them to sell their products and empowering them through sales and marketing workshops.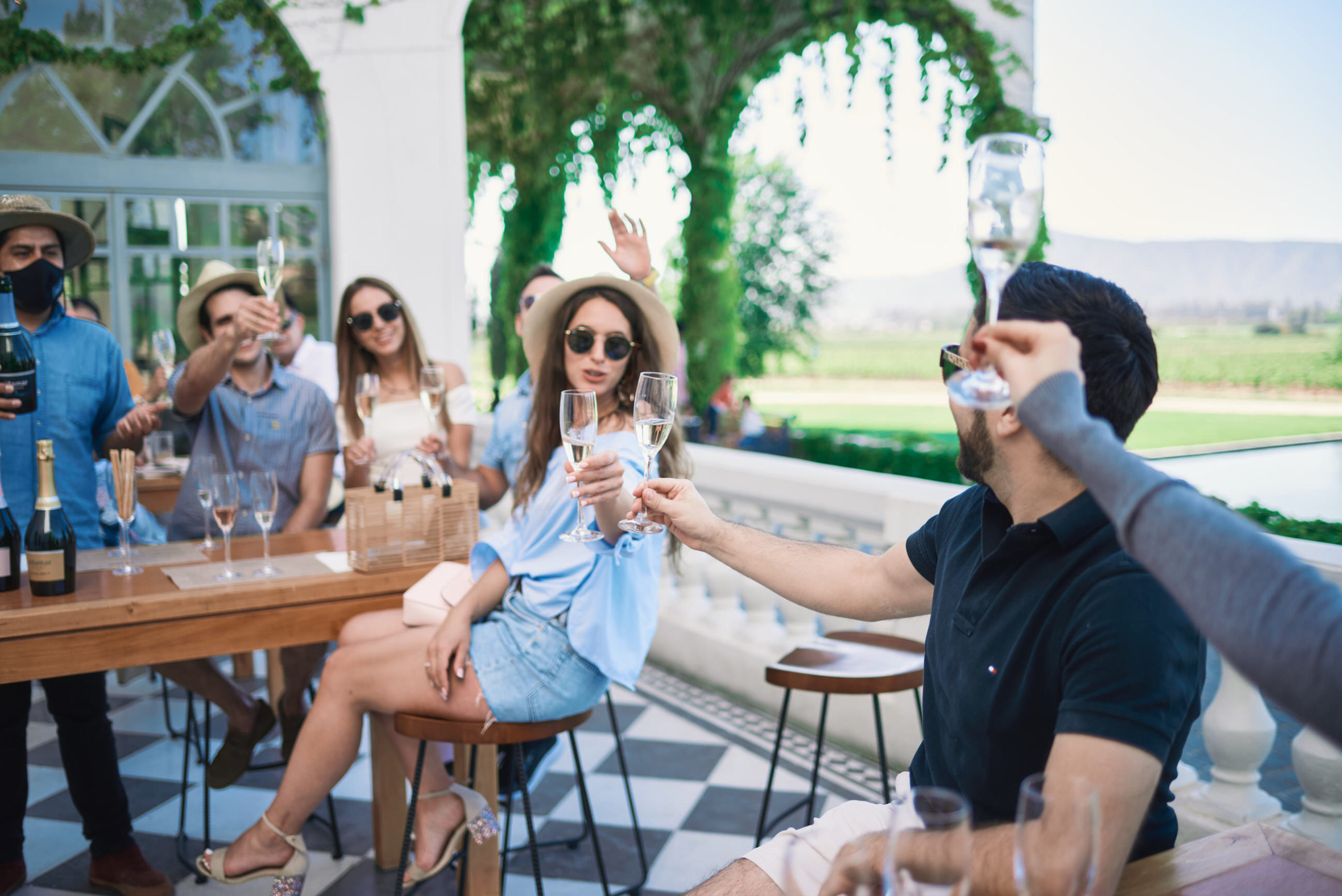 The winery harnesses solar energy to power its operations, and when it comes to renovations and upgrading facilities, environmentally friendly decisions are made. Organic produce from the winery orchard and vegetable garden is used in the restaurant to minimise carbon emissions and infuse dishes with the same character profile of the grapes used to make the wines which are grown in the same soil. Eco-packaging decisions include plastic-free shopping, and the use of noble materials for printed promotional and informational materials.
"Our efforts in the sustainability area have been well received we have won several recognitions and awards. Winning a Best Of Wine Tourism global award is very special for us. It means our efforts are quickly being recognised internationally and that we are in the correct path, though we are conscious of the many challenges of continuing to move in the right direction," Carolina said.
"We hope to be a true representative of our community, of our valley and of Chile.  We wish to be a positive leader in our industry, being an encouraging example in sustainable practices and offering top level experiences for Chilean and international visitors," she said.
More Information
To learn more about visiting Casa Valle Viñamar, visit the website where you can also subscribe to news, or follow them on Instagram.
Fact facts
📍   Location: Casa Valle Viñamar is in the geographic heart of Chile between the Andes mountains and the ocean. It is easily accessible by car – just 30 minutes south-east of the UNESCO city of Valparaiso and less than an hour west of the Chilean capital, Santiago. Vineyards and green fields abound, and the winery grounds are peaceful enough that curious quails, queltehues and other small birds greet visitors when they arrive.
📢 TripAdvisor Review: "The art of food and wine. Do the tasting menu! The meat lover on our trip loved what was presented. The vegetarian on our trip and loved what was presented. The wines were memorable. You will need a designated driver for this stop. Each course, they pour you a full glass of wine." More reviews on TripAdvisor
🍽  Local delicacy to try: The area is famous for seafood given its proximity to the Pacific Ocean. 'Sopa de mariscos' is a traditional Chilean seafood soup which pairs wonderfully with wine wines.
🏰 Sorrounds to experience:  A visit to the UNESCO city of Valparaiso is a delight, with its network of bohemian alleys, cobblestone streets and unique 'elevators' to make light work of the hilly conditions. Make sure you visit 'Isla Negra', one of the houses that inspired poet Pablo Neruda in his works which led to his recognition with a Nobel Prize of Literature.
📅 Best time to visit: Visit from October to April when the grapes are growing on lush vines and the warm weather makes tastings on the Casa Valle Viñamar terrace a pleasant affair. Carolina says the 'vendimia' (harvest) in March is a particularly good time, with special activities across Casablanca which is in "party-mode" at this time of year.
👸 Historical interest: The national's capital of Santiago was founded in 1541 by Spanish conquistadors and Spanish influences are visible across the region. Casablanca Valley is a growing and relatively new wine region, with vines first being planted in the late 1980s.
Find out more about Valparaíso – Casablanca Valley, Great Wine Capital.