Whether you take a behind-the-scenes tour, enjoy a food or tasting experience, or simply sit among the gum trees and admire the stunning views beyond, your experience of this Global Great Wine Capitals Best Of Wine Tourism Award Winner will delight at every turn.
Welcoming old friends and new
Relaxed and understated, the warm experience at Wirra Wirra is different to what you might expect of a world-class premium wine producer. The winery takes its name from the aboriginal word meaning "amongst the gum trees" and it is easy to see why. Beyond it, eucalyptus trees tower and vibrant sweeping lawns frame the winery and newly renovated cellar door. The building is a stunning blend of classic ironstone and modern architecture with a dramatic entrance, and a sustainable produce garden and enclosed courtyard sit on either side.
The inviting ambiance continues inside. Giant fireplaces, medieval inspired doors, cozy corners and sophisticated furniture make Wirra Wirra ideal for wine tasting. Tasting is seated and visitors can sample the lush red wines the region is known for, and crisp Adelaide Hills whites.
The casual dining offered is popular with locals as well as travellers. Cellar Door and Tourism Manager, Lisa McNicol, says Harry's Deli fills a niche in the local area. The menu features fresh local produce, including delectable platters, bowls of abundance and the famous 'Son of Trott Pie'. You can even drink a custom 'Church Block' coffee blend.  Tours of the century-old working winery include the original barrel hall, and wine-stained bricks with the stainless-steel open fermenters and basket press, and the biodynamically farmed vineyards.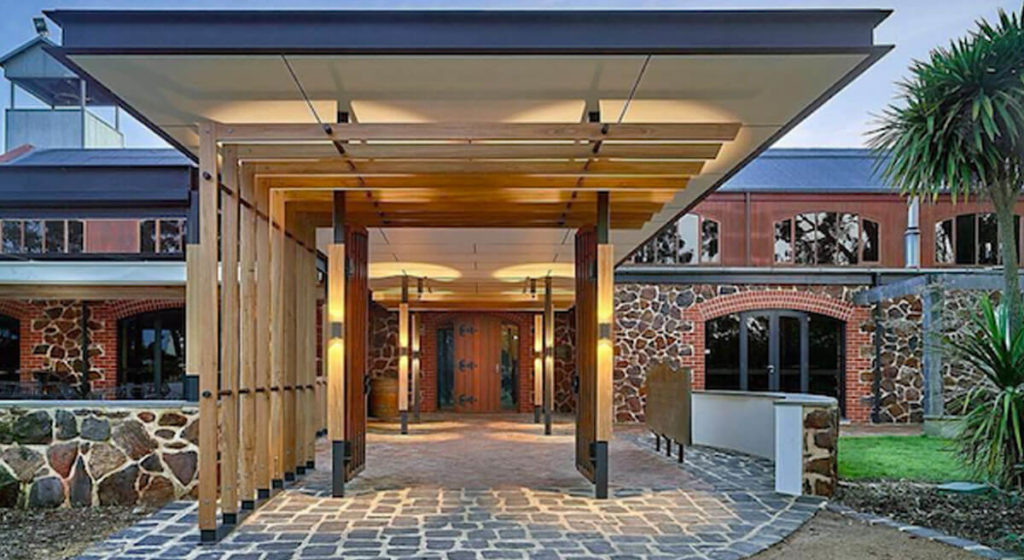 "If the visit is timed right (Feb to April) the cellar will be in harvest mode with ferments bubbling away and the basket press in action," Lisa said. "This is a rare chance to really immerse yourself in the sights and smells of vintage. For many wine lovers it's the first chance they've had to walk through a working winery and it leaves a lasting impression."
Heart of the founders in today's Tribe
The passion for quality and welcoming spirit of the people who work at Wirra Wirra has evolved over two distinct periods of Wirra Wirra's history.
The story begins in 1984, when Robert Strangways Wigley (a former state cricket player and lovable eccentric) established the winery in a burgeoning era for McLaren Vale. Wirra Wirra quickly built a reputation for quality. But when Wigley passed away in 1926, the heartbeat of the winery was gone and it closed a decade later.
Then in 1969, another visionary resurrected Wirra Wirra from two crumbling walls and a stubborn slate fermenter. Richard Gregory "Greg" Trott and his cousin, Roger, purchased the original site, re-built and created the Wirra Wirra of today. Greg's love for building and dreaming continues beyond his passing in 2005, with renovations as recently as 2021.
Wirra Wirra employs people with a passion for looking after people. Many team members are locals with a deep knowledge and affinity with the region which they share with everyone passing through. Lisa says winning a Global Best Of Wine Tourism Award is a great acknowledgement for all of the hard work and dedication.
"Whenever we receive reviews the most commented on factor is our staff, known as the Wirra Wirra Tribe," said Lisa. "We pride ourselves on being approachable, warm and love the chance to share knowledge. There's a genuine love for Wirra Wirra among the Tribe and visitors really respond to the enthusiasm," said Lisa. "Hospitality is not easy and every day is a new challenge, so to get an acknowledgement like this when you are up against so many wonderful wine tourism businesses is truly humbling."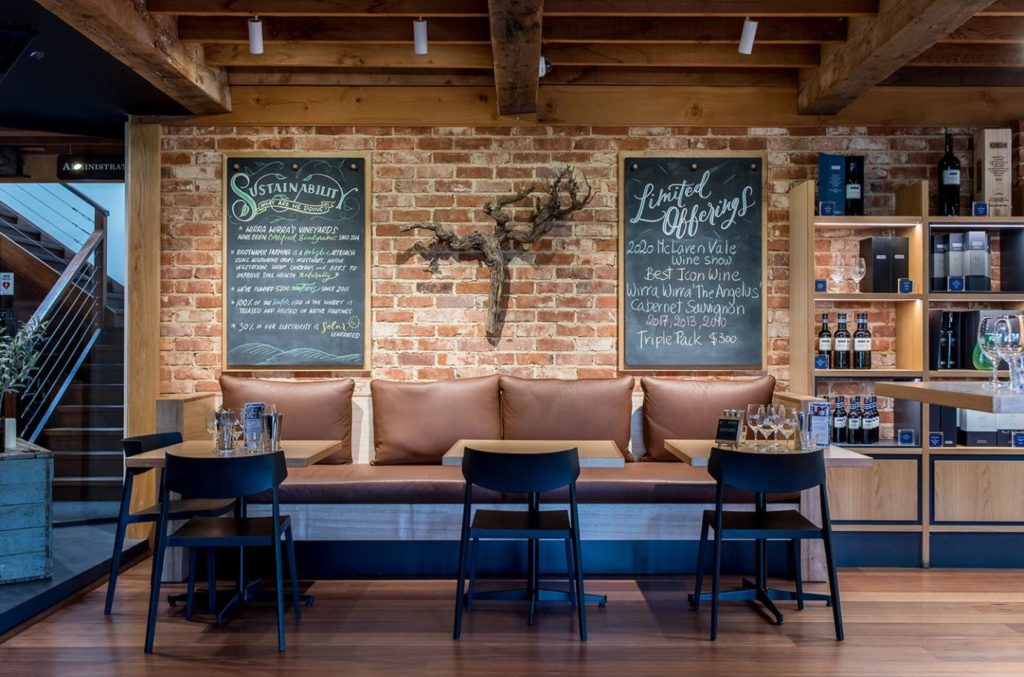 More information
To learn more about visiting Wirra Wirra, visit the website where you can also subscribe to news, or follow them on Facebook or Instagram.
Fast facts
📍   Location:
Wirra Wirra is located a pleasant 45 minute drive south of Adelaide in the McLaren Vale wine region of South Australia. The state is Australia's most celebrated wine producer and is a known food and nature lover's paradise. The region's rolling hills (the ancient Mt Lofty ranges), white sandy beaches and profusion of quality cellar doors makes it popular with day-trippers and those on driving holidays from Adelaide to Melbourne.
📢  TripAdvisor Review:
  "From the moment my partner & I walked in we were greeted so genuinely by the concierge & made us very comfortable. Our guide Russell & a Winemaker there, was amazing, his knowledge & experience was the best we have seen. His knowledge on wine & the history of this iconic venue made it a memory day. We even stayed for lunch to enjoy Greg Trotts lamb & olive homemade pie with a delicious Woodhenge Shiraz. Highly recommended." More reviews on TripAdvisor
🍽   Local delicacy to try:
South Australian food finds inspiration from around the world so for a local flavour, look for 'bush food'. Harvested and used by aboriginal people for tens of thousands of years for nutritional and medicinal purpose, flavours such as 'saltbush', 'wattleseed' and 'lemon myrtle' find their way readily into menus across South Australia.
 🏰  Surrounds to experience:
The McLaren Vale township has bakeries, cafés and organic grocers that make the most of fresh local fare. The McLaren Vale Visitor Centre is a great place to start. You can pick up a map of the cellar doors in the region. If you have a few days, a trip to nearby Kangaroo Island (Australia's third-largest island) is a must. There you can explore spectacular coastal rock formations, private beaches. You can also watch seal colonies and whale migrations when the conditions are right.
 📅  Best time to visit:
Adelaide has a mild Mediterranean climate, so every season has appeal. Autumn is a popular time, when the russet colours of harvest and music, wine and cheese festivals in the air. There is no snow, so winter is a wonderful time to cozy up fireside with some local cheese and wine. The fresh colours of spring and vibrant sunshine are popular too.
👸  Historical interest:
The Southern Fleurieu was initially inhabited primarily by the Kaurna people. Aboriginal history credits the landforms of the Southern Fleurieu to the travels of Tjilbruke. As he grieved carrying the body of his nephew from the Sturt River to Cape Jervis. The Southern Fleurieu Peninsula was first mapped by Europeans in 1802. It was done Nicholas Baudin and Matthew Flinders travelling the coastline. The French explorer Baudin named the Fleurieu Peninsula.
To learn more about South Australia, read their page there: ADELAIDE | South Australia

Photos credit: @Creation Wines