Monverde Wine Experience Hotel, the region's first designated wine hotel, opened in 2015 and provides unique sensory experiences for travellers: boutique tourism and leisure experiences in beautiful surrounds with respect for ecosystems and wine culture.
"Spacious, unpretentious, and exceptionally beautiful" is how General Manager, Miguel Ribeiro, describes Monverde Wine Experience Hotel. We asked him to tell us more about what visitors can expect during their stay.
Passion for luxury, nature and wine converge at Monverde
Since opening six years ago, Monverde Wine Experience Hotel has drawn attention and acclaim for the quality of its luxury accommodation and wine experiences in one of the world's oldest wine regions.
The property features 34 rooms, 2 Family Suites and 10 Experience Suites and offers modern spacious comfort and privacy for its discerning guests. Its impressive food, wine and SPA inspired by "vinotherapy", delight guests and visitors who are drawn to the region.
The architectural sensitivity achieved by designer Fernando Coelho uses natural materials such as wood and stone to capture light and frame landscape views. Together with a restrained colour palette of olive-greens and colours that echo the changing vineyards across the seasons, the hotel is a triumph of thoughtful design.
Miguel describes how the DNA of the owners lends the hotel a special quality, with guests able to relax in future pieces designed by the owner:
"There is always a new idea, a desire to innovate, an ideal of growth – in quality and dimension – that we are pursuing, motivated by the feedback we receive from our guests and the commitment to create amazing and enriching experiences for those who visit us."
The hotel draws on the spirit of Quinta da Lixa, the legacy of one of the largest wine producers in the region. Oscar Meireles, mentor of the project and Administrator of Quinta da Lixa, defines the Monverde Wine Experience Hotel as "An ambition accomplished with all the dedication and enthusiasm, which proved to be a project that doesn't make us want to finish." He adds, "There is always a new idea, a desire to innovate, an ideal of growth – in quality and dimension – that we are pursuing, motivated by the feedback we receive from our guests and the commitment to create amazing and enriching experiences for those who visit us."
The core premise is "sensing the wine" in its different expressions. Miguel says this is done at Monverde through the experiences and services it offers, and the concept it defends: wine as a cultural product and aggregator of different experiences, in shared or exclusive moments but always as a factor of enjoyment, whether of nature or for the senses.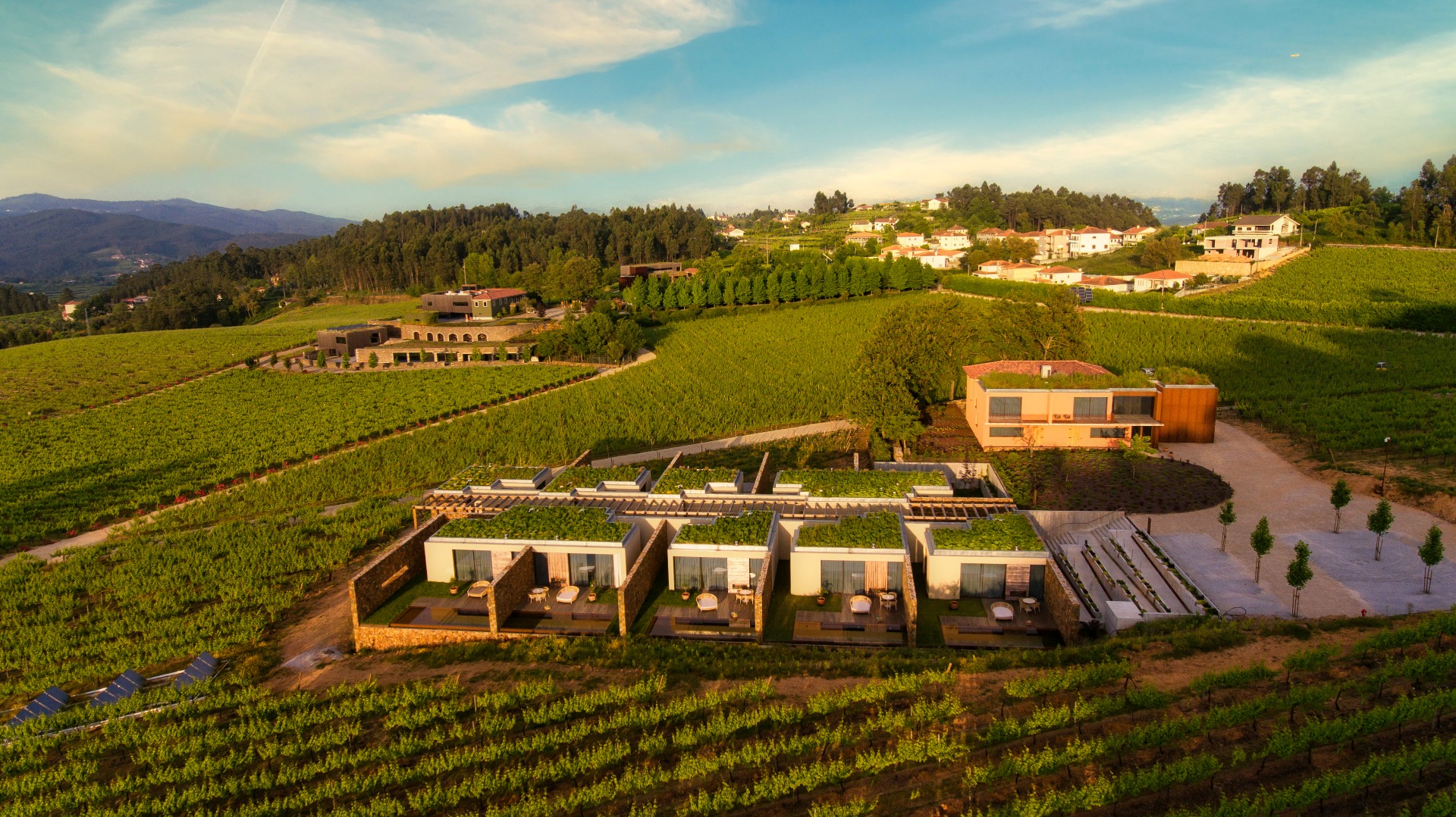 Care for people and planet
Sustainability, a key decision from the outset, was recognised in 2018 with a Great Wine Capitals Best Of Wine Tourism Regional Award for sustainable wine tourism practices. Forty per cent of the materials came from sustainable sources and most of the stone used was reclaimed and reused. Solar panels harness renewable energy and the electric vehicles used to transport guests between buildings, minimise pollution and leave the sounds of the world outside uninterrupted.
Citing its staff of 33 as a key factor in its success, Miguel describes an active policy of shared responsibility at Monverde, with managers creating a culture in which people are committed not only to their work, but also to doing their best.
"We would like others to describe us as a hotel where staff are always available to respond to any request with enthusiasm, a love for the place and the project, and where guests can experience unique programs to discover the vineyard, the wines, nature, that remain in your memory and senses."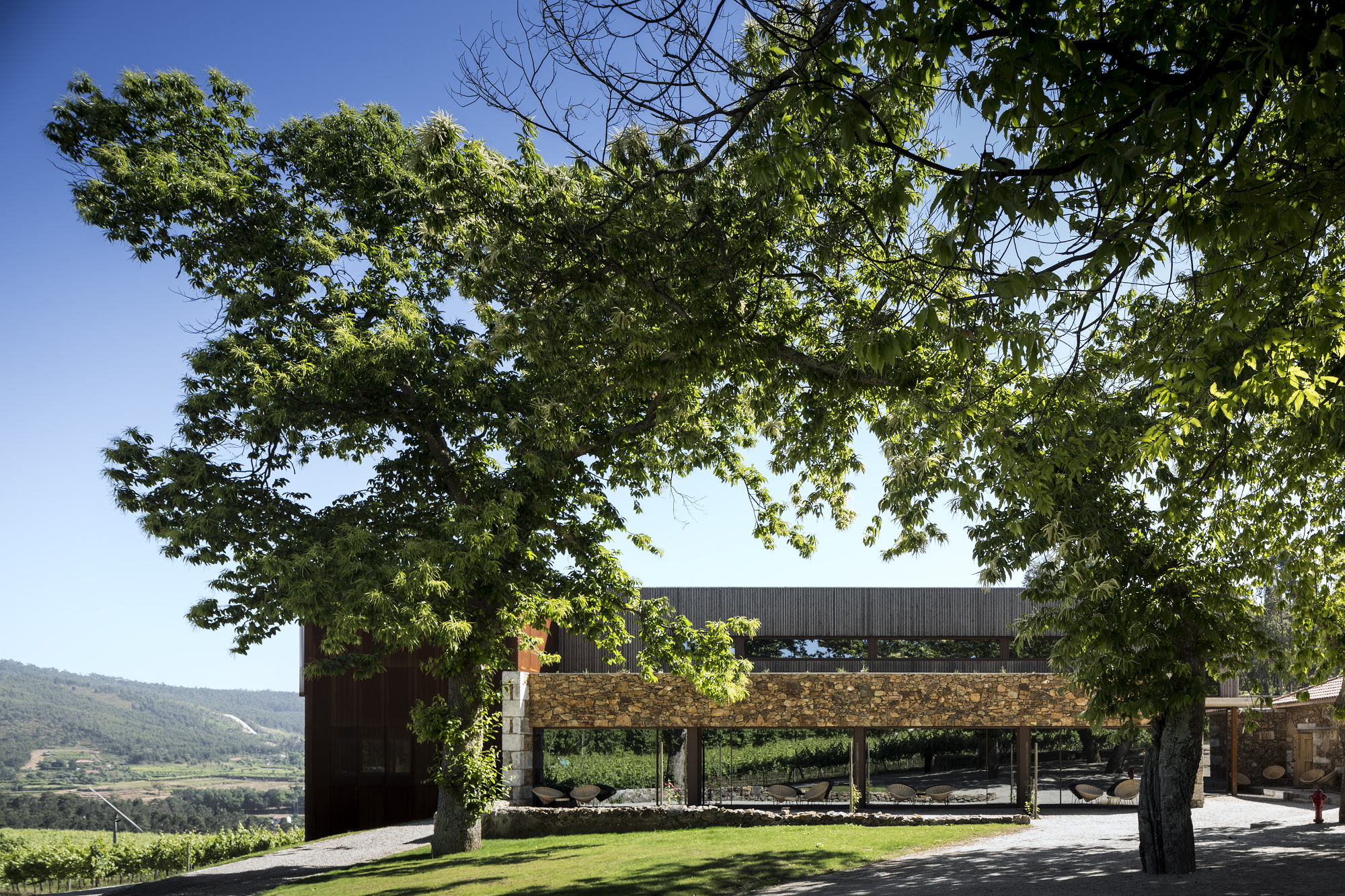 An award-winning experience to delight senses now and into the future
Miguel paints a picture of being immersed in beautiful vineyard views, being delighted by the sound of the birds, and sinking into the simple silence that only nature interrupts.
"At Monverde, you feel the tranquillity and comfort in any of the interior or exterior spaces. You can smell the flowers, the vines, feel the fresh air, the tasting notes of our wines, the aromas of chef Carlos Silva's dishes, even the purity of the products used in our SPA. You can savour every moment at incomparable Monverde," he says.
On winning regional and global Great Wine Capitals Best Of Wine Tourism Awards, Miguel is proud and pragmatic.
"Of course, National and International Awards and distinctions are always a source of pride and great satisfaction for the whole team.  We always face these moments with an added motivation to do more and better, but we also understand them as a greater responsibility to surprise the guest who seeks us for the first time or for the hundredth. The awards are a recognition but also a strengthening of the commitment to our guests."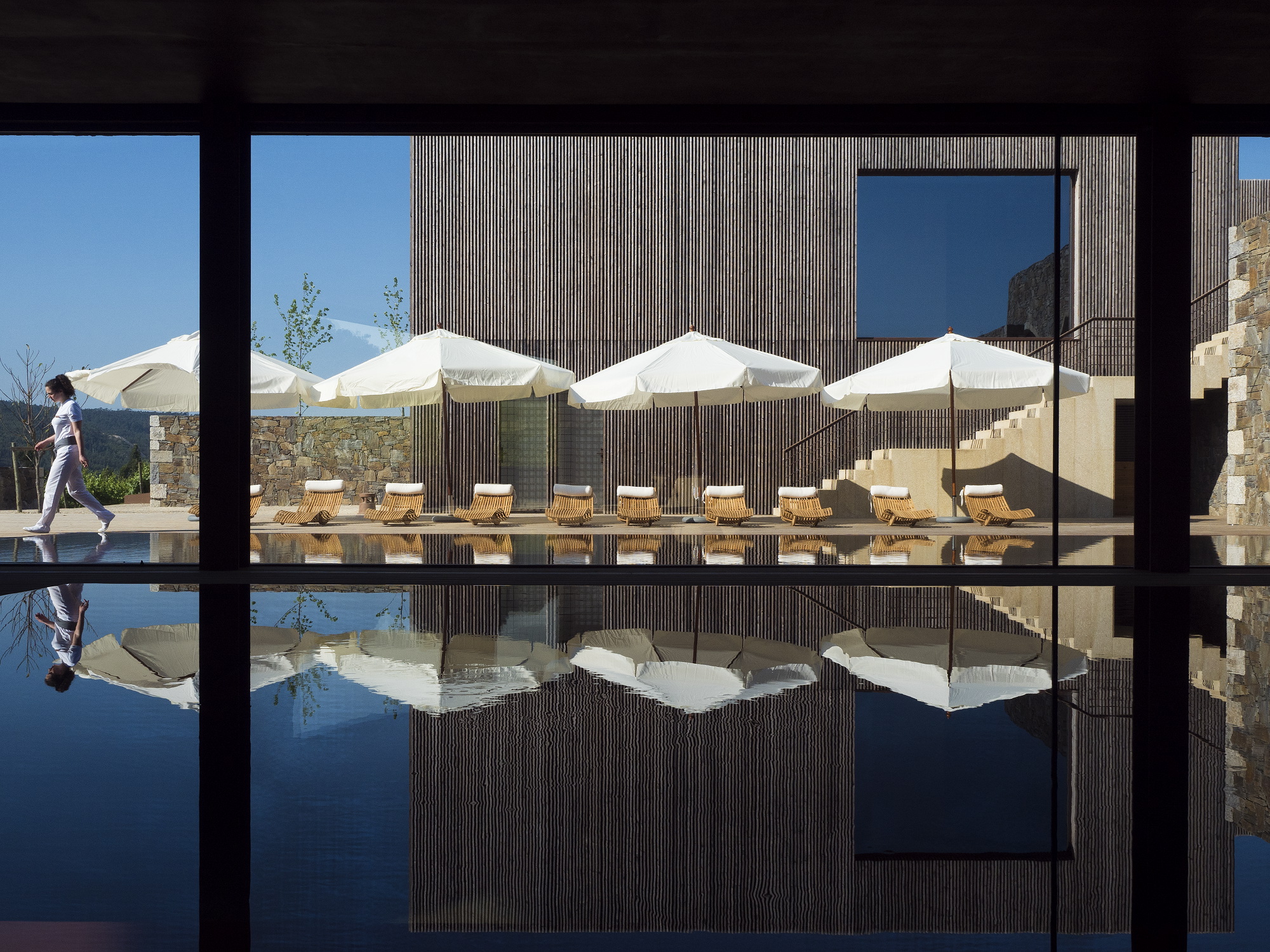 To learn more about this rare find in the middle of the Vinho Verde Region, visit the Monverde Wine Experience Hotel web page  and subscribe to news, or follow them on Facebook or Instagram 
Fast facts
Location:
Monverde Wine Experience Hotel is located in the North of Portugal in the beautiful city of Amarante; it's about an hour's drive east from Porto.
Tripadvisor review:
"Our room was incredible, and the hotel is really beautiful and comfortable. We had such a great meal in the evening where we got the chance to try many different wines. We also did the "enologo por um dia" experiencia with Pedro which was lovely and so interesting. We will 100% come back." (Jessica, 25 June 2020) |
More reviews: Monverde on Tripadvisor
Local delicacy to try:
Amarante's sweets and cakes are famous and abundant in local cake-shops and cafés. Make a note of papos de anjo, brisas do Tâmega, toucinho do céu, bolos de São Gonçalo and galhofas for your visit.
Surrounds to experience:
Look out for two natural features nearby, the great Serra do Marão rising above the city in a series of majestic landscapes, and the river Tâmega, the longest tributary of the river Douro. You can also explore the delightful valley of Ansiães nearby where you can visit trout farms and enjoy a walk through the dense woods surrounding them. In the village of Travanca do Monte, you can see a magnificent panoramic view of the whole region. While you are there, visit the Casa da Levada, the family home of the writer Teixeira de Pascoais with its two enormous granite espigueiros (granaries used for drying and storing corn).
Best time to visit:
Miguel says there isn't a bad time to visit but prefers autumn when preparations are high for Vinho Verde harvest season. September temperatures average 19°C (64°F) and in October, around 16°C (58°F). For those who like the hot, long summer days allow you to fit more into your day with average August temperature around 25°C (77°F) with peaks of 33°C (91°F).
Historical points:
Some historians attribute the city to a Roman centurion by the name of Amarantus. In the thirteenth century, the Benedictine monk who later became the city's patron saint, St Gonçalo, arrived. He later settled in the area and built a sturdy bridge over the Tâmega River on the same site as the current one. The bridge at Amarante perpetuates the memory of the local population's heroic resistance against Napoleon's troops, who invaded Portugal in the early nineteenth century. Brave locals withstood fierce attacks by Marshal Soult for two weeks, until forced to surrender when the French bombarded them with barrels of gunpowder.
Photos: Courtesy of Monverde Wine Experience Hotel