Its particular focus on the adventurous wine lover gained the attention of the Great Wine Capitals, and Creation was awarded a 2020 Global Best Of Wine Tourism Award for Innovative Wine Tourism Experiences.
Innovation is a way of life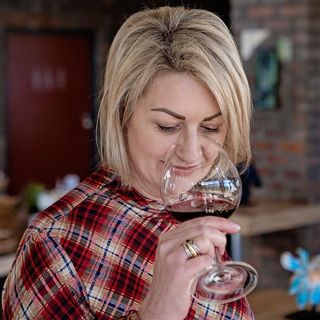 Co-founder, Carolyn Martin, describes the piece of the world occupied by Creation as a slice of paradise. The idyllic mountain and ocean views are unforgettable, and here, 'ancient and new' make a heady blend.
 The winery was founded in 2002 by Jean-Claude and Carolyn Martin, each from wine-making families (Switzerland and South Africa respectively). Innovation was in the winery's very DNA from inception: the pair recognised the potential to turn what was then a farm on the Hemel-en-Aarde Ridge, into their dream future.
 "We knew we had something special. The farm had never been planted with vines before which allowed us a clean slate, planting the varieties best suited to the terroir," Carolyn said. "Creation is the first virus-free mother block planted in South Africa post 1994 and today, our cuttings are used to produce source material for healthy new vines for the wine industry."
 Adventurous wine appreciators who are interested in discovering will feel at home here. Visitors can sample fine Chardonnay and Pinot Noir wines the region is famed for, and children and designated drivers can enjoy custom-crafted no-alcohol cordials. Looking around, the fragrant indigenous 'fynbos' vegetation on the mountainsides are visible and reflected in the winery's garden and landscaping, and inspire the contemporary art installations and tasting room ambiance.
 The experience isn't just about the cellar door though. Creation's innovative wine and gastronomic experiences include a virtual tasting kit. During Covid-19, this evolved beyond wine and culinary pairing to include the sensory – fine glassware, an interactive experience with a local modern art exhibition, and a chance to engage with the Creation Wine winemaker and owners, as well as the team in the restaurant kitchen and tasting room.
 Glowing TripAdvisor reviews and regional and global Great Wine Capitals Best Of Wine Tourism Awards confirm they are getting it right.
Heart for people and progress
The Creation team numbers seventy-five, and Carolyn describes them as vital to the success of the business. The business embraces a flat hierarchical structure and fosters a workplace culture characterised by conviviality, fun, enjoyment and appreciation of life, work, and each other.
"Our people are creative, energetic and passionate about our brand. We pride ourselves on being a relationship-oriented company and recognise our stakeholders as an integral part of our success," Carolyn said. "A slow staff turnover reflects the loyalty of our team and their pride of working for Creation. We have a family atmosphere and our culture is youthful and vibrant, which creates close camaraderie and cooperation in the workplace."
The business prioritises initiatives to empower their team, offering leadership courses and supporting programs such as international WSET accreditation. They encourage international work experience and continue to innovate how they motivate, reward employees, and retain them through job security and career enrichment.
"We are so proud of the incredible Creation team spirit and innovation, and how we weathered the storm over the past 18 months despite all the alcohol bans. On behalf of our team, the Hemel-en-Aarde region, the  Overstrand/Overberg community and the South African Wine Industry, Creation is hugely excited to be recognised as a Global Great Wine Capitals award winning wine brand," Carolyn said.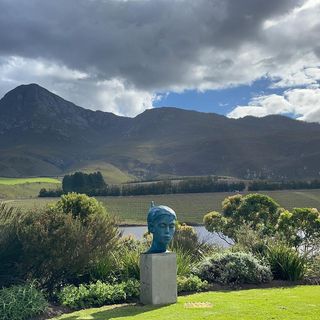 More information
Check more information on their page: Creation Wines, Best Of Wine Tourism
To learn more about visiting Creation, visit the website where you can also subscribe to news, or follow them on Facebook or Instagram.
Fact facts
📍   Location: Creation is perched on the Hemel-en-Aarde Ridge near Hermanus, in the Walker Bay Wine Region overlooking the Atlantic Ocean. A 2.5-hour drive south-west from Cape Town, you will find the winery in a place of natural beauty with rolling hills and valleys, including the towering Babylonstoren Mountain with its 'fynbos'-clad slopes.
📢  TripAdvisor Review: "Amazing – Great food, stellar wines, great atmosphere, terrific setting. The staff are very knowledgeable and friendly. Great venue, but please book ahead as it is extremely popular." More reviews on TripAdvisor
🍽   Local delicacy to try: Sweet tooths can try Koeksister, a deep-fried braided pastry drizzled with sticky syrup, or warm Malva pudding with ice cream. Some say the latter gets its name from having traditionally contained Malvasia wine. Adventurous meat-eaters can sample cuts of game not found anywhere else, such as springbok, ostrich, or warthog.
🏰  Surrounds to experience: The region boasts one of the greatest biospheres on earth. The walks in the Koegelberg and Fernkloof Nature Reserves are spectacular and the pristine coastline and scenic Hermanus Cliff Path walks offer glorious escapes into nature.
📅  Best time to visit: Carolyn says every season has its charm. The weather during March harvest is delightful and popular. However, temperatures average 23 to 26 degrees Celsius for 6 months of the year. The middle of winter is a good time to catch whale-watching in full swing, and appreciate the colourful fynbos vegetation while sipping wine by a warm fire in the tasting-room.
👸  Historical interest: In 2019 Overstrand/Hermanus received the UNESCO City Gastronomy listing for Africa, making it a worthy daytrip for visitors to the southern tip of Africa. The Klipgat Cave in the Walker Bay region holds important archaeological significance, with some of the earliest human remains found dating from the Stone Age (65 000 to 85 000 years ago).
To learn more about Cape Town and the Cape Winelands, read their page there: Cape Town, Great Wine Capital
Photos credit: @Creation Wines