Organic agriculture is a system of production that maintains the health of soils, ecosystems, and people.
Some of our sustainable practices are:
Use of natural fertilizers:
Composting is the chemical decomposition of organic matter, which transforms it into something safe and stable for plants.
We produce every year 10.000 tons for fertilizing soils.
Stacks of organic matter are produced with grape marc, cow dung from large herds, and olive pomace as well as waste from the garden and the staff cafeteria.
We also use Worm Humus, that unlike compost is a process of biological decomposition.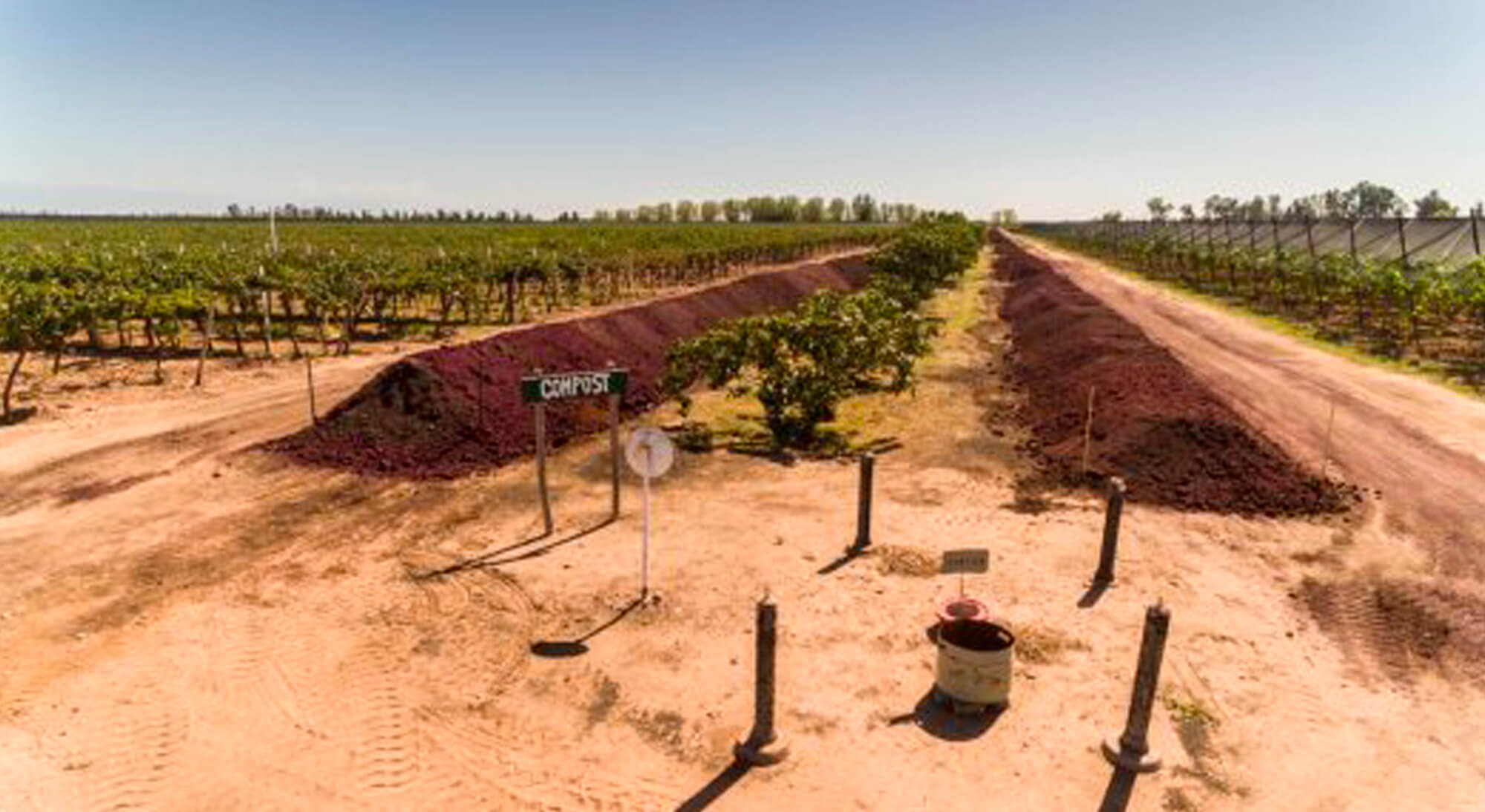 We also use winter grasses. They are planted between trellis rows in the vineyards every winter. The winter grasses are very important, as they aerate the soil as the roots grow, making them natural subsoilers.
We also have a wastewater treatment plant in operation. All industrial wastewater is neutralized with lime and pumped to a tank where it can be used for irrigation.
We conserve native flora and fauna, which maintains local biodiversity and adds large amounts of oxygen to the environment. There are more than 445 hectares between Maipú and Santa Rosa.
But for Santa Julia being sustainable not only applies to taking care of the soil but also the people that work it and the community they are part off
Santa Julia was the first in Argentina to earn Fairtrade certification and many wines in our portfolio have this seal. This means that four percent of the price is allocated to a committee of employees who designate the funds for a social benefit. Some of the actions carried out by our committees were made to help schools that are in our area of influence equipping rural health centers school materials for all winery employees, among others".
At the Santa Rosa and Maipú properties, we have a cultural center where the winery´s employees and non-employees can take part in various activities in the multiuse room, computer room with an internet connection gym and library.
We are also working to support initiatives that create opportunities for our employees and their families to finish their education.
At Santa Rosa we have agreed with the department of education to provide elementary education and we provide secondary education in collaboration with and adult education school
At the Maipú property there is an adult education school. Employees can take classes during working hours, blended learning is offered, and the schedule is adapted to work and family life. There are currently 57 employees taking classes, who are in their second year of secondary education.
We also have daycare centers where our employees can leave their children in teachers care during working hours.
More than 15 children attend each daycare center, from 45 days to 10 years old.
We support productive initiatives that create opportunities for community and personal growth. We have two sewing groups for local women who have fully – equipped workshops. Currently they make some of the clothing and other items for the company, in addition to their customers.
"At Santa Julia Winery we are committed through every decision we make, to the quality of our wines, the people we work with, and the world we live in. We are one big family that is passionate about our land, our grapes and our wine"
Julia Zuccardi