Vista Collina Resort Napa Valley was the winner of the 2020 Great Wine Capitals Best Of Wine Tourism award in the "Accommodation" category. It presents a new way to relish the pleasures of Napa Valley wine country.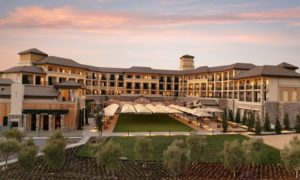 Nestled in the rolling, vine-covered hills of Napa Valley, the resort features 145 Tuscan-inspired rooms, including 39 suites with fully-equipped kitchens. Moreover, nine onsite tasting rooms offering a taste of Napa Valley's best boutique wines and microbrews.
The Fivetown Grocery, led by acclaimed Chef Vincent Lesage, provides also locally-sourced wine country cuisine.
Guests can also enjoy a beautiful pool and jacuzzi with 10 luxury cabanas, plus a fitness center and motion studio. Moreover, the resort offers a robust events calendar for education, enrichment and enjoyment.
Savor a variety of wines and brews without leaving the property at the tasting Village. You may as well craft a delectable picnic with farm-fresh ingredients from the artisanal market, or celebrate Napa's culinary arts with an in-suite cooking class. At last, mingle and enjoy a private concert, the Village Food Truck, and lawn games on the expansive Village Lawn.
Vista Collina Resort reimagines the Napa Valley experience for the next generation of wine enthusiasts.
Check more information on their page: Vista Collina Resort
Photo credits: Vista Collina Resort