Tilbrook Estate, founded by husband and wife duo James and Annabelle Tilbrook, also suffered enormous loss due to the Cudlee Creek Fire. When James returned to their property at Lobethal, he discovered that the property had been completely devastated. The winery, shedding and all of its contents (including finished wine, wine barrels, tanks and other winemaking equipment) had been destroyed. Their hand planted vineyards were also mostly destroyed or very badly burnt.
Q & A with James & Annabelle Tilbrook of TILBROOK ESTATE by Mariette Morris
What was your initial reaction when you realised the extent of the fire damage?
Initially we were in shock and disbelief that our vineyard… was no more. We had no grapes and no wine. We had lost our income and our livelihood. It was the end of 20 years hard work and a dream of a better life down under.
Recovery of what had been lost seemed an impossible task for us to tackle on our own. This was not something just 2 people could overcome. We have no employees and no immediate family to assist in South Australia. It seemed like all was lost.
What is the biggest challenge Tilbrook Estate is faced with in terms of getting the vineyard and the business back on track?
There are so many challenges with a perhaps the most significant being, where to start and what to prioritise. There are vineyard priorities and priorities to re-establish cash flow via wine sales. Balancing where to focus is very challenging.
A vineyard at the best of times is labour intensive. Recovering a vineyard from a significant fire event requires even more intensive hands on labour. There are limited jobs that can be mechanised. It is not a job one man can do on his own. Labour in Australia is one of the biggest expenses in a vineyard, and is expensive compared to EU wage rates. The financial resources needed to work through a recovery process that will take at least 3 years will be significant.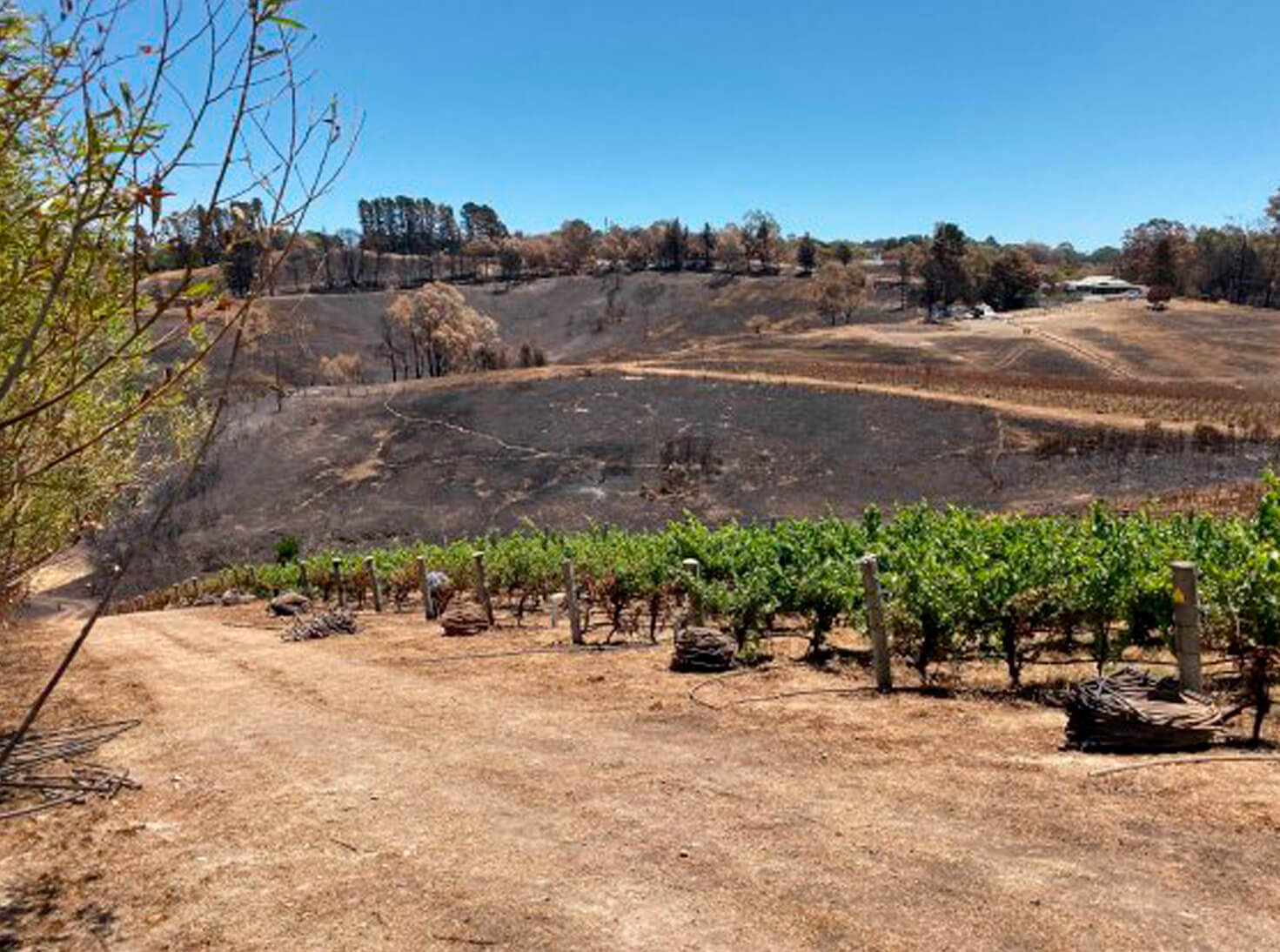 Have there been any positives that have come from the situation?
Our faith in humanity has been restored.  Within less than 12 hours of the fire, significant support started to flow in. Very quickly, we realised we were not going to have to do this on our own. We have found out that we live in an incredibly supportive local and extended community. For many days, people worked in 40 degree plus heat to do what needed to be done, each doing what they could to help from hands on work in the vineyard, electrical work, irrigation work, providing food and water for the workers and even, one person who created a database for us to record all the volunteer details and offers of support.  People have been incredibly thoughtful, each considering what they can do for us from their own unique skill set and connections.
Thanks to over 250 volunteers who answered calls for help on social media, some known but many complete strangers, thanks to tradesmen (electricians, plumbers, irrigation specialists), thanks to viticulture professionals who gave their advice without request for payment, thanks to suppliers who gave as much as they could, within 2 weeks of the fire, irrigation had been restored to 16 500 vines, and all 16 500 vines had been cut back below the cordon.
There have been significant fundraisers, again some organised by people unknown to us that have given us immediate cash flow to do the essential things that have needed to be done e.g. buy a $1000 generator to get water from our irrigation system into the mainline system.
The big positive, is that because we were able to achieve the above things in a relatively short timeframe, a good proportion of the vines are now starting to shoot above the graft.  We won't know for a few more months if this will be sustained, but for now, we have hope with green back in the vineyard.  Following a beautiful 100mm of rain in the last 2 weeks, the blackened mid-rows and pastures are now being filled with green grass.
Now that some time has passed, do you feel as though the task ahead is manageable?
There is still so much to be done. The fires happened just prior to Christmas. In Australia, typically, everyone is on holidays for at least 2 weeks – it was during this time that people gave up their own holidays to help us.  Now, everyone is back at work, the support has decreased.
We are continuing to put out calls for help on weekends, and people are helping where they can.  As soon as there is more than one pair of hands in the vineyard, our spirits immediately lift. It all seems like it will be achievable. Days when no one is there can still be overwhelming.
Why did you choose to use social media as a platform and a way of sharing your story?
Social media is an immediate and efficient way to communicate in real time with the potential for reach beyond any other communication method.  We have been overwhelmed by the power it has had to connect us with people and bring them along on our journey with us.
Is there anything you would like to say on behalf of the Adelaide Hills community?
Stay with us. Your help is so appreciated.  There is so much for everyone to learn and gain from this whole process.  From a vineyard perspective, the learning's will be so important.  Unfortunately, recovering a vineyard from a fire event may be something that is a more frequent need given our changing environment.  Learning what works and what doesn't, and building on knowledge will benefit those who find themselves in a similar situation in the future.
From a community point of view, the connectedness and bonds that are being formed are just so heart-warming. People are connecting with people and people are re-connecting with nature. Nature is showing us what resilience really means.
While such a devastating event, the powerfulness of the recovery process is evident. Already, we are all stronger on so many different levels.
CONCLUSION
The aftermath of the Cudlee Creek fires has been devastating for both residents and the businesses in the beautiful Adelaide Hills. The cleanup has well and truly started, but it is going to be a long and hard road ahead to recovery.
Whilst the severity of these fires should not be understated, it is also true that most of the Adelaide Hills, and the surrounding region is still untouched and picturesque. It would only compound this tragedy if potential visitors believed that it was now unsafe or undesirable to travel to Adelaide and South Australia. I can assure you that South Australia is still as friendly and hospitable as ever, and that the natural beauty of this region has not been entirely lost.
The same can also be said for the iconic Kangaroo Island, situated just off the coast of South Australia. Although the Island suffered enormous losses of its own, it remains one of the most picturesque places you could ever imagine. Now more than ever, the people of this region need tourists to visit and buy their produce.
So please, if you are considering a wine and food adventure through South Australia, don't be put off by the fires, we would love you to come and visit, and enjoy this wonderful part of the world. We still have wonderful produce, delicious food, and some of the best wines in the world. You will not be disappointed!
Many thanks to the interviewees, David, James and Annabelle, for sharing their stories at such a difficult time. It was a pleasure to meet you and I feel privileged to help you tell some of your story.
Mariette Morris
(Source : https://www.instagram.com/p/B7zCnMljIhr/ )