Anyone working in the tourism industry can attest to the fact that the past weeks have been saturated by uncertainty, anxiety and fear.
According to the United Nations World Tourism Organisation (UNWTO), the coronavirus pandemic and subsequent lockdowns have led to an unprecedented 100% of destinations worldwide putting travel restrictions in place. Perfectly planned campaigns have been indefinitely postponed, millions of jobs left in the balance and the hard-earned tourism growth achieved over the past decade wiped out.
Yet, The Future of Wine Tourism webinars hosted by Destinate, a Cape Town destination marketing agency, on May 19th, 20th and 21st,  has left us with a glimmer of hope, reminding us that it is more important to be top of heart than top of mind. Taking care of each other and building relationships of trust between regions, businesses within the eco-system of wine tourism and with our staff and customers should be the focus.
Presented by Mariette du Toit-Helmbold, the 6 webinar sessions brought 26 panellists and attendees from across the globe together to explore and reimagine wine tourism in a post-lockdown world. With topics ranging from defining our target markets and growing the local market to embracing a whole new virtual world, the aim was to deliver a webinar packed with practical and thoughful advice, insights and interventions to help gear the wine and tourism industry up for a future where our freedom of movement and human interaction will fundamentally change.
Here are the 5 main outcomes the webinar sessions brought out:
Prioritise health & safety
As lockdown measures lift and people slowly start readjusting to the world beyond their homes, it's safe to say that health and safety will be top of mind for everyone. And when we say everyone, we really mean everyone – we must remember that our staff members may need just as much – if not more – assurance that their environment is clean and healthy and that their safety is a priority for you.
Fortunately, putting sufficient health and safety measures in place might be one of the easiest transitions to make at this time.
In our panel discussion on operational readiness, Carolyn Martin from Creation Wines shared some of the practical measures they are putting in place:
Clocking in with facial recognition rather than fingerprints
Providing staff with high quality PPE and masks
Assigning one person to just clean the various areas at regular intervals throughout the day
Continuously remind staff of the regulations – make it part of daily meetings and conversations
Start training staff to multitask: as we start receiving guests, people will probably be most comfortable with one person accompanying them on various activities. For example, the staff member would meet the guests at the entrance, accompany them on a vineyard tour, present their wine tasting experience and serve their lunch.
It goes without saying, that now – while we're still waiting for guests to get the go-ahead to visit us again – is the perfect time to prepare and train staff well and make sure all safety protocol is firmly in place.
As Sisa Ntshona from South African Tourism said in the very first session: "We need to build trust with the consumer, but also with government, to show that as a sector we have put all the pre-work in place to ensure safety for all."
Collaboration is key
Gone are the days of working in silos!
It's a no-brainer that the tourism industry will have to work harder than ever to recover from the COVID-19 blows. One way of making this a little easier will be to collaborate more closely with one another – even those we may have considered competition at some point.
In the discussion around re-evaluating target markets, panellist Hein Koegelenberg from La Motte said that wine brands will need to work more closely together to offer guests a diverse and enticing experience of the entire region.
In other words, the model should be increasingly inclusive and accessible. Look beyond your own business and partner with others to provide visitors with an all-inclusive, safe and interesting experience. Partner with local restaurants and chefs, put together virtual tasting and food experiences that are fun and interactive and build closer relationships with local guides and tour operators.
Virtual Wine Events is a new platform created by Amber LeBeau of SpitBucket so get creative and get your virtual event listed. Andre Ribeirinho of Adegga shared how they rallied together as a wine industry in Portugal after ProWein was cancelled in February putting together a virtual Portugal Wine Week event for trade and industry within a matter of days through utilising strong local partnerships and relationships with trade.
Reignite your relationship with online influencers and storytellers, but make sure you are selective and that they are a good brand fit said Kash Bhattacharya, professional travel blogger and founder of Budget Traveller. Gone are the days of perfectly curated Instagram photos that share little of the heart and personality of the people and places behind the scenes. It is a good time to look at how you share your stories said Malu Lambert, award winning wine writer. There is too much copy and paste PR happening. Put more thought and care into your message, be real and sincere.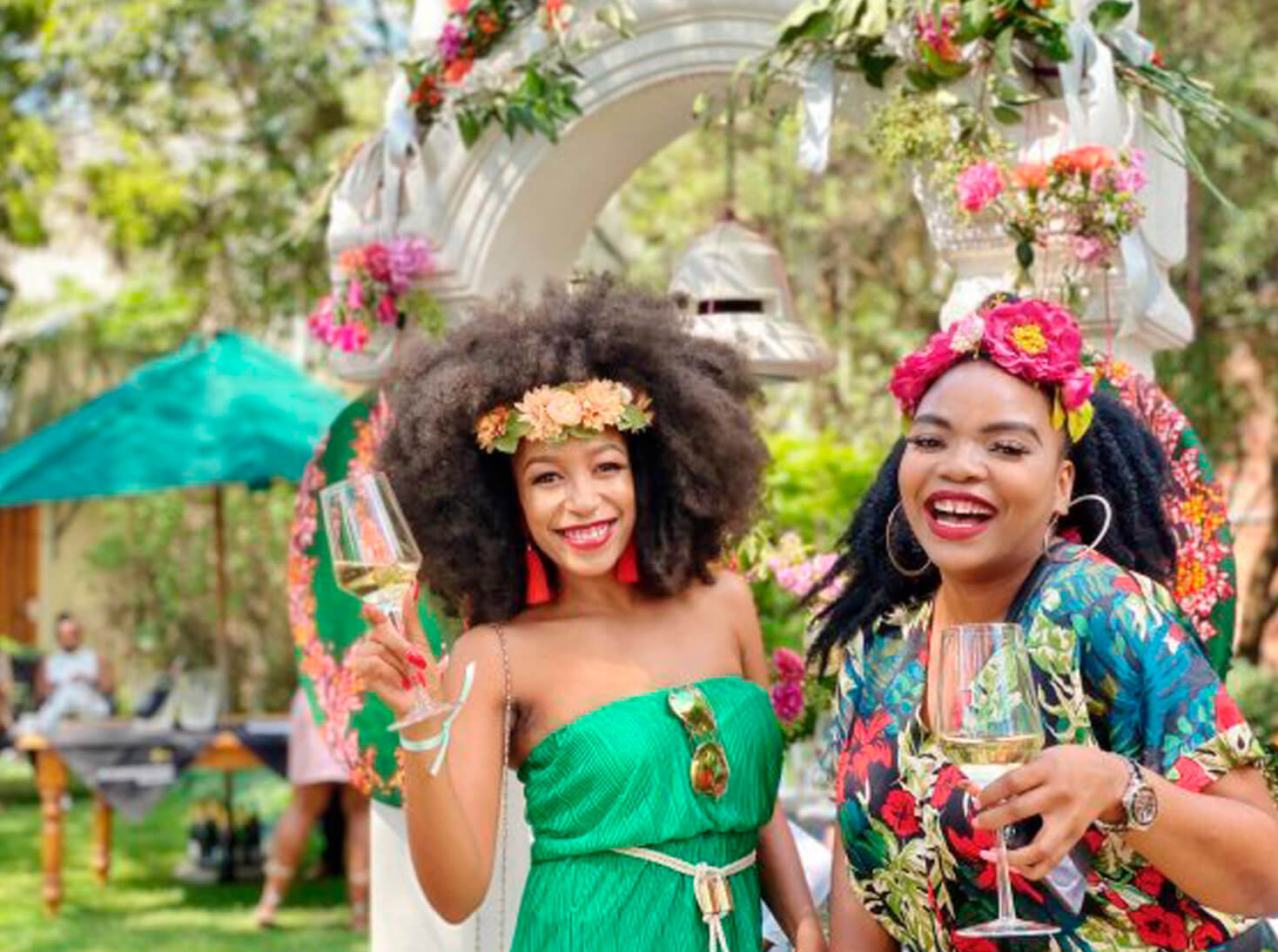 Woo the local market
One of the golden threads running through the entire three-day webinar, is the fact that wine tourism businesses are going to have to focus their attention on the domestic market, not just for the period immediately post-lockdown, but into the future. For many, this might be a big change and one they're not sure how to make.
As a travel influencer, it's hardly surprising that Thobi Rose highlighted the stories wine businesses tell about themselves as a good place to start appealing to locals.
Responding to a question on what her ideal post-lockdown wine tourism campaign would look like, she said: "Tailor-make it by allowing the story to be told in our different languages and from unusual and people's personal perspectives. The farm worker's voice, for instance – I would love to hear what wine has done for them. How it's changed his/her life. And then also allowing every South African who loves wine or has recently diecovered the joy of wine to share their story, without fear of sounding stupid or saying the wrong thing."
Adding to this, Thapelo Mokoena – well known actor and the heart and soul behind Nero – highlighted the craving for authenticity and realness among consumers.
"As we come out of this pandemic, the human being will want to feel something different – interact and celebrate," he said. "I think wine will play a part in that. We need to remember to put the heart back into brand building."
Marybeth Bentwood urged the industry to demystify wine and take the time to really understand who our target market is. Women do most of the wine buying and travel decisions and as we juggle homeschooling, running businesses and keeping our homes and lives together during lockdown, wondering if it's wine o'clock yet, brands should take the time to reach out to women specifically. We are not just interested in online recipes and cooking shows, find out what we are yearning for, put yourself in our shoes and inspire us to come visit and buy your wine.
Price was a hot topic of debate, but there was agreement that dual pricing should not be an option. Local-friendly packages, loyalty programmes and value-add should be the focus.
Approach digital solutions creatively
Unsurprisingly, harnessing the digital space was another hot topic. Wine markets like the US and Australia have reported a massive increase in online wine sales during lockdown (lucky buggers could buy wine, at least). As soon as the alcohol ban has lifted here, it's almost certain that South African consumers will follow suit. In fact, it's safe to say that most local wine-lovers have placed at least one online order in anticipation of receiving their package of goodness in a few weeks' time.
But not all wineries/wine businesses are equally prepared for this digital shift.
A number of the panellists strongly advised those who have been avoiding the implementation of an e-commerce platform, to use the remainder of lockdown to put a simple and user-friendly system in place. When asked if it was too late to join the online revolution, Paul Mabray of Emetry said that although it was never too late to start, "There is something called "digital debt. If you don't keep up with how things are changing, it can be like not paying your credit card bills. At some point you're unable to pay it off." If you're not yet using digital as an integrated business solution for e-commerce and communication, you need to start now or you will be left behind.
Mashudu Modau of Compass Africa had some practical advice for small businesses. "Invest in social media, build your community by being true to who you are." If you need practical guidance visit Compass Africa for step by step guidance on getting your business online.
Whilst virtual reality will undeniably be of great importance going forward, Stanley Edwards of Platypus Digital reminded us that it's just technology and meaningless without good content that is well curated, entertaining, engaging and interesting. Robert Joseph agreed, stressing the importance of letting technology enhance the experiences you offer, but taking care to offer something that gives people a reason to visit you rather than the farm next door. Technology is not everything, the human experience and how you make people feel matter!
Apart from e-commerce, however, digital platforms should be harnessed more effectively for communication purposes. While social media may seem like the obvious place to start, Robin Shaw from Wine Tourism Australia pointed out that, more often than not, mailing lists should really be our first port of call.
"We've seen an incredible increase in online alcohol sales in general and wine in particular. This has been especially true for wineries who have well maintained mailing lists or existing wine clubs and have worked hard at maintaining their contact and relationship with their customers."
Having said this, it's important to keep the authenticity mentioned in the previous point here. Rather than simply using these platforms as marketing tools, consumers increasingly appreciate a personal approach and even a peek behind the scenes.  The message was loud and clear. It's time to get real.
Whatever we do, we can't go silent. We need to reach and touch people at home now, during lockdown with the ultimate aim of inspiring them to venture out when they are ready to come and visit the winelands.

Embrace your spaces and work with what you've got
Last but not least, one of the greatest gifts South African wine regions have is beautiful outdoor space, the very thing that will be in hot demand once lockdown is over. Wineries should get creative and relook how they utilise their indoor spaces too as the weather cools down. Cellars could be a great backdrop for intimate group tastings and immersive wine tourism experiences.
Social distancing will be around for the foreseeable future, which means that expanding guest experiences to further reaches of a winery's property and adding more outdoor based experiences will be crucial.
Think vineyard picnics, hiking trails, repurposing self-catering units for private experiences and if you have accommodation, flaunt it, stressed Felicity Carter, Editor in Chief of Meininger's Wine Business International.  Families and small groups of friends will be desperate to escape to rural regions for a few days (with a few good bottles of wine)!
Don't worry about investing money you don't have now in rebuilding or refurbishing your establishments at a great cost. Try as far as possible to use what you have and be creative and resourceful with it. Stay on brand and don't forget about families with children, we are desperate to get out and let our kids run wild.
If you would like to receive the full report or just want to share a few thoughts with Mariëtte du Toit-Helmbold, please pop an email to info@destinate.co.za . Recordings of The Future of Wine Tourism Webinar sessions will be shared.