This new edition of Vinitech-Sifel was a success with the opening of new innovative spaces (International Start Up Village, Low carbon objective room) and the complete attendance to the 70 conferences and forum during the 3 days of fair.
A beautiful audience with 41 934 professionals present, presentation of stand with high qualities and a great level of businesses.
A NEW OFFER THAT BROUGHT TOGETHER AND MOBILIZED PROFESSIONALS
Christophe Riou, Co President of the fair's scientific and technical committee & CEO of IFV, gave his feedback on that 23rd edition of VINITECH-SIFEL.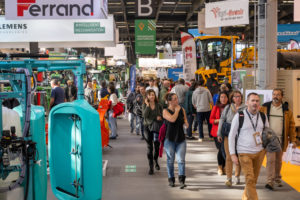 « ViniTech has fulfiled its role fully, of being the catalyst of the engagements and the wishes of major stakeholders from the sectors, partners and exhibitors… And the results are here, ViniTech-Sifel was submerged by deeps political, interprofessional, economic, technologic, environmental reflexions.
This year, we worked on highlighting the innovations through new spaces and forums and everything that was proposed in this framework have been a success. I also think that the space of « Low Carbon Room » and the opening conference-debate around the controversial subjects of our industry allow us to claim some political messages.
From the Forum "Low Carbon Objective" to the majors conferences seminars on the ecological transition, Vinitech-Sifel had chose to place the environmental transition at the center of its programme. A principal thematic which has filled the conferences rooms and every forum were fully booked. Many subjects that generated a lot of exchanges and interests like : low-carbon, solar sharing, but also the additives, the hygiene,… For us, the review is already positive. We have designed a new offer around the innovation and we reached new targets."
QUALIFIED VISITORS AND GOOD BUSINESSES LEVEL
On the business level, Delphine Delmade, the Director of the fair, gave us many indicators :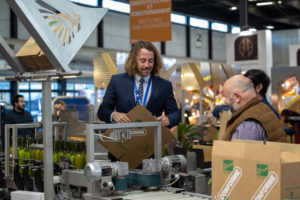 « The trend seems already quite good with the arrival of qualified visitors, which was highlighted by the companies. The exhibitors that we met have brought to us really good returns. They recognized businesses dynamics coutinuous on 3 days of activities. Either in the cultural, material cellars and winery techniques or in the bottling/packaging sector … VINITECH-SIFEL is a real business boost for them.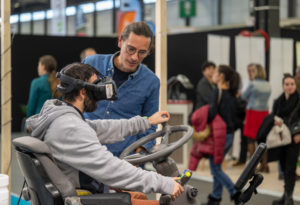 These returns also come to confirmed the effectiveness of the work performed upstream to target the qualified visitors. Directors of cellars, purchasing managers, negotiators, prescribers… came to the trade show to meet the providers, to learn about the new products and – last but not least – to order.
The awarded companies at the Trophies of Innovation who were able to benefit from important promotion of their products, also had very good commercial returns.
The companies also reached qualitative and international customers. This clientele is interesting in the opening of new markets. We had a lot of visitors from the East of Europe and Latina America. On the top of the represented countries, we have Spain, Italy, Portugal, Switzerland, the United Kingdom, Israel, the United States, Belgium, Hungary…
We also got the presence of small producing countries like Georgia or Madagascar. In the context where the attitude of the visitors changes with a late pre-registration, we are really happy of this beautiful attendence combined at a really good business level for our exhibitors. This edition of ViniTech-Sifel 2022 will stay a very good vintage."