The DWV-Congress will discuss with the participants the aspects and measures for sustainable production in viticulture. The topic has just become very topical again for our sector – not only the effects of climate change and the resulting weather extremes such as heavy rain, periods of drought or late frosts, the demand for a reduction in pesticides or dwindling resources are directing the focus to the topic of sustainability.
Current discussions in politics and society about the promotion of organic production or changes in marketing also require the DWV-Congress to address this issue of change and sustainability. Of course, in addition to the ecological aspects, the economic and social aspects must not be forgotten.
The congress will be simultaneously translated into German and English.
2022 innovation
This year, an attractive event format is planned with internationally staffed plenaries and smaller specialist groups, which you can select according to your interests – digitally at your home.
Great Wine Capitals to talk about Wine tourism & Architecture
The Great Wine Capitals is a network of major global cities in both the northern and southern hemispheres, which share a key economic and cultural asset: their internationally renowned wine regions. Its knowledge and longevity ensure his legitimacy within the Congress. Catherine Leparmentier, from the GWC, will be on-line on Tuesday April 12 to discuss Wine Tourism & Architecture along with Chester Osborn of d'Arenberg, a Global Best Of Wine Tourism winner in McLaren Vale, South Australia who will talk about his amazing "Cube".
Discover the program here :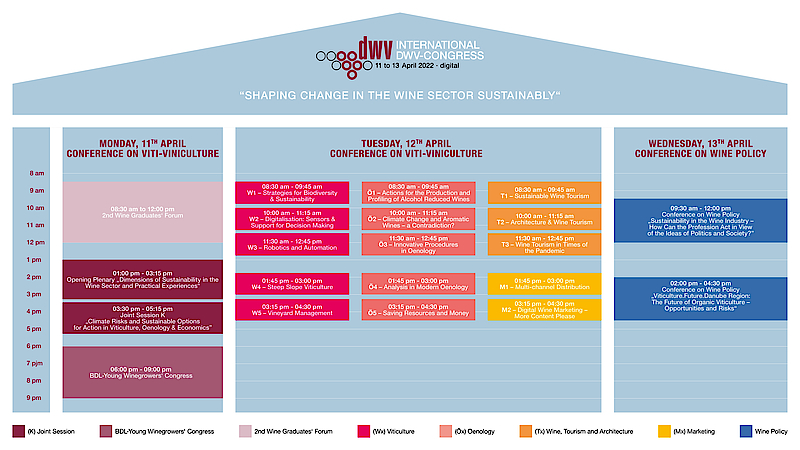 Buy your tickets on : https://pretix.eu/dwvkongress/2022/.