On Thursday September 9th 2021, Jacques Faurens, president of the Great Wine Capitals Global Network (GWC) signed a M.O.U., Memorandum of Understanding with Zurab Pololikashvili, Secretary General of the UN World Tourism Organization, thus setting up a collaboration field in the development of global wine tourism.
The M.O.U. aims at promoting wine tourism as a tool for socio-economic development. But also inclusion, particularly in its linkages to rural development; it aims at developing a better understanding of wine tourism flows, value, impact and trends; promoting knowledge and skills in the area of wine tourism and fostering innovation and sustainability in wine tourism development.
The M.O.U. was signed during the 5th UNWTO Global Conference on Wine Tourism where several speakers were attending on behalf of the Great Wine Capitals.
Zurab Pololikashvili said:
"The crisis caused by the pandemic has highlighted the relevance of tourism to both our economies and our communities. It has also emphasized the importance of working together. The partnership between UNWTO and Great Wine Capitals will showcase the power of wine tourism for rural development. Social inclusion and product diversification, building a better, more resilient future for all."
Jacques Faurens said:
"The world is going through extraordinary times nowadays. This make us even more sure that wine tourism is a key element of the essential diversification of wineries activities. But also driving force for sustainable and slow tourism developments. Our collaboration with UNWTO will ensure that we inspire the wine tourism players and support them with viable solutions in the future. I want to share my great satisfaction with the signing of this M.O.U."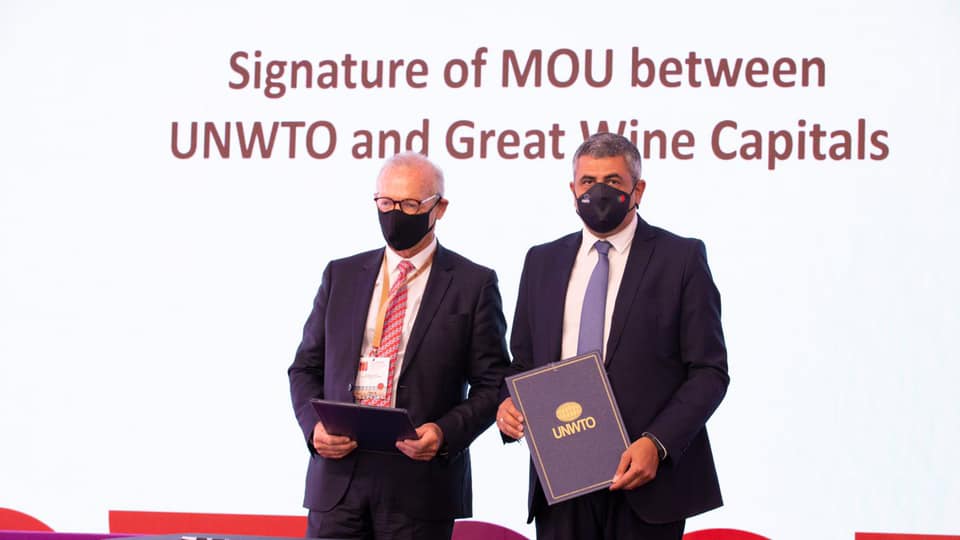 About the UNWTO
The World Tourism Organization (UNWTO) is the United Nations agency responsible for the promotion of responsible, sustainable and universally accessible tourism.
As the leading international organization in the field of tourism, UNWTO promotes tourism as a driver of economic growth, inclusive development and environmental sustainability and offers leadership and support to the sector in advancing knowledge and tourism policies worldwide.