Great Wine Capitals (GWC) invites you to discover the best of its capitals members wines with its unique GWC Wine Tasting Package.
The following wines are included in the package:
Mainz | Rheinhessen | Germany: Bodenheimer Hoch Dry Riesling (Winery of the City of Mainz) 
The opulent aromas of the ripe Riesling variety include classic yellow stone fruits such as peach and apricot; the tropical components of pineapple and passion fruit add a touch of exoticism. The salty limestone in the background gives the wine structure, complexity and harmony.
Mainz | Rheinhessen | Germany: Niersteiner Dry Riesling from Limestone Soil (Domhof Winery, Guntersblum) 
This wine will take you on journey of suspense. Starting with a promisingly aromatic fragrance and culminating in a highly textured pleasure with a long and spicy finish. The Riesling is a wonderful illustration of Rheinhessen's limestone soil structure and a genuine representation of the region's terroir.
Lausanne | Switzerland: Morges Chasselas Vieille Vigne (Cave de la Côte)
This wine heightens the senses, inviting the connoisseur to embark on a journey to the shores of Lake Geneva. Sense the region with each glass of Morges Vieilles Vignes. The subtle nature of this Chasselas makes it a welcome guest at the dinner table, offering an elegant and sophisticated accompaniment to light meat and fish dishes.
Valparaiso | Casablanca Valley | Chile: Sauvignon-Blanc Reserve (William Cole) 
The unique microclimate allows the grapes to fully ripen and preserve their naturally crisp freshness, resulting in an outstanding Sauvignon Blanc with a distinctive terroir. The wine's slightly grassy notes are complemented by the typical nuances of exotic fruits such as lychee, passion fruit and lime.
Cape Town | Cape Winelands | South Africa: The View White Blend (Delaire Graff) This cuvée of Sauvignon Blanc and Sémillon will conquer the hearts of wine lovers everywhere with its indulgently tropical notes of grapefruit and passion fruit and its undertones of nettles, which add a slightly green and balancing note.
San Francisco | Napa Valley | USA: Chardonnay (L.M. Martini) 
This wine packs a punch with its compact structure and intense roasted aromas, paired with a bouquet of fresh lemon cream, spicy baked apple and mirabelle plums.
Verona | Italy: Lugana Vigne Alte (Zeni)
This wine has an elegantly floral nose with aromas of apricot, citrus and a bouquet of flowers, complemented with subtle notes of nuts, butter and a little acacia. Its mild acidity is not too heavy on the palate.
Bordeaux | France: Blaye Grand Reserve 2016 (Château Monconseil-Gazin)
This wine is round and intense with aromas of ripe black fruits and toasted vanilla notes. It's very rich on the palate with a pronounced freshness, a dense yet delicate tannin structure and a long finish.
Bilbao | Rioja | Spain: Vivanco Crianza (Vivanco) 
This dark, bright cherry red wine, laced with purple hues, has a rich bouquet with mineral notes and aromas of ripe fruit, vanilla and spices. Its full body is harmonious and light on the palate with perfectly integrated soft tannins, culminating in a long and textured finish.
Mendoza | Argentina: Bio Malbec (Caligiore) 
This vegan Malbec hails from the land of meat lovers. Caligiore is an ecological family business that never uses pesticides or chemicals in the production of its organic Malbec, a red wine bursting with complexity and sophistication. This is a thoroughly authentic and special Malbec.
Adelaide | Barossa Valley | Australia: Y-Serie Shiraz (Yalumba Winery)
This rich and ripe Shiraz is like a delightful mouthful of South Australia with layers of ripe blackberries and Christmas cake on the palate, wrapped in soft, juicy and fully ripened tannins.
Porto | Douro | Portugal: Fine Tawny Port (Vallegre) 
This brick-red port unlocks aromas of dried fruits and nuts. The nice smooth texture on the palate is followed by a long and complex finish.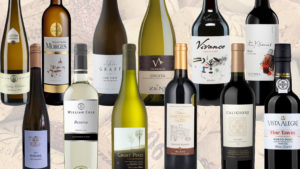 How to order?
Click here to order the GWC wine tasting package