Cristina Manso, who recently received a Ph.D from the University of La Rioja explains the results of this interesting research on Tempranillo hybrids.
You probably remember learning about Gregor Mendel in high school biology class. Mendel is known as the father of genetics because of his studies of crossing pea plants. From him botanists began to understand the principles of inheritance and the idea of dominant and recessive traits.
What you might not know is that many well-known wine grapes are the result of crossing different grape varieties – technically known as hybridization.  Some of these crosses occurred spontaneously in nature: notably cabernet sauvignon (cabernet franc x sauvignon blanc), chardonnay (pinot noir x gouais blanc) and Rioja's tempranillo (albillo mayor x benedicto). Botanists created others by combining the best characteristics of each grape, notably Germany's Müller-Thurgau and South Africa's pinotage.
Today, nurseries breed individual grape varieties for desirable qualities such as higher yield, resistance to pests and diseases, early or late ripening, color intensity and other traits.
Analyzing hybrids of Rioja's most popular red grape varieties (tempranillo, garnacha and graciano) was one of the objectives of Cristina Manso's doctoral dissertation at the Universidad de La Rioja. Her thesis was recently defended and awarded a note of 'sobresaliente' (A plus) cum laude and mention for the International Ph.D.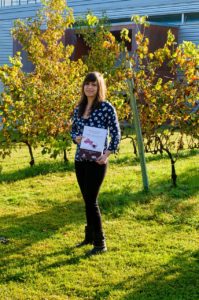 Dr. Cristina Manso
"The main goal of this research was to develop strategies for wine grape breeding.  Two specific objectives were considered: 1) analysis (of) the genetic basis of target traits such as berry size and morphology, flower sex, production and phenological periods; 2) assessment of the influence of berry size in the oenological composition of Tempranillo segregating progenies and Pinot Noir clones and the sensory evaluation of the wines derived from Tempranillo selections." (C. Manso Doctoral Dissertation, Summary, page V).
Tempranillo is Rioja's most widely planted red grape variety because of its great ageing potential, good fruit set, and good balance between acidity, color and alcoholic strength.  It is, however, susceptible to droughts, pests and diseases.
Graciano's high acidity, color and intense, attractive aroma complements Tempranillo.
Garnacha also complements tempranillo because of its robustness, resistance to pests, diseases and droughts and its high acidity.
Manso analyzed hybrid plants of (Graciano x Tempranillo) and (Garnacha x Tempranillo), created at a local nursery.  Using genetic sequencing techniques, specifically GBS (Genotyping by Sequencing) she identified candidate genes that could be associated with the expression of some traits, among others, that could potentially mitigate the effects of climate change such as early or late flowering or ripening, veraison, berry size, acidity and color.
Hybrids were cultivated, vinified and the wines tasted.  It was found that Graciano x Tempranillo selections obtained high quality scores by Rioja wine experts, some being even higher than those obtained by Tempranillo and Graciano finished wine.  This is a promising finding, both from the point of view of quality, but also for solutions due to warmer climate conditions in Rioja, since these selections present a great variability in terms of phenology periods, verying from early to late ripening.
Manso concludes
"This is the first physicochemical and sensorial evaluation of young red wines elaborated with Tempranillo intraspecific hybrid grapes.  Despite an important effect of vintage on sensory properties of wines, selected genotypes were able to produce quality wines with great sensory variability, therefore confirming that intraspecific hybridization is a useful tool to improve traditional varieties and meet new consumer demands." (C. Manso Doctoral Dissertation, Summary, page VI).
Dr. Manso's dissertation, Breeding strategies for wine grapes – from genetic analysis of agronomic traits to wine sensory evaluation  can be found at https://dialnet.unirioja.es/servlet/tesis?codigo=282947
Photo Credits: DOCa Rioja