The appointment is in Bodega Krontiras, Luján de Cuyo, under the motto 'Living Soils'.
It will have the participation of the biodynamic wineries of Mendoza that make up the Vinodinámicos group and presentations of prominent international experts.
The wineries in the Vinodinámicos Group are Alpamanta, Krontiras, Ernesto Catena Vineyards, Escorihuela, Chakana and Superuco
Among the visiting experts will be:
Bruno Follador (Brazil), geographer specialized in biodynamic agriculture, founder of the "Living Soils" program within the Nature Institute USA. He will address how to integrate the composting process into the life of the vineyard and the challenge of creating efficient, high-quality compost, developing a personal relationship and responsibility towards soil fertility.
Gervasio Piñeiro, doctor in agricultural sciences with post doctorate at Duke University and Berkeley USA. He is also a  researcher at Conicet in Argentina. He will deal with the theme "Living soils, their dynamics and how to feed them"
Luis Wall, PhD in biochemical sciences, Conicet researcher and director of the UNQ Soil Biochemistry and Microbiology Center with "Soil microbiota, a new look"
The meeting will close with a tasting of biodynamic wines open to the public.
Those interested in the Meeting can sign up at vinodinamicos@gmail.com
To buy tickets for the tasting please visit Feria de Vinos Vinodinamicos Entradas, Sab, 19 nov. 2022 a las 15:00 | Eventbrite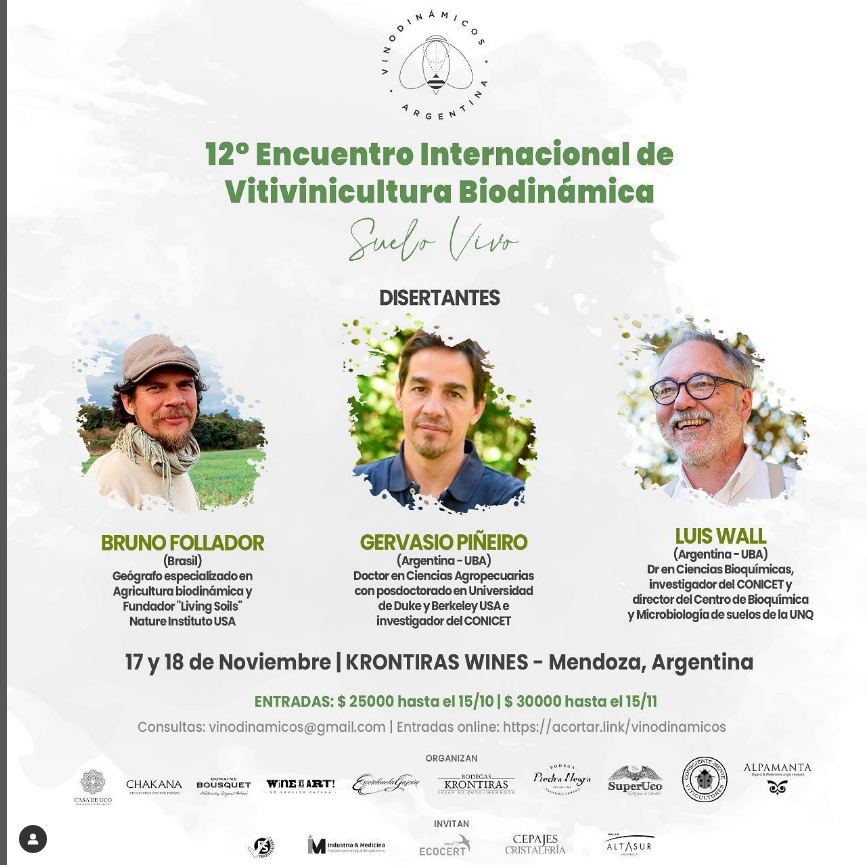 Photo credits: Vinodinámicos
Reference: https://mendoza.puntoapunto.com.ar/llega-un-nuevo-encuentro-internacional-de-vitivinicultura-biodinamica-suelo-vivo/