The participants of this event will have technical tastings and visits to the following wineries: Huentala Wines (Tupungato), El Enemigo (Maipú), Diamandes and Salentein (Tunuyán), Catena Zapata, Anaia, Durigutti and Cheval des Andes (Luján de Cuyo). The ranking of the 50 selected wineries is voted every year by more than 500 world wine experts, sommeliers and savvy travelers who give their nominations based on a variety of criteria on what determines the best vineyard to visit, such as quality of experience, atmosphere, food , the activities, the view, the employees, and the value of the service. The results are then collated to create the World's Best Vineyards list.
Five of the wineries from Mendoza, this year's host province, made it to the Top 50 last year. They were: Piedra Infinita, Catena Zapata, Trapiche, El Enemigo, Superuco.
Mendoza is considered the main wine region in Argentina, with more than 150,000 hectares of vineyards and more than 800 wineries throughout the region. In addition, Mendoza has beautiful natural landscapes in which tourists can enjoy a number of outdoor activities such as horseback riding, rafting, sunset mountain biking and zip lining.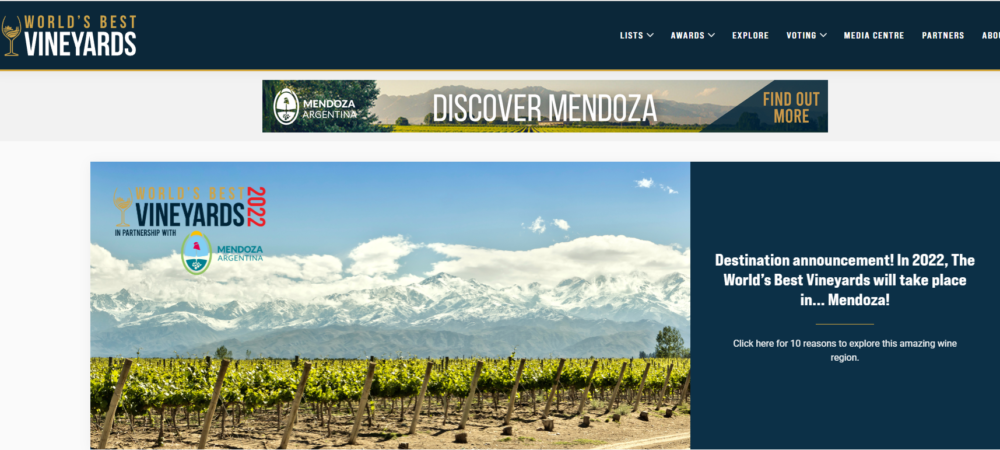 Learn more
Photo credits: Florencia Da Souza