Packaging, innovation, technology and sustainability are the main topics of the WSVF 2.0.

The visit is free of charge but with registration. Leading companies and speakers of the wine and spirits industry will get together in this 100% digital event.
Four full days  of webinars, conferences, trainings, debate panels and interviews about the latest products, technologies, labels, businesses and trends of the sector.
The 2.0 edition offers limited vacancies. Don't miss the chance to visit stands, meet clients and close deals.  Go deeper into topics such as:
the future of the packaging industry
consumer demands
post-Covid market
positive impact brands
losses for non-quality processes
the technology that comes to support the growth of the industry
Free registration at: https://event.wsvfair.com/node/710329?dest=node%2F710327
About the WSVF 2.0
This virtual fair that was launched in 2020 to find a way to link companies internationally during the pandemic. It is an initiative of UMP Raflatac, a leading paper producer located in Finland, and YG Branding & Design, a branding and design company from Mendoza, Argentina.
The 2021 Edition has new sponsors: International Wineries for climate Action (IWCA), Xeikon and Moondesk.
Organizers are taking a huge step forward gathering leading companies and relevant actors that will drive the change, following the guidelines set by the Sustainable Development Goals of the United Nations.
The target audience of this event is quite broad and involves the whole value chain of the wine and spirits industry: designers, managers, directors, marketing executives, sales managers, importers, distilleries, wine and spirits organizations and NGOs related to positive impact, among others.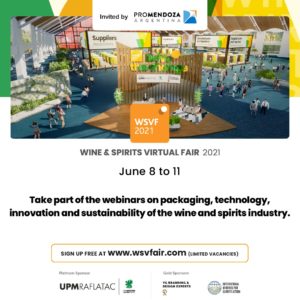 Visit virtual stands to discover new suppliers and products!
There will be activities in English and in Spanish.