Salentein is located at an elevation of 1.200 meters (4.000 feet) above sea level. Besides the vineyards, they have preserved more than 49 hectares (121 acres) of native desert habitat as a part of their landscape.
Their western horizon is dominated by the closeby snowy Andes, with mountains over 6.100 masl (20.000 feet). The magnificent winery was designed taking into account two aspects: shape and function. Its cross shape facilitates a careful management of grape and wine and reduces the stages of the wine making process.
There are  three plantations  located at a height between 1.050 and 1.700 masl (3.500 and 5.600 feet). The most elevated vineyards of Mendoza are located in an area called San Pablo Ranch. They are some of the vineyards planted at the highest altitude in the world. The plantation's great elevation offers two main advantages: water and temperature.
San Pablo terroir experience
In this experience you can discover this terroir with all your senses under the guidance of the experts of Bodega Salentein. The wines produced in the San Pablo Geographical Indication are unique and unforgettable.
This tour allows you to visit different plantations at different heights and taste the difference between their wines.
First station at 1200 masl. The experience is directed to the sense of sight, discovering space and architecture at Finca La Pampa. You will visit the winery and the art gallery.
Second station at 1400 masl.It is directed to the sense of touch in Vineyard Los Jabalíes. You will visit a trial pit to discover the soil in this area.
Third station at 1600 masl. It is directed to the Senses of hearing and sight. You will listen to the waters from Villegas creek and enjoy its natural environment at Las Sequoias Vineyard.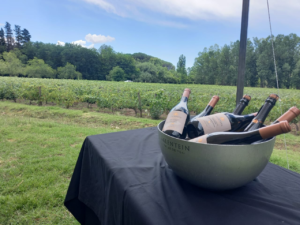 Fourth station at 1605 masl. It is directed to the senses of taste and smell at Las Sequoias Vineyard. Winemakers, sommeliers and the  executive chef will lead you to the flavors of the San Pablo Terroir. The guests taste wines of this terroir paired with special dished prepared with produce of the same land, like pears, peaches, nuts, quinces, arugula.
The last stop of this experience awaits for you with a great exponent of sparkling wine: "Alyda van Salentein". This is a tribute to a noble, interesting and sophisticated woman. It invites us to honor those occasions that deserve to be celebrated, those moments that become eternal. This Cuvée Prestige is made with the best Pinot Noir, Pinot Meunier and Chardonnay grapes, reflecting elegance, freshness and sophistication. Its process is based on a cut of two different vintages. The oldest has a great aging on lees that results in an unctuous wine with good structure and acidity. The youngest vintage provides freshness and fruitiness.This Cuvée Prestige is paired with an apple crumble, cheese and regional sweets.
Learn more about Mendoza Great Wine Capital