Bordeaux has a vibrant community of young wine makers, managers, cellar and vine workers. Many of them own or work with Best Of Wine Tourism winners and we often turn the spotlight on them. In this post I wanted to share a Bordeaux initiative specifically designed to encourage more young people to work in the Bordeaux vines. Vigneron du vivant : our 2021 young guns of Bordeaux!
There is a need for more vine workers in Bordeaux, a need especially critical in the Medoc, where many job vacancies remain unfilled despite high youth unemployment.
A scarce resource
Why is it so hard to recruit young people from the region into this craft? Perhaps because it's not seen as a craft? Working in the vines of such a prestigious wine region might sound appealing but, however beautiful it is and fabulous the wines are, it remains hard work; physically demanding in all weathers from hot summer trimming to freezing winter pruning. The work has often been perceived as a stand-by job rather than a career with little vision of possible evolution or progression.
SKOLA Vigneron du vivant, was created to change this perception and encourage young people from the region who are looking for work to join the industry. The role of the vineyard worker is vitally important. How many times do we hear that the wine is made in the vineyard not in the cellar? As more emphasis is placed the care of the raw material, the grapes, whilst simultaneously preserving the fragile environment, the role of the vine worker becomes more important and there is an increased awareness of their value.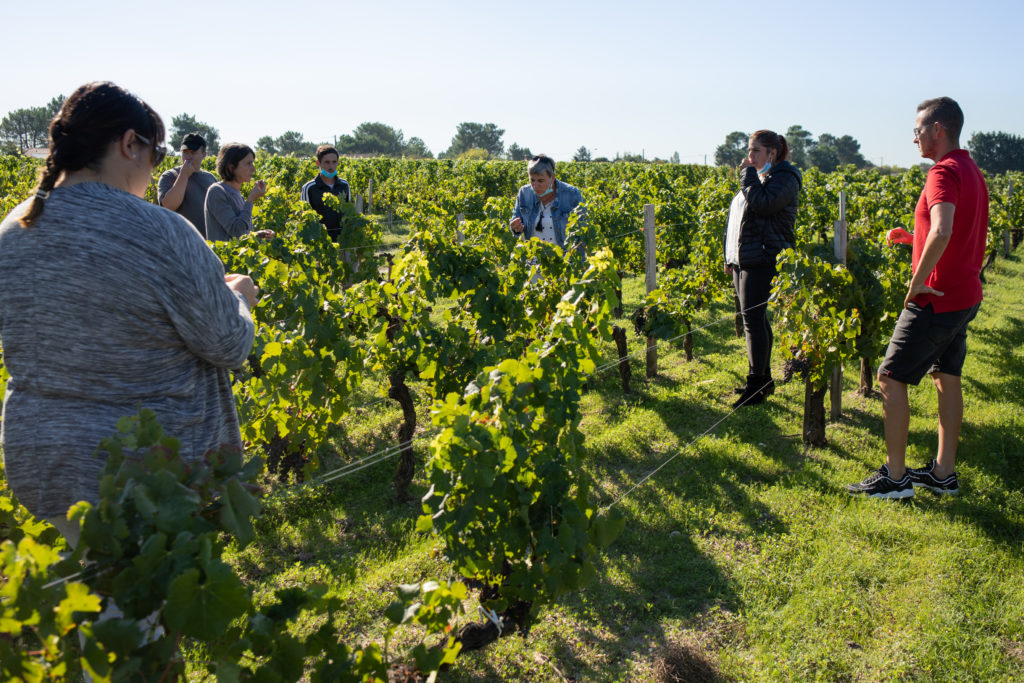 Evolution.
As viticulture evolves so does the role of the vine worker.  As properties concentrate on plot-by-plot management and with increasing environmental and climatic challenges, skilled and experienced vine workers are the key to a successful vintage.The challenge is not only to recruit but also to retain these precious team members. Chateaux want workers to stay, to benefit from their unique understanding of how the plots evolve. Following plots, year on year they know how they performed in previous years. Do they over produce or struggle too much? An intimate relationship develops between the vines and the workers responsible for them. When workers move on, all this valuable information is lost. Vigneron du Vivant encourages young people to discover the world of the vineyard and also to stay and evolve within the community.
The programme
Thanks to the expertise of Les Apprentis d'Auteil, an organisation specialised in engaging young (candidates must be between 17 to 30 years old), disadvantaged people with a trade and to the initiative of Jean-Baptiste Cordonnier of Château Anthonic, twenty chateaux from the Médoc work together to create a unique training programme. The programme started in 2018 with eight people qualifying in 2019.
Two programmes have already accompanied 26 young people with an average age of 23.  90% were from the Médoc, approximately one quarter women and 75% have continued to work full time in the vines. The third programme started in December 2020 and Pierre Cazeneuve owner of Château Paloumey (and Best Of Wine tourism winner) is coordinating the project.  This year participating properties include Château Phélan Ségur, Château Montrose, Château Lafon Rochet, Château Latour, Château Gruaud Larose, Château Brillette, Château Paloumey, Château Haut Bage Libéral, Château Palmer, Château Lilian Ladouys and Château Rauzan-Ségla. It's a diverse group, six different appellation and properties from Grands Crus Classés, Cru Bourgeois and family vineyards. Banton et Lauret, an agency specialised in vine workers is also participating.
The programme lasts a year with a job guaranteed upon completion. Two thirds of the time is spent in the sponsoring chateau, training on the job, and one third in the classroom but no ordinary classroom. Each property takes a turn welcoming the group of students for classes on different themes, with the added advantage of creating a sense community amongst the students.
All the elements of vineyard work are covered: working the soil, pruning the vines, deleafing, tractor driving, cellar work etc. with 25% of the dedicated to eco-friendly 'agro-ecology' practises; organic, biodynamic, agroforestry, etc.
Vine work is physically challenging, this year, working with the trainers of the Girondins de Bordeaux football club, they have created a programme strength training and learning the safest ways to work to limit muscle strain. Self-care and wellness being part of encouraging young people to join the trade.
Evolution
The programme is forward looking, examining the evolution of vine work, including robotics for example. Qualified tractor drivers are also difficult to find so robotics could be the future. 
Look at work in the vines and you'll see how things have already changed. We no longer see systematic burning of vine clipping, thanks to an awareness of carbon footprint, vine secateurs are powered to help prevent repetitive strain, shaded trollies move more easily through the vines, all innovative initiatives that are important for the wellbeing of the workers but also their continued professional development, keeping them up to date with changes. It's far from a stagnant metier.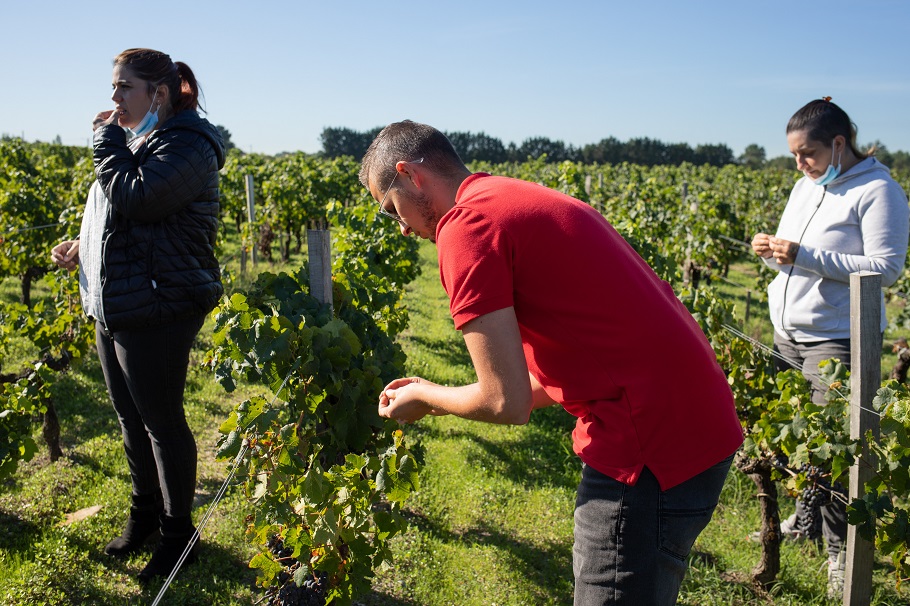 Community
As well as the students creating a community as they attend events together, the programme also creates a closer relationship with the local community. Reducing the sense of separation of the world of the chateaux from the local population, increasing social integration.
Unexpected benefits
As well as guaranteeing a motivated work force, an unexpected advantage for the chateaux is a closer working relationship with each other. Rather than seeing each other as competition, there is a sense of being in this together, realizing they all share the same issues whether classified growth or more humble crus, when it comes to recruiting but also other sustainable goals. As some properties are further down the path of sustainable development than others they can share their experiences. At Château Paloumey, Pierre Cazeneuve is planting four hectares of agroforestry, helped by the experience of Château Palmer who are further along in the process.
Of course, not everyone gets through the training or sticks with, but as the properties realise just how important qualified and skilled labour is in continuing to produce great wine, these workers also become aware of their value, see how their metier can evolve and they can evolve with it. Taking pride in the place and their role within it
By Wendy Narby
Photos Credits : Vigneron du vivant
Social and natural sustainability in action
Sustainability and respect for the land is common practice amongst the properties, but sustainability goes beyond the land. It includes investing in people. This open-minded approach to professionalise workers and pass on a cultural knowledge, in both senses of the term, prioritises the future opportunities in the vineyards.
Good news spreads. Following its success, next year the initiative will spread from the Médoc to other regions of Bordeaux.
https://www.apprentis-auteuil.org