As the Holiday Season approaches here in Argentina, we start to think about the menus of Christma's Eve and Day, that will sure be paired with Mendoza wines. To help you choose yours, here's a selection of amazing wines and dishes that will deliciously match with it.
Proposed wine: Cordero con Piel de Lobo, Malbec 2020, Los Toneles Winery
Pairing dish: Steak Tartare
Chef: Matías Gutiérrez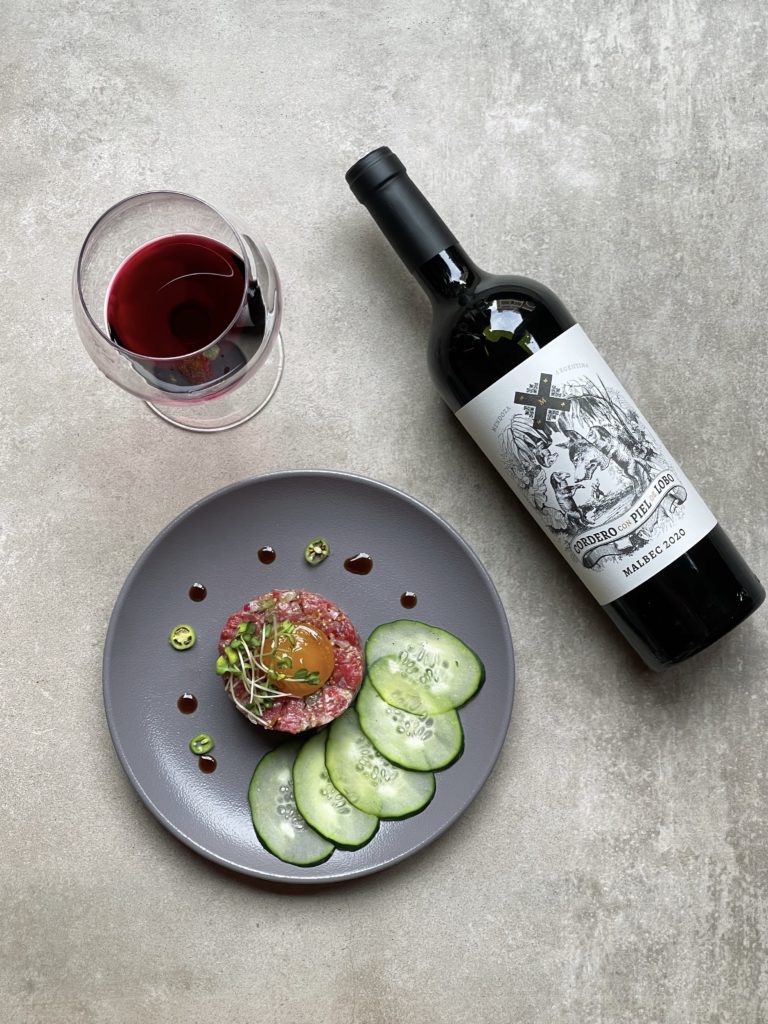 Recipe:
Ingredients per person:
For the egg yolk: 1 yolk, 50 g salt, 50 g sugar
For the tartare: 80 g fresh beef, 10 g red onion cut in brunoise, 5 g gherkins cut in brunoise, 7 g Dijon mustard, 1 pinch of salt, 1 g chopped coriander, 1 pinch of black pepper, 3 cc of olive oil , zest of half a lemon, 5 slices of fine cucumber, 1 g of hot pepper (optional).
Step by Step
Yolk curing: mix the sugar and salt well. Place half of the preparation at the base of a container. Place the yolk over that mix. Cover it with the rest of the other half of the mix. Leave the yolk rest there for 5 hours until it is well dehydrated. After that time, take it out, wash it with water and leave it in oil.
Preparation of the tartare: cut the meat into small cubes. Add onions, coriander, olive oil, Dijon mustard, lemon zest and pickles. Mix well with a spoon until all the ingredients are integrated. Rectify flavor with salt and pepper. Place the preparation in a steel mold and compress it well with a spoon. To serve it, place cucumber slices in a fan shape at the base of a plate, next to the peppers. Place the steak tartare in the middle of the plate and place the cured egg yolk on it.
Where can you find this wine?
USA: Vinamericas, 8101Biscayne Blvd. Suite 304, Miami ,, NIF: 20-1696506. https://www.vinamericas.com/.Phone: + 1-866-998-VINO (8466). Email: info@vinamericas.com
UK: Morgenrot Group Plc, Unit 2 Canary Way, Agecroft Commerce Park, Manchester, UK
Switzerland: My land Imports, Alpenstrasse 7, Rapperswil, Switzerland.
Contact in Argentina: Melisa Millán. Hospitality manager at Los Toneles Winery: +54 (261) 4310403, hola@bodegalostoneles.com, East access, North side 1360, Zip Code 5519, Guaymallén, Mendoza, Argentina
Proposed wine: Salentein Barrel Selection, Malbec 2018, Estate Owned Vineyards, Valle de Uco, Mendoza, Argentina
Pairing dish: Grilled pork bondiola with sweet potatoes cream and red berries chutney
Chef: Santiago Maestre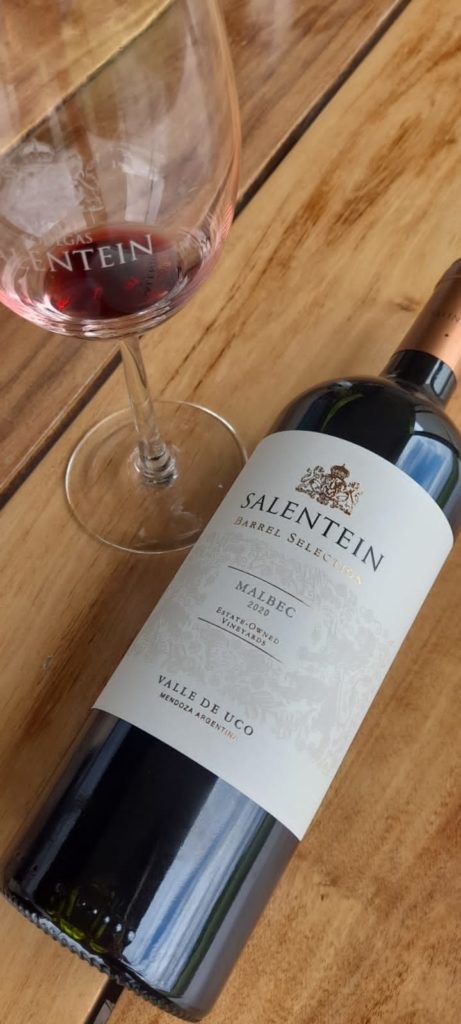 Recipe for 4 servings: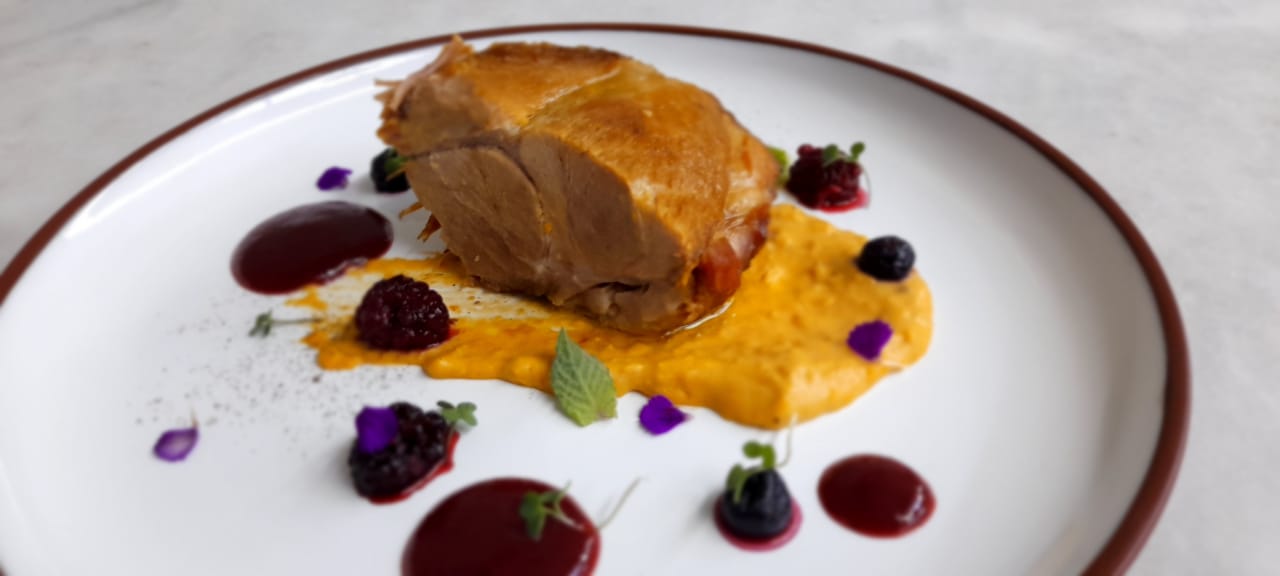 Ingredients:
For the braised pork bondiola: 2 kg of pork Bondiola, a total of 300 gr of flavor bouquet (onion, celery, carrot), 500 cc of water, 1 l of white wine, salt, pepper, rosemary, paprika.
For the sweet potato cream: 400 gr of cooked peeled sweet potatoes, 800 cc of milk
For the raisin and red berries chutney: 400 g of onion, 3 cloves of garlic, 30 cc of olive oil, 400 g of onion, 100 g of raisins, 200 g of red berries mix (blueberries, cassis, raspberries and blackberries), 1 clove, about 5 coriander seeds, 100 cc of wine vinegar, 50 g of cold butter.
Step by Step
Cut the vegetables in mirepoix (An irregular cut in shape and size). Mix them in a container with the spices, herbs and salt. Seal the piece of meat to prevent it from reducing its size. Place in a saucepan, add the spicy bouquet, wine and water. Cook for 3 hours. Cool it and cut into portions.
Make a cream starting from cold milk and the cooked peeled sweet potatoes. Add little salt to improve the taste of the preparation.
Cut the onions into brunoise. Mince the garlic very small and cook it in olive oil until is Golden brown. Add the spices and vinegar. After 10 minutes, add the raisins and the red berries mix. Add water if needed. Finish the recipe with the addition of butter to give the chutney shine and consistency.
Serve two slices of warm braised bondiola accompanied by the warm sweet potato cream. Decorate it with the red berries chutney.
Where can you find this wine?
Europe: Robert Bruijnzeels – r.bruijnzeels@salenteinwines.com
USA: Dennis Koelewijn – d.koelewijn@mp-wines.com
Proposed wine: Matervini, Malbec 2017, Viña Canota, Vinos de Precordillera
Pairing dish: Argentine Locro (Corn stew)
Chef: Traditional recipe

Recipe for 6 servings
Ingredients: 1 cup of dried white corn (hominy), 2 chopped medium white onions, 2 finely sliced cloves of garlic, 1 finely sliced leek, 200g thick cubed smoked bacon, 2 slightly spicy sausages or pork chorizo in slices, 2 thick steaks of stewing beef, osso buco or similar in cubes, 1 cup white beans, 1 teaspoon sweet páprica, ground black pepper and salt to taste, 1 cup cubed butternut squash.
Step by step
Soak the dried white corn in at least two cups of water, at least for 12 hours – preferably overnight. In a large pot cook the onions, garlic, leek, stewing beef, sausages and bacon in a little vegetable oil until the onions are translucent. Add the paprika, a little salt, and freshly ground black pepper. Cook, stirring occasionally, for 10 minutes. Add the white corn kernels and enough hot water to cover the ingredients by about 2 inches. Add the vegetables and the white beans. Bring the whole thing to a boil, reduce the heat, cover and simmer for around two hours. Check the pot every 20 minutes and stir.
After two hours remove the pan lid and continue to cook over a low heat. Add a little more salt to taste.
Where can you find this wine?
Gustavo Biondo, Phone/ Whatsapp, +54-9-261-616 8279, gbiondo@matervini.com
Proposed wine: Casarena Naoki's Single Vineyard Malbec
Paring dish: Caramel flan with caramel mousse, toffee sauce and salty caramel crunch
Chef: Ailín Rosas

Recipe for 6 servings
Ingredients:
For the Flan: 6 tablespoons of sugar for caramel, whole milk 500 ml, confectioner's dulce de leche 350 g (it is a traditional Argentinean sweet spread), sugar 100 g, 4 large eggs.
Note: if you can't find dulce de leche to buy in your area, you can prepare it at home by cooking a closed can of condensed milk in a pressure cooker. Place the can closed, without the paper that covers it. Cover the can with water. Close the pressure cooker and cook the can for approximately 25 min. Let it cool before opening.
For the Toffee Sauce: 100 g white sugar, 100 ml heavy cream, 1 pinch of salt
For the caramel mousse: 200 g whipping cream, 1 large tablespoon of confectioner's dulce de leche.
For salted caramel crisp: 60 ml water, 370 g sugar, 120 g honey, 50 g butter, 1/2 teaspoon baking soda, sea salt or coarse salt, orange zest (optional)
Step by Step:
Heat the oven to 130 ° C or 266 ° F.
For the caramel, place the sugar in a pan over medium heat. When the sugar is dissolved, stir and remove from heat. Cover the bottom of the chosen container with the caramel. Barely heat the milk with the dulce de leche. It can be in a microwave. Stir until the dulce de leche dissolves completely. Add the sugar and dissolve. When it cools down a bit, add the beaten eggs to the preparation and mix gently, without beating. Strain the preparation into a large mold or 6 individual ones already covered with caramel. Place the mold (s) on a larger baking container with high walls. Add water into the baking container to cover up to half the height of the puddings. Cover the flan with aluminum foil and bake for 1 hour. To know if it is really ready, prick it with a knife or toothpick. If it comes out dry, it means that the cooking is complete. Let it cool down covered, so that the preparation does not fall down. Keep it cold.
For the toffee sauce: make a caramel the same way as for the flan (we can use the one that is left over from that preparation). Heat up the heavy cream. Integrate both preparations out of the fire very carefully (It will be extremely hot and releases a lot of steam). Boil until the caramel dissolves completely. Add the salt. If the preparation is too thick, you can lighten it with a little water or cream.
For the caramel mousse: whip the cream halfway with an electric mixer. Add the dulce de leche and beat it as little as possible but until it is completely integrated. This step can be done with a hand mixer. If you beat it in excess, it will lose the fine texture we are looking for.
For the salted caramel crunch: place water, honey and sugar in a small pot. Cook it over medium heat until just lightly browned. Stir to make sure the ingredients are properly integrated. Remove from the heat and add the butter. Add the bicarbonate and stir. The preparation will turn into a foam. Place the preparation on a silicone mat, silpat or greased parchment paper. Before it cools, sprinkle it with coarse salt and orange zest. When it is completely cold, chop and reserve.
Assembling the plate: decorate the bottom of the plate with the toffee sauce. Place a portion of flan and mousse over the sauce. Sprinkle these preparations with the caramel crunch. Add color with a few mint leaves.
Where can you find this wine?
USA: Vine connections, Westford food, Wine bridge, Allied import
UK: Cóndor wine
Spain: La cachehueta
Switzerland: Silverborgen
France: South world
Netherlands: Creative Beverage
Photo credits: Los Toneles Winery, Pulenta Estate Winery, Salentein Winery, Matervini Winery, Casa Naoki – Dartley Family Wines,
Learn more about Mendoza Great Wine Capitals