"In Homer's bronze your name shines, black wine that gladdens the heart of man." Jorge Luis Borges
Walking through the tree-lined streets of Mendoza, trekking next to a stream, staying in a city hotel or glamping in contact with nature are perfect excuses to enjoy the flavors and aromas offered by the gastronomy and wines of this province in Argentina.
In Mendoza you can find great wines in their natural environment. Along the Andes Mountains -the backbone that crosses the American continent- many places offer natural landscapes with similar characteristics, but this province of western Argentina is unique, due to the particularity of having Mount Aconcagua, the roof of the Americas.
Many other areas offer high quality wines, however, none of them offer the best Malbec on the planet. Very few places in the world can boast such a strong association of a variety (in this case Malbec) with a country.
Various referents of Mendoza's gastronomy endorse that, in Mendoza, you cannot think about cooking without thinking about wine.
Aldo Ansaldi (Sibaritas Academy and Mar y Monte Restaurant)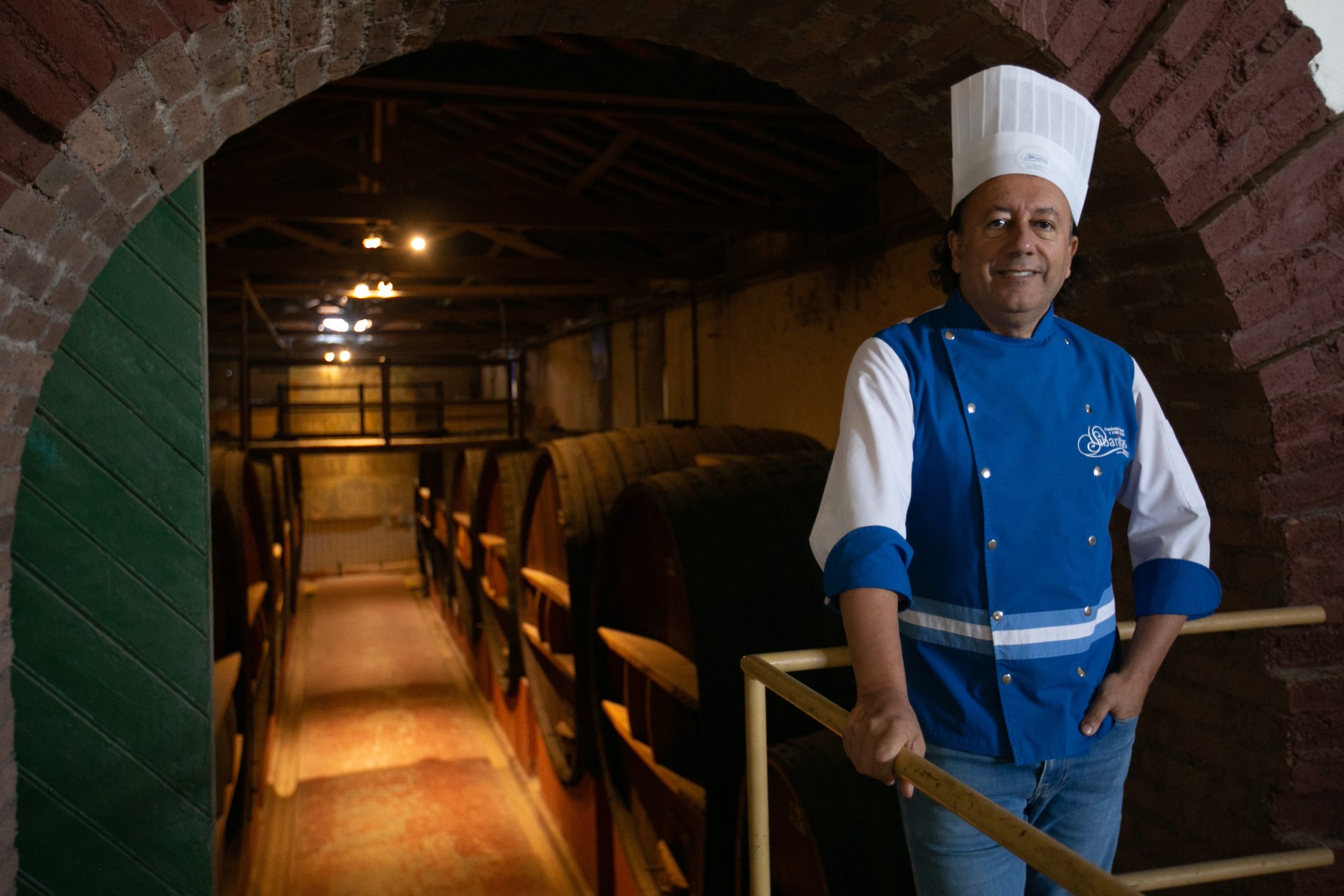 Aldo Ansaldi is the General Director of the Sibaritas Academy and owner of the Mar y Monte restaurant. He was born in Chile but has been living in Argentina for 35 years. Always dedicated to gastronomy, his first job was in Mendoza, but later on, he went to Buenos Aires, Patagonia and also visited different countries in the world. "I am passionate about this profession", he comments without hesitation. Regarding the place that wine occupies in his creations, he declares: "In my case, wine is a companion to the menu. The challenge is to strike a balance between the two of them. My goal is to integrate the wine into the menu. Wine has to be used as much in salty dishes as in pastry and cocktails. Currently, I am doing tests with wine flour and must-based powders. We try not only to ensure that the wine is to be drunk, but also that it is on the plate."
"I think it is important to achieve a balance. For that, you must know about wine. Mendoza is lucky to have wonderful wines. Something interesting happens in Mendoza: there are very attractive regional products, such as cheeses, cold meats and pickles. You have to be very careful, so that they do not overlap the wine. The aim is to achieve that magic that occurs when you taste a bite and it pairs perfectly with the proposed wine", adds Ansaldi.
Regarding the perfect pairing, the chef emphasizes: "In the case of the restaurant, we must consider the dish the guest selects first. Normally, the client orders the wine first than the dish. For this reason, the function of the sommelier is important. He can advise the client properly. I consider that the wine comes first and then the dish. I insist on the concept of achieving harmony between dishes and wines. We also have to offer experiences of gastronomic products made with wine."
"Today, wine is a very personal matter. For example, guests have overcome some former taboos regarding pairing, such as red wine being for meat and white wine for fish. Precisely in my restaurant, where the specialty is fish, many people eat it with red wine. Others prefer it with a sparkling wine, the whole dinner", he adds.
Ansaldi also reflects from his perspective as a teacher: "Most schools should teach subjects related to the world of wine. In Sibaritas, we have a subject about Viticulture and Olive Growing. The future related to wine is very interesting and gastronomy schools have to be present there. Wine produces a special passion, starting from the moment of pruning to its elaboration. Being in Mendoza, we cannot miss these practices."
Leandro Carranza (Malvinas International Gastronomy School)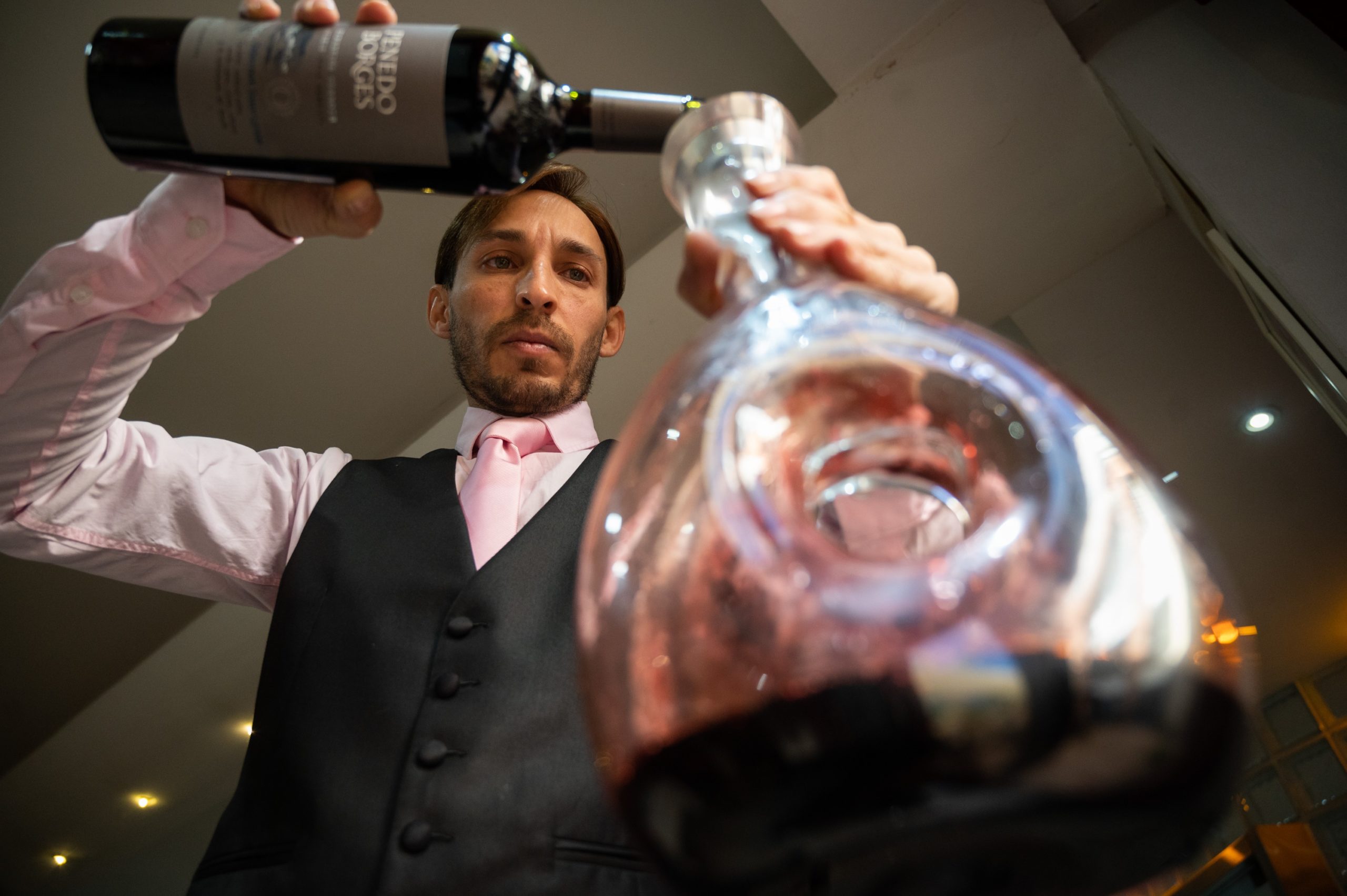 Furthermore, Leandro Carranza, director of the gastronomy career at Islas Malvinas International Gastronomy School comments: "I teach the subjects of national and international gastronomic culture and pairing. So, I am always uniting the concepts of the wine world and gastronomy." Leandro has worked in restaurants in Spain and France. Currently, he is a teacher and part of the team of a deep-frozen gourmet food factory.
"Bearing in mind that Mendoza has a highly expanded and very rich use of wine in cooking -whether it is in a sauce, in long cooking processes or for decoration- we can say that wine is already part of the dishes". He considers that "the wine we use for cooking should be accompanied by the same variety as a beverage".
"You can identify very well the places where the menu is created around the wines. That is the case of some wineries. We also find restaurants that have emblematic dishes or proposals designed for a specific gastronomic culture. In those cases, first comes the menu and then the wine list. This logic guides the consumer at the time of pairing. Wineries propose a psychological pairing as the guests trust that the proposal will be indisputable. In a restaurant, the sommelier can recommend a wine based on the choice of the menu", explains the chef and teacher.
Regarding consumers, Carranza reflects: "Currently, we have better trained consumers, who can make correct evaluations of pairings. Both chefs and sommeliers are very focused on creating dishes, so that guests can enjoy the experience."
Education is something important for this professional: "The wine world is well taught in the academies in Mendoza. Wines are a fundamental part of the study plan. A gastronomy student in Mendoza cannot get his degree without having a notion about elaboration, pairing, varieties, etc. This makes the proposal of the Mendoza gastronomic schools so rich. We have to continue promoting the approach of people to the world of wine."
"Wine, like stories, can be appreciated in layers. As time goes by, it becomes more attractive, like the pages of a book". Marcelo Pelleriti, winemaker
Eduardo Umar (Arrayanes Cooking School)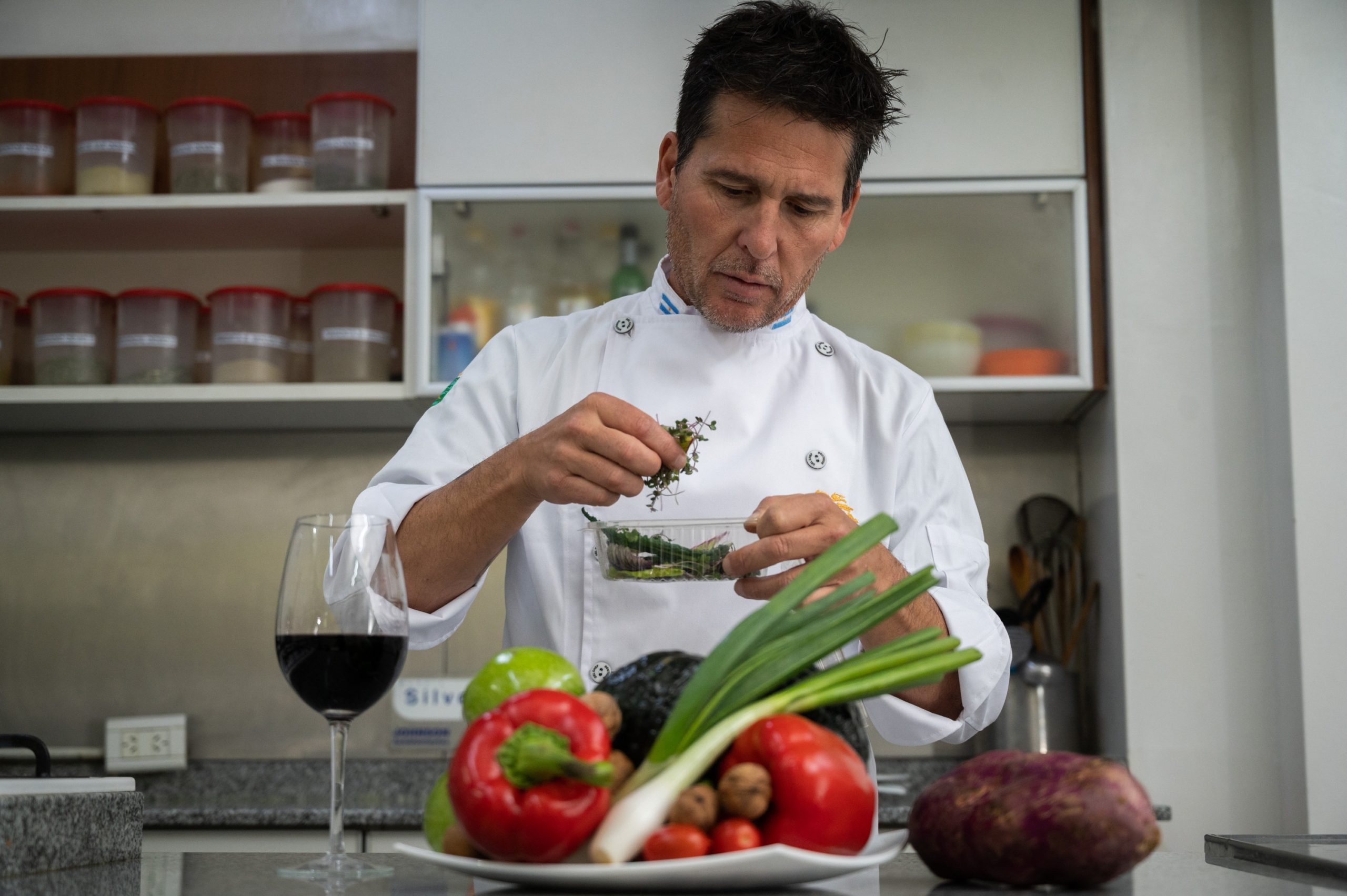 Eduardo Umar is the president of Arrayanes Foundation and general director of its cooking school, the Arrayanes Institut. He is also the President of the Association of Argentine Regional Cooks (ACRA). Eduardo is 52 years old and has been a cook since he was 16. He began working in the Mountain Resorts of Mendoza, toured different restaurants and hotels in Mendoza and studied in Buenos Aires, at Alicia Berger's school. He has worked with various renowned chefs, such as Dolli Irigoyen, Osvaldo Gross, Joan Coll, Ariel Rodríguez Palacios, among others.
For Umar, "wine occupies a very important place. You have to create the menu taking into consideration the occasion and the time of year. Currently, it is very trendy to offer menus by steps, each of them with a different wine."  This chef considers that the evolution of the relationship between wine and his dishes "has been intense, interesting, increasingly agile, to be in tune and aware of trends". He explains that if he has to cook with wine, his decisions will depend a lot on the meat or the produce to be prepared."
"The important thing is to know how much a wine can be reduced or cooked. Because this varies its organoleptic characteristics. We must know very well the products with which we work. If we don't know the product we are working with, we run the risk of ruining a dish and a wine", explains Umar.
Mendoza's typical products have a very interesting relationship with wine, according to the chef. "Every time we put together a menu, we relate the wine to the dishes, because wine goes very well with almost all regional products. We only have to take into account the combinations. For example, if we are having a sweet dessert, we have to find a wine with a good acidity. We can make good combinations between the local produce and wines."
"We all have different perceptions when it comes to pairing. Therefore, it will depend a lot on the guest. In general, there are recommendations, such as saying that such a wine goes well with a certain cheese. However, this is not a rule for everyone. The right pairing is defined by each person, when the person perceives the preferred taste,"says Umar.
For the president of Arrayanes, the consumer has evolved a lot. He considers that, nowadays, there is such an array of wines to select from that the guest is compelled to discover new things. The consumers are highly motivated to talk and learn about wine.
He also clarifies that, at Arrayanes Culinary School, "we have specific subjects, which have to do with wine, pairings, elaboration, the care that wine must have. We also have tastings and olfactory tests. I believe that local gastronomy schools must teach about wine, because wine represents Mendoza in the world."
"Cannot remember the days, the moments are remembered." Cesar Pavese
Matías Gutiérrez (Abrasado Restaurant)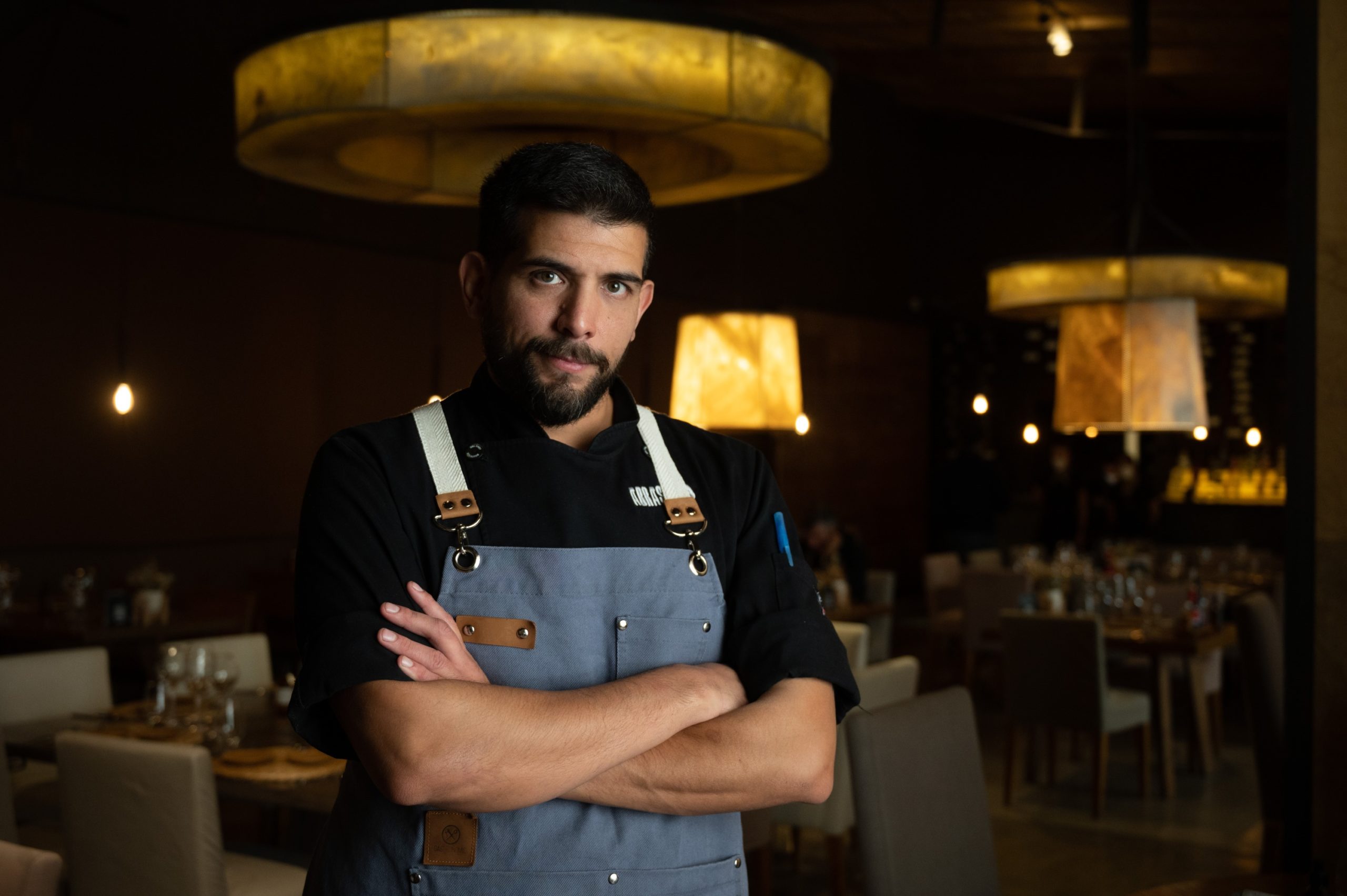 Matías Gutiérrez is the executive chef of Abrasado Restaurant at Los Toneles Winery. He began his profession 18 years ago with a long journey in the hotel industry. This chef is in charge of Abrasado, awarded best restaurant by the Great Wine Capitals. Abrasado won the international GOLD prize in the restaurants category of the Best of Wine Tourism 2022 awards. Matías considers that wine has a very important place when planning a menu if you want to achieve a good pairing and offer a good gastronomic experience to the customer.
"The evolution has been immense. Currently, we always ensure that wine is present, whether it is an appetizer, main course or dessert. In the last years, wine and regional produce have increased their presence at local restaurants. At Abrasado we always offer regional produce in seasonal menus, as starters or as main courses," says Gutiérrez. When responding about the priorities of a pairing, he does not hesitate: "I think that wine is one step ahead. When we create a menu, we always think about the wines that we have in the cellar first. About their varieties, to find a great pairing with the dishes. People are more demanding when it comes to eating out. In general, people who are into wine always choose their food based on the wine they want to drink."
Santiago Orozco (Diam´s Restaurant at Diamandes Winery)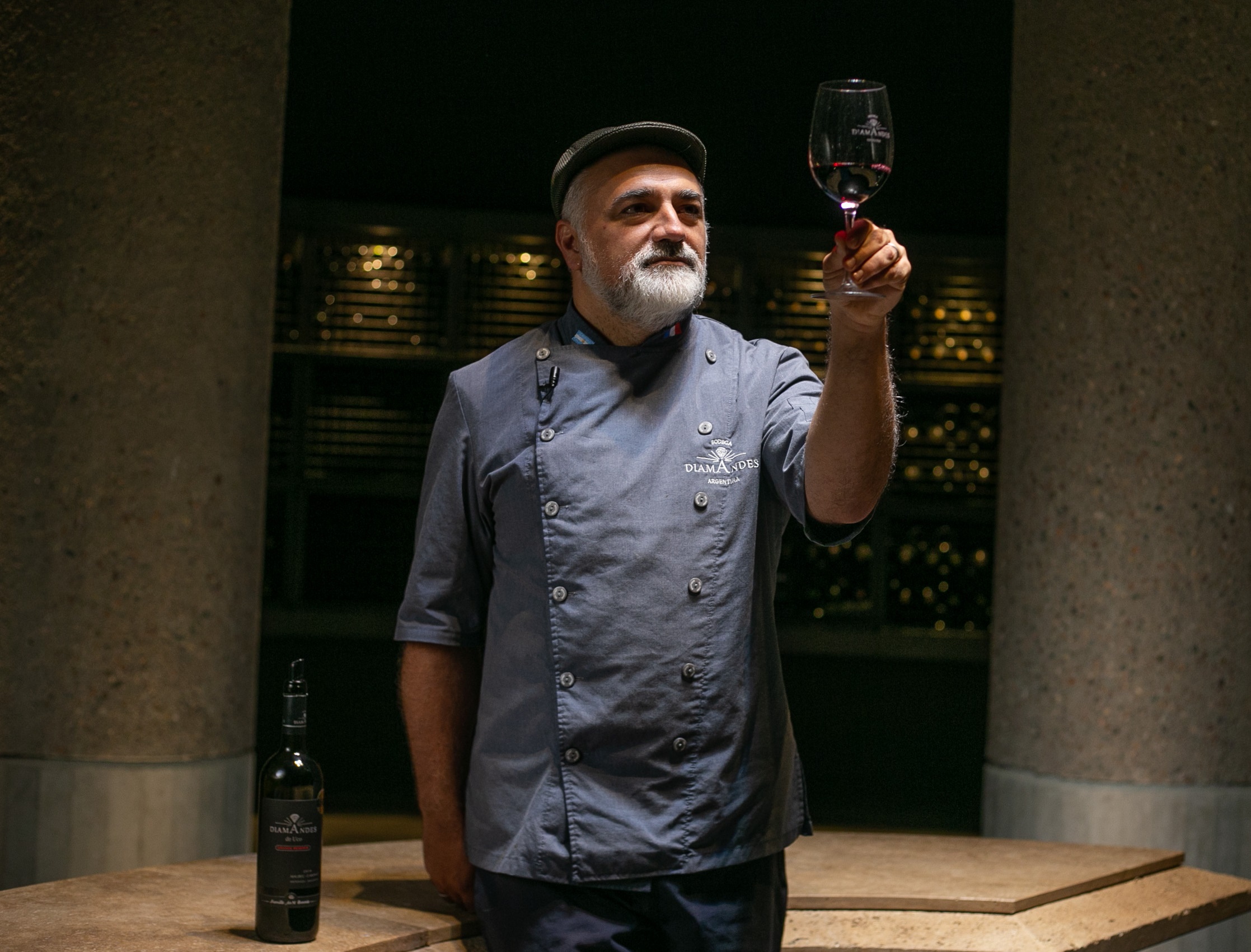 Santiago Orozco, from Diam´s Restaurant at Bodega Diamandes, is among the pioneers of pairing in Mendoza. Back in 2003 he provided home catering service, doing live cooking and pairings. The next milestone in his career came in 2005, when a company hired him to unify agricultural production, live food processing and pairing. Hotels and travel agencies offered then the resulting experience to their clients.
For Orozco there is no doubt, "wine occupies a primordial place when looking for pleasure. Food and wine are a soul union, which must transcend what is written on the menu and must surprise, please the guest and create unforgettable memories."
Regarding his sources of inspiration, the chef says: "there are many and wine is one of them. Each harvest, although the wine comes from the same plot, is different, unique". His evolution, from 2003 to date, has been similar to the wine aging process. "Sometimes I had to wait for a wine because it was not the right time for it and sometimes I had to change a dish, so that the harmonization was well interpreted by the guest. Evolution is constant and involves all the senses."
When considering the order of factors, he affirms that "good wine comes first. The dish grows around the wine. It is not something fixed, it is rather dynamic."
This renowned chef keeps analyzing consumers: "The Argentine public drinks increasingly better quality wine. Likewise, it has refined the palate and increased its curiosity for new cooking styles. We also have the international public that visits us, with a cosmopolitan palate and a great avidity for real local flavors. They come from all latitudes, following the recommendations of those who came before and became natural ambassadors of the wine and food from Mendoza".
Beatriz Barbera (Francesco Ristorante)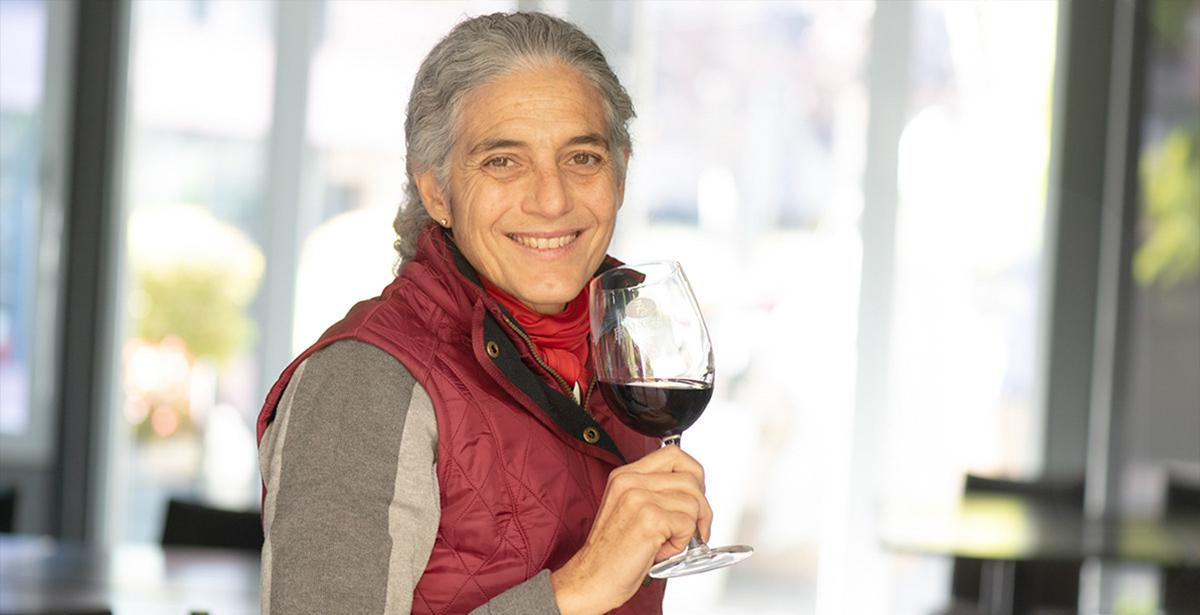 From a lineage of gastronomic entrepreneurs, Beatriz Barbera has been in charge of Francesco Ristorante since the beginning of the project in 2002. She was involved in the family restaurants, La Marchigina and Vecchia Roma, since her early ages. With only 11 years old, she was helping as a server and in the kitchen with her mother, the well-known María Teresa.
Passionate, cheerful and knowledgeable about the world of flavors, she emphasizes that wine occupies a very important place when planning a menu or a dish. "Our restaurants are an Italian-Argentine fusion. The Italian table has never lacked a glass of wine. In fact, in Italy you even eat bread with wine. My grandfather used to eat it."
"The evolution of the relationship between food and wine has been remarkable. For our menu, we consider pairing, but also our recipes include wine. For example, the goat from Malargüe, which is a regional product of Mendoza. For this dish, we cook the goat in the oven and then again on a pot with chardonnay wine. We serve it with potatoes and olives, which are also products of our identity, together with a few drops of olive oil. We also have among our recipes a lamb with Malbec wine and a sirloin with cabernet sauvignon. Another specialty at the restaurant is stuffed pasta. For example, tortelloni stuffed with pumpkin".
"Our customers choose a dish and our sommelier advises them on the wine that can best pair with it. When we prepare a tasting of certain wines, we create dishes that contain products that best match the characteristics of the wine. The goal is to ensure that the products in the dish highlight the qualities of the wine. Both the recipe and the beverage should shine. The union of both 'wine and dish' should be a very pleasant and exquisite experience", adds Beatriz.
Barbera assures that consumers are increasingly demanding, because they know more about wine and all aspects related to this Argentinean national drink. "The less knowledgeable guest arrives with a curious attitude regarding the subject and wants to know more, learn, enjoy. Tourists, in general, expect to eat and drink well in Mendoza, as it is well known for its very good produce and wines of excellent quality. When they drink a blend, they want to know about its composition. In our restaurant, we have a cellar, where -in addition to the wines that the wineries provide during the year- we have what we call Francesco's treasures. These treasures are those wines that no longer exist in other places, not even in the wineries that had produced them."
She adds: "It is very important to highlight the work that the government of Mendoza is carrying out for the development of the Mendoza gastronomic identity. There is a big promotion of our regional products. The restaurants of our province are concerned about using products from Mendoza in their recipes, such as our excellent fruits and vegetables, peaches, plums, pears, quinces, potatoes, tomatoes, onions, garlic, pumpkins, olives, nuts. Also our meats: goat and beef. In addition, of course wine and grapes as star products. The pairing is very important when promoting the gastronomy of our province, along with another important local ingredient: the olive oil."
"There is in the terrestrial sphere an innumerable and nameless crowd whose sleep could not sleep sorrows. Wine writes songs and poems for them." Charles Baudelaire
Noelia Scquizziatto (Terrazas de los Andes Winery)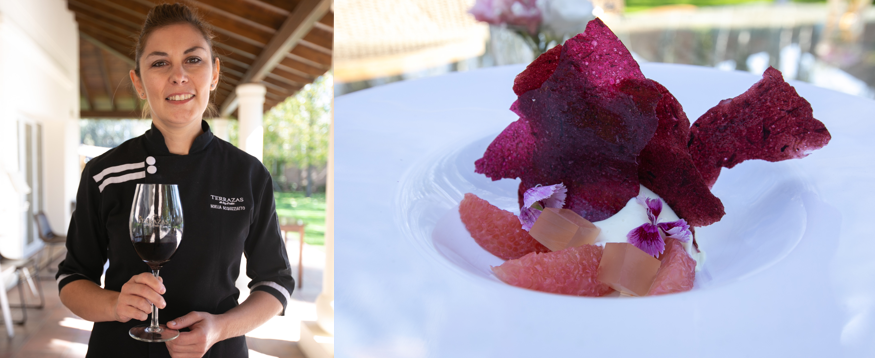 Noelia Scquizziatto has been chef at Terrazas de Los Andes Winery for 17 years. She started working there one year after graduating. For her, working for a winery means cooking for wine. She creates all the dishes for the wines in the winery. "When I started working, I did not know much about wine. I have learned everything I know about pairings in this winery, from the winemakers or from different trainings. So, as I grew and evolved in my menus, so did wine. From a more woody wine in the past, to a much fresher fruity wine, which invites you to drink all the time."
The chef considers that there are regional pairings. "Apart from having an enormous variety of products that are very good in terms of quality and flavor, the wine is also from this land and complements the regional dishes very well. I think that we always have to give it a little twist, so that our dishes look different. We have to care about the presentation, look for new techniques, etc. Our regional produce always have to be present."
Scquizziatto considers that "we have an international audience but also local people have developed their knowledge. We must not have prejudices, about people not knowing about this subject. The pandemic helped bringing local public to the wineries. Now they appreciate learning about wines and living the experience of pairing. It is not just combining things with each other. Everything has a reason; I take into consideration the chemical structure of the ingredients. I think we have a knowledgeable audience right now.
Lucas Bustos (Espacio Trapiche Restaurant at Trapiche Winery)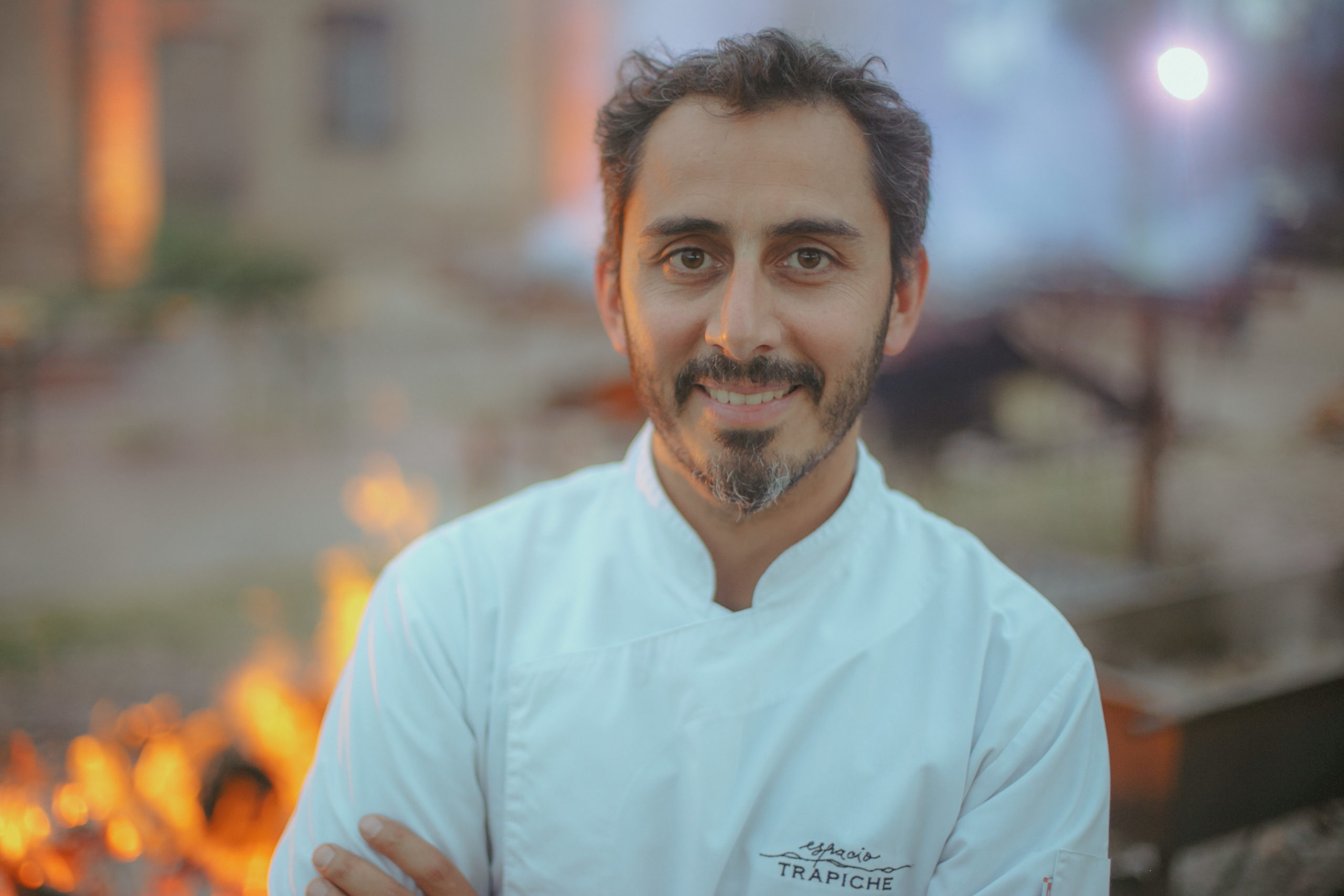 From his restaurant at Trapiche Winery, Lucas Bustos proposes wine as the center of his menu. "We cook for wine. People travel to Mendoza to taste the wines in their place of origin and we accompany each glass with a dish that enhances its virtues."
Bustos affirms that wine has always been part of his dishes. "Wine is always part of the recipes. We also use other products derived from winemaking like vine leaves or fine lees, depending on the time of year. These ingredients that come out of the winemaking process are included in the menu."
"Relating the local produce with local wines is the easiest thing, because that regional link normally exists and it is very natural, so it just happens. For example, the products of the Uco Valley, in general, represent that area very well, because they have the same climatic conditions, they grow in the same soil, so it is easy to choose, for example, a squash from Gualtallary, hard and turgid with a chardonnay that has those qualities, that texture, that minerality."
Regarding the pairings, Bustos affirms that wine always comes first. That has an explanation in the timeline. He explains that wine is made by many people and it is uncorked several years after its production. Even the youngest white wine will be uncorked months later. In contrast, we prepare the dish on the day. Therefore, he considers that the evolution of time in wine has a positive connotation and in food it is the other way around: the fresher it is, the better its quality, with some exceptions. "The food is prepared at the moment to go with that glass of wine. The food is there to enhance the virtues of wine."
 "The public has changed a lot, through the years. In the 2000s, we had a large audience from the United States. We also had moments around 2006, 2007, with a large Argentine public. The Brazilians came later. Then, very interesting new guests appeared, like Peruvians. The people from Lima know so much about food! Suddenly they came to Mendoza to learn about wine. Mendoza is lucky to welcome guests from all over the world", celebrates the chef.
Graciela Hisa (Espacio Esencia Restaurant)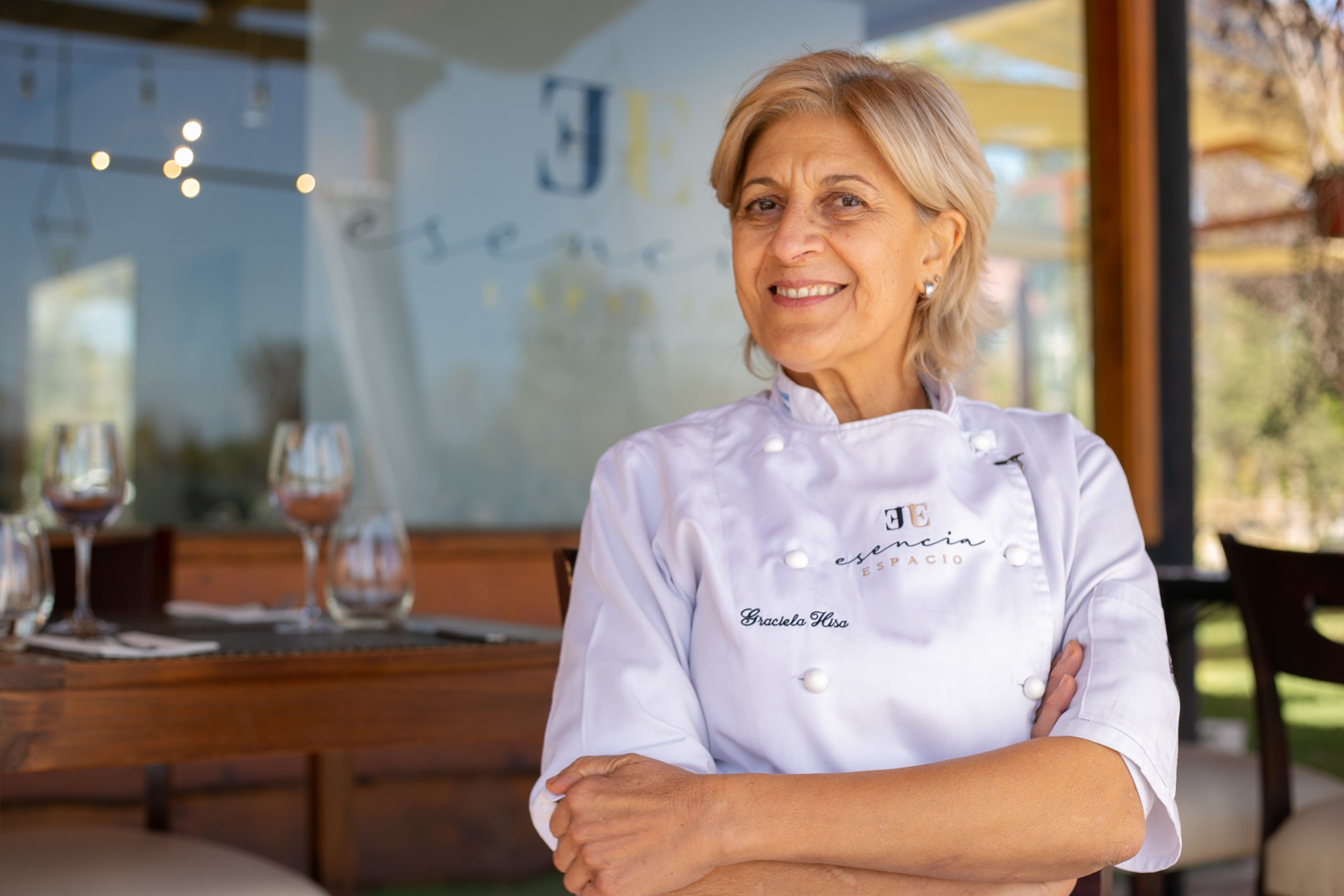 Graciela Hisa, responsible for Espacio Esencia, also gives her opinion. 34 years ago, she started as an amateur chef. Then she got a Diploma from Myrtles and, in 2017, a postgraduate degree in Lyon, France and in Turin, Italy. She declares that she met Raúl de La Mota in 1997. He was the first Argentine winemaker to make wine by separate varieties. He gave her the first guidelines to think about menus, when organizing a lunch for a group of Dutch executives, who had invested in a wine project in the Uco Valley. At that time, there was no infrastructure at all in Uco Valley. In an improvised kitchen, Graciela cooked for them. Raúl taught her that each variety and each wine zone had different characteristics (aromas, color, astringency, acidity, etc.). He explained that all these properties were the basis for achieving harmony. "Nothing should overshadow anything, wine and dish must harmonize."  
"I have learned to analyze the wine first to develop then the dish proposal." Wine caught her attention as a child, as her maternal grandfather was Gargantini Winery's winemaker in Vista Flores. At the family table there was always wine and her parents let her taste a few drops. Cooking brought wine to her path and now she is passionate about finding the right pairing.
Hisa points out "evolution is continuous; each winemaking process gives different results. Therefore, it is necessary to keep tasting and think about menus. In addition to this, the guest is much more demanding when it comes to drinking and eating." 
This cook considers that Mendoza is a perfect oasis for countless products of excellent quality, a generous land that gives us incomparable produce. For this reason, "the cuisine with local produce is the perfect pairing for Mendoza wine". She is categorical: "Pairing is the goal."
 "In Mendoza, generally, the starting point is wine, the star of the event. In those cases, I think how to accompany it to achieve the perfect balance. If it is the other way around, if I have the produce and I have developed the recipe, I look for the wine that best goes with it. The important thing is to achieve the goal of the right pairing."
 This food and wine lover considers that, today, the consumer is more informed. They taste different wines and many of them understand and demand harmonizing food and wine. "I think we are just at the beginning of a long road.  We have still much to learn. I believe that we must professionally ensure that each wine and dish is an unforgettable experience, more than just a moment."
"A good wine is like a good movie: it lasts an instant and leaves a taste of glory in your mouth; it is new in each sip and, as with movies, it is born and reborn in each taster."  Federico Fellini
Patricia Suarez Roggerone (La Vid Restaurant at Norton Winery)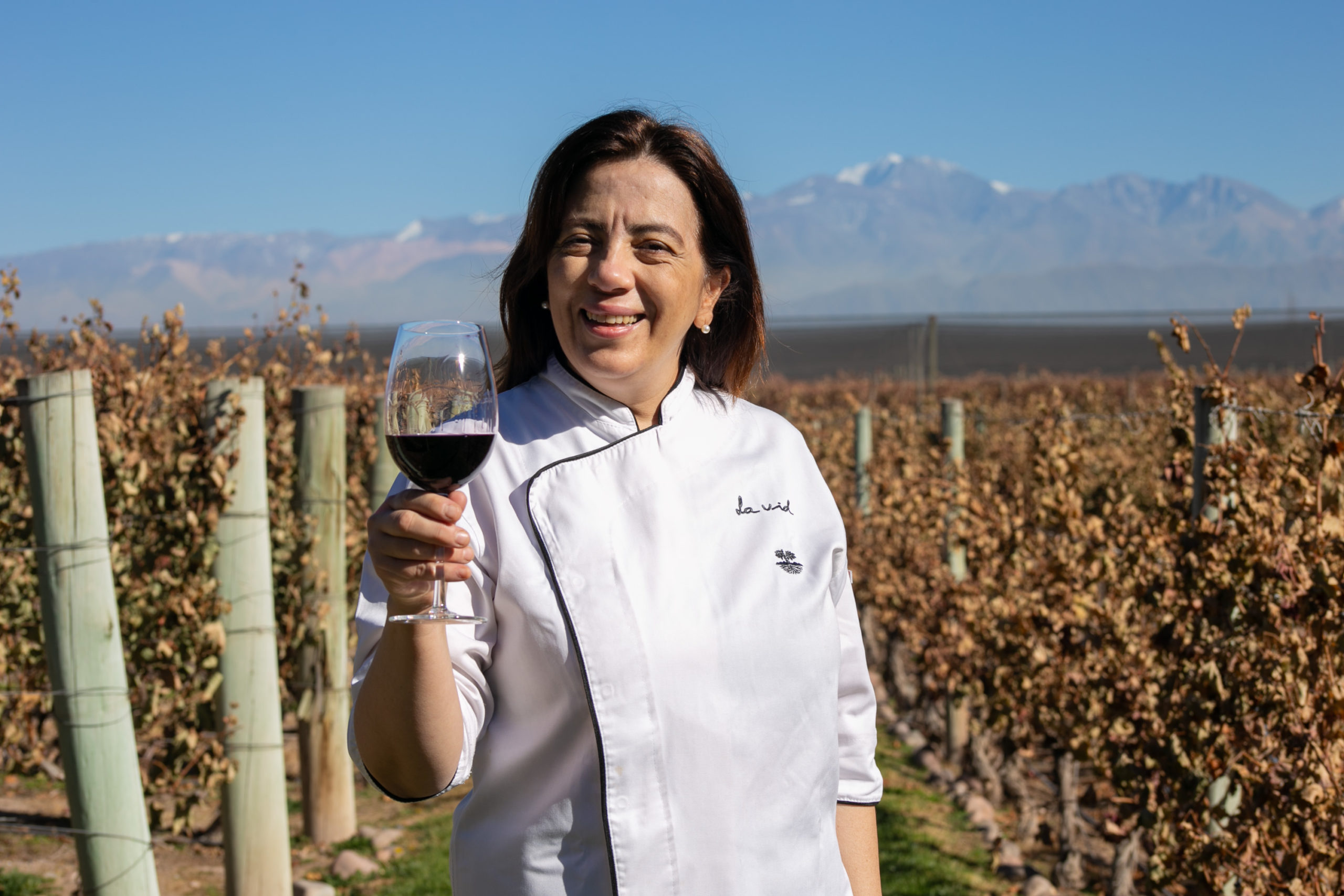 Patricia Suarez Roggerone is the chef at La Vid Restaurant at Norton Winery. She started 20 years ago in traditional restaurants as wineries didn´t have restaurants at that point," she clarifies. For her, wine always comes first, especially since she works in a winery and is focused in pairing menus. She cooks for wine. It ranks first. Her idea is always to show the produce from Mendoza on her dishes.  
"I seek to start with a white wine or a sparkling one. I like to go from a lower tannic level to a higher one."  
As for the consumer, Suarez Roggerone considers that there are two trends: there are people who are very interested in pairings and there are people looking for having fun tasting wines without preconceptions.  
"The good thing is that Argentine wine is well accepted by young people. It is easy to drink. There are very fresh wines, even with a lower alcohol content and not so woody. The market has changed a lot."
Nadia Haron (Espacio Monteviejo Restaurant at Monteviejo Winery)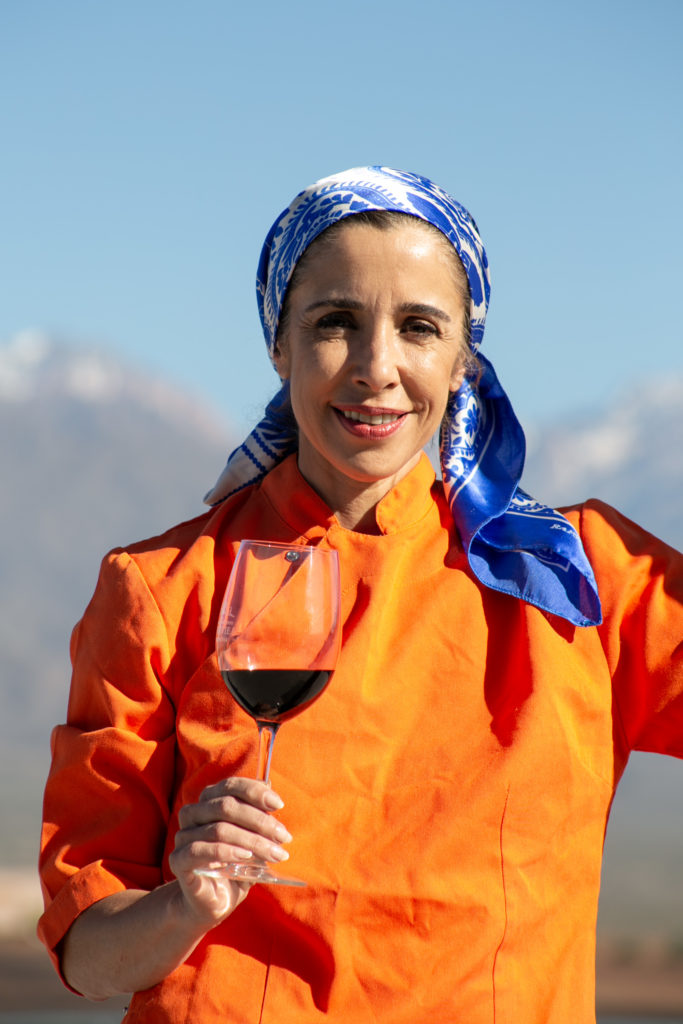 Finally, Nadia Haron, from Espacio Monteviejo Restaurant at Bodega Monteviejo, with more than 16 years of experience, considers that -in wineries-  wine is selected first. Then the dish is put together based on that wine. She also points out that when having a menu with pairing, she considers one wine in relation to the rest of  wines in the menu. 
She assures that there has been a great change. "Today, the variety is enormous. We no longer speak only of Malbec. There are many expressions of it. There are blends, other varietals, not only red, a lot of white and sparkling wines." 
Haron comments: "In my proposals, the seasonality of the ingredients, the traditional gastronomy of Mendoza and wines make up the triangle of the proposal." She considers important to take into account "not only the wine, but the order of them, the number of wines to be tasted. Definitely in a winery the wine directs the show".
 "In 2006, pairing was almost a surprise. Currently, the public knows better and enjoy the experience that generates great memories."
Mendoza invites us to live an experience that cannot be fully expressed in words. It proposes a constant stimulation of our senses, a caress from air and sun. Its landscapes are exciting. The music of the poplar rows blends in with a guitar in the distance. Irresistible aromas come from plates full of roasted meat, olives and seasonal vegetables. The taste of a good wine make that all unforgettable.
Text and Photo Credits:  Direction of Communication and Marketing, Ministry of Culture and Tourism, Government of Mendoza, coordinated by Fernanda Rivarola
Text production in Spanish: Mariana Álvarez, Pablo Varas and Luis Serrano
Translation: Carolina Suárez Garcés
Beatriz Barbera´s Photo Credit: IN MENDOZA
Lucas Bustos´ Photo Credit: Lucas Bustos
Special thanks to: Claudia Yanzón,  Aldo Ansaldi, Leandro Carranza, Eduardo Umar, Matías Gutiérrez, Santiago Orozco, Beatriz Barbera, Noelia Scquizziatto, Lucas Bustos, Graciela Hisa, Patricia Roggerone, Nadia Harón, Abrasado Restaurant , Fundación Arrayanes, Bodega Diamandes, Monteviejo, Norton, Terraza de los Andes, Trapiche, Esencia Restaurante, Malvinas Argentinas and Sibaritas.