In Spain the holiday season is a marathon that lasts about a month, from the Feast of the Immaculate Conception on December 8 to Epiphany on January 6. During the holidays we don't hold back. Celebrations include company lunches and dinners, meals with friends and of course, traditional feasts on Christmas Eve, Christmas Day, New Year's Eve, New Year's Day, the evening of January 5 and lunch on January 6. Of course while doing holiday shopping, we take the time to have a glass of wine, such as Rioja wines, and a few Basque Country 'tapas' or 'pintxos'.
Our festive lifestyle comes at a price: experts from the European Medical Institute of Obesity reckon that each adult Spaniard will gain between two and five kilograms (4,4 and 11 pounds) over the holidays.
Wine, of course, is an integral part of our lifestyle. During the holiday season we scour our wine cellars and local wine shops to choose the best wines to enjoy with these special meals. Here, Rioja is naturally the name of the game but we also enjoy an increasing range of lovely whites – txakoli – from the province of Vizcaya surrounding Bilbao in the Basque Country.

A txakoli from the Basque province of Vizcaya
Latest vintage or past's treasure ?
We can choose between dry, semidry and sweet whites, rosés and reds, from the latest vintage to treasures from the past. We can enjoy blends of different grape varieties, wines made from one variety, traditional method sparklers, wines from a specific village or region and our most recent creation – wines made from certified old vines. Rioja is truly a wine that can be paired with any dish.
A typical Christmas Eve menu in our house, which is, I believe, representative of holiday meals in the Basque Country and La Rioja usually consists of:
enjoying a glass or two of white or bubbly while we're preparing the meal;
some small dishes such as prawns, pate and cheese. Some families prefer larger shellfish such as lobster or spider crab, paired with a young white, rosé or bubbly;
fish or seafood soup;
broiled sea bass or sea bream with potatoes, paired with a barrel fermented or barrel aged white;
a special dessert that my wife makes with slices of fresh pineapple on which she pours a little Grand Marnier, Cointreau or kirsch;
Turrón (nougat) and marzipan.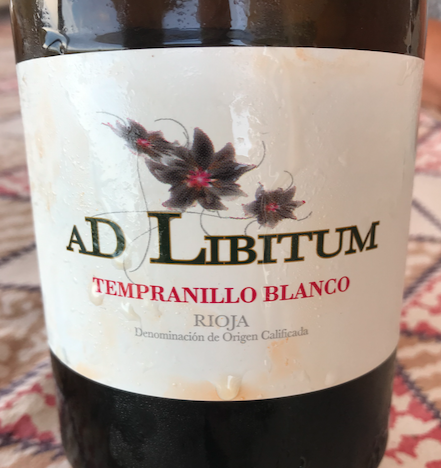 a  white tempranillo from Bodegas Juan Carlos Sancha
Our Christmas Day and New Year's Eve meals
On Christmas Day we usually roast a leg of lamb with potatoes, with which we have an aged red Rioja.
New Year's Eve is extra special because it's our son's birthday.  To bring good luck throughout the coming year, at the stroke of midnight we eat twelve grapes along with the tolling of the bells in the Puerta del Sol in Madrid.
On New Year's Day we always have a huge meal of pasta with a good rioja reserva.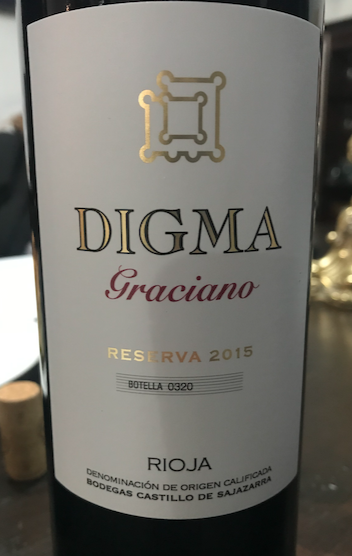 a reserva made with the graciano grape from Bodegas Castillo de Sajazarra
January 5 features the parade starring the Three Wise Men who pass out candy to the children lining the streets. In Spain there are several characters who deliver presents:  In the Basque Country it's the 'olentzero', the legendary man who delivered coal to homes.  In the rest of Spain, it's the Three Wise Men or in some families, Santa Claus, whom we call 'Papá Noel'. He's not a traditional figure here, but he's growing in importance because of the influence of TV.  Spanish kids must feel lucky that they're receiving gifts from so many different people!
After the parade we go pintxo hopping with our friends.
The party ends on the afternoon of January 6th. We breathe a sigh of relief, remember our New Year's resolutions and start our January diet!
Text and photos by Tom Perry, Inside Rioja
Learn more about Rioja Great Wine Capitals