There are more than 600 wineries in Rioja, so making yourself heard is a daunting proposal.  Anyone who has attended Vinexpo, Prowein or any other wine fair cannot fail to be impressed by the competition for buyers' attention from  hundreds of wineries, brands and eager sales managers from all over the world. Under these circumstances, one could ask how it's possible to make a single sale.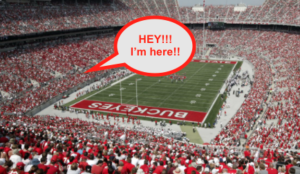 (Photo credit:  Toledo Blade)
All successful wineries have a positioning strategy and being able to tell a captivating story is crucial to increasing brand awareness, engagement and customer loyalty.
Marketing experts disagree on the elements of a good wine story, but three seem to stand out: people, passion and product.
One Rioja winery that has successfully combined these three elements for many years is R. López de Heredia Viña Tondonia.  María José López de Heredia weaves the history of her great grandfather's founding the winery in 1877 and how, for almost 150 years, his winemaking philosophy has remained the same in spite of the ever evolving nature of the wine business.
A great example of María José's storytelling skills is how she captivated the normally loquacious Gary Vaynerchuk back in 2010 in the early days of online podcasts.   
Other famous Rioja wine stories feature intrepid pioneers such as Camilo Hurtado de Amézaga, the founder of Bodegas Marqués de Riscal  and Luciano de Murrieta y García-Lemoine, founder of Bodegas Marqués de Murrieta in the mid-19th century. Their vision continues to guide their wineries today.
Even if you don't own a hundred year old winery there are a lot of 'people stories' that can inspire a winery to create a story of its own.
One of these is Benjamín Romeo, owner of Bodega Contador, who talks about his love of Clint Eastwood, how Eastwood's character in Pale Rider inspired Romeo's brand Predicador (The Preacher) and how his trademark dispute with California winery Gallo ('Gallo' is rooster in Spanish) was the basis for his brand Qué Bonito Cacareaba (How Sweetly it Crowed).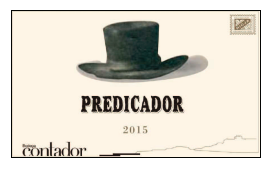 (Photo credit:  Bodega Contador)
Winemaker Álvaro Palacios's successes  in Rioja and Priorat are legendary. He once mentioned to a journalist that he was in the process of creating a garnacha-based Rioja that was "destined to be a game changer in Rioja". This created so much of a buzz that this new brand, Quiñón de Valmira has in fact become a game changer for wines from Rioja Oriental.
Wineries can successfully create stories about a particular winemaking technique, such as Bodegas Fernando Remírez de Ganuza. The winery explains how the grapes in a cluster ripen at different times.  They are cut in half on the sorting table, with the grapes in the shoulders (the top part of the cluster) used for ageworthy wines like reservas and the grapes at the tip of the cluster used for making young wines vinified using carbonic maceration.
Bodegas Luis Cañas has classified its 350 hectares of vineyards into 870 plots.  The grapes from each plot are rigorously classified and graded at each vintage, with grapes matched with the wine they are destined to become.
This intimate knowledge of his vineyards allowed Juan Luis Cañas to discover several vines of benedicto, one of the original varieties that, along with albillo mayor, were spontaneously crossbred to create tempranillo.  That's a story in itself!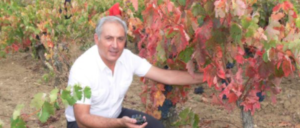 Juan Luis Cañas with a benedicto vine (Photo credit Bodegas Luis Cañas)
Other wineries tell interesting stories about the origin of their oak casks (American, French, Eastern European, Spanish) and the influence of each on the companies' wines.  More recent stories develop the influence of different types of fermentation tanks on wine, for example, wooden vats vs epoxy lined cement tanks vs non-epoxy lined tanks, ovoid and even cubical tanks.
Winery design creates interesting stories, especially if the architect is famous. Examples are Zaha Hadid (López de Heredia), Santiago Calatrava (Bodegas Ysios),  Gustave Eiffel (an ageing warehouse at CVNE), Philippe Mazières (Viña Real) , the hotel at Marqués de Riscal (Frank Gehry), and others.
Still other wineries such as Bodegas Lecea and Conde de los Andes talk about their ancient underground caves as examples of how winemaking has evolved over the centuries.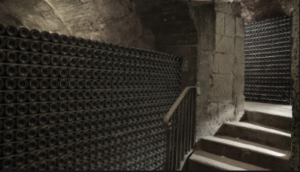 Bodega Conde de los Andes (Photo credit: winery)
Smaller properties with old vineyards in Rioja often focus on the vineyards' status as "viñedos singulares" (unique vineyards), a recently approved category as well as the wines made from them. 'Viñedos singulares' is meant to conserve Rioja's old heritage vineyards from destruction. Examples are Bodegas Juan Carlos Sancha and Ontañón, each with over one hundred year-old vines that produce unique wines.
Sustainability in vineyards and wineries is the source of a number of interesting stories in Rioja.  Estíbaliz Torrealba, the sustainable development manager at Bodegas Campo Viejo said in an interview in El País, "Our business is based on the land and our most important commitment is caring for it". Torrealba goes on to say, "Our philosophy is to work with the utmost respect and that means with the least impact; we have to use the fewest resources possible, generate the fewest possible emissions, control discharges, recycle waste and so on."  
Bodegas Regalía de Ollauri  tells about tapping geothermal energy deep below the winery to provide energy for some winery processes as well as heat.
Other aspects of sustainability and respect for the environment focus on the vineyards.  An increasing number of vineyards in Rioja are farming organically and some biodynamically.
Esperanza López from the La Rioja government's Department of Agriculture, explains that 61 wineries have vineyards certified as organic in La Rioja. Francisco Ruiz, the director of Bodegas Ruiz Jiménez , one of the two Rioja wineries certified as biodynamic by International Demeter, says "Today, organic viticulture is the exception.  Tomorrow it will be the norm."
An interesting twist on the compelling story is for a winery to create an all-encompassing narrative based on characters from the past.  The best known of these in the world of wine are 19 Crimes, a California winery that focuses on the offences that could cause late 18th century petty criminals in Britain to be exiled to the newly discovered continent of Australia.  Another great story comes from The Prisoner,  a California winery inspired by The Little Prisoner, a 19th century painting by Francisco de Goya and The Federalist, a homage to early presidents of the USA .
 A great example from Rioja of using people from the distant past comes from Bodegas Vinícola Real and its hotelLa Casa del Cofrade. It tells the story of the founding of the Monastery of San Martín in Albelda near Logroño in 924 CE. It became one of northern Spain's most important centers of culture in the tenth century and where at one time, 200 Benedictine monks lived.  The winery's brand, 200 Monges tells the story.
A story weaved throughout a winery, similar to the above examples, has been created in Rioja by Bodegas Ramón Bilbao with its theme "The Journey Starts Here". It profiles the journey of the winery's founder, Ramón Bilbao, to create a wine with a unique style and invites customers to make the same journey.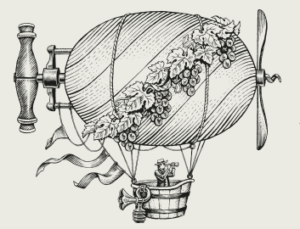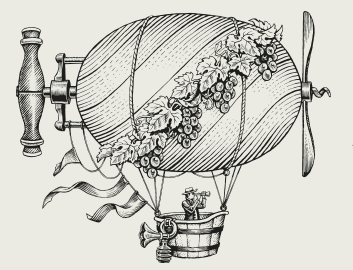 (Photo credit:  Bodegas Ramón Bilbao)
Every winery has a story, whether about a person, a vineyard, a unique way of making wine, or the winery itself.  What matters is that it is truthful and told with passion.
Tom Perry, Inside Rioja
Learn more about the Rioja wine region by visiting our page: Bilbao | Rioja