In her October 5 article in the Wall Street Journal, wine columnist Lettie Teague writes, "the quality of a Bourgogne depends entirely on the talent of the winemaker and the quality of his or her vineyard source". I agree but furthermore believe that this statement holds true for every wine region and wine.
In Rioja we've been talking about superstar winemakers for years but it's only recently that we've begun to talk about terroir. Distributors, retailers, restaurants, wine writers and consumers are all showing an increased interest in wines produced from grapes grown on plots that express the specificity of soil, exposure to the sun, altitude and the microclimates present in Rioja's diverse geography.
There are almost 113,000 individual vineyards in Rioja's 66,000 hectare (163,000 acre) production area. Their distribution along the meandering Ebro river and its seven tributaries, hillsides and valleys creates a fascinating mosaic ideal for producing a highly diverse range of wines.
There's a good reason why Rioja is called "the land of a thousand wines" although "the land of ten thousand wines" is probably closer to Rioja's potential for individuality.
In the past, most grape growers here sold their grapes to farmers' cooperatives or to wineries.  This is changing however, and the sons and daughters of growers, many of whom with degrees in agronomy and enology, have taken the step of bottling their production themselves, with interesting results.
Both Tim Atkin MW in his annual Rioja Report, journalist Alberto Gil and agronomist engineer Antonio Remesal in Rioja: Vinos Silenciosos have portrayed many of these up-and-coming Rioja stars of the future.
Three of them are Bárbara Palacios, Miguel Merino and Carlos Fernández.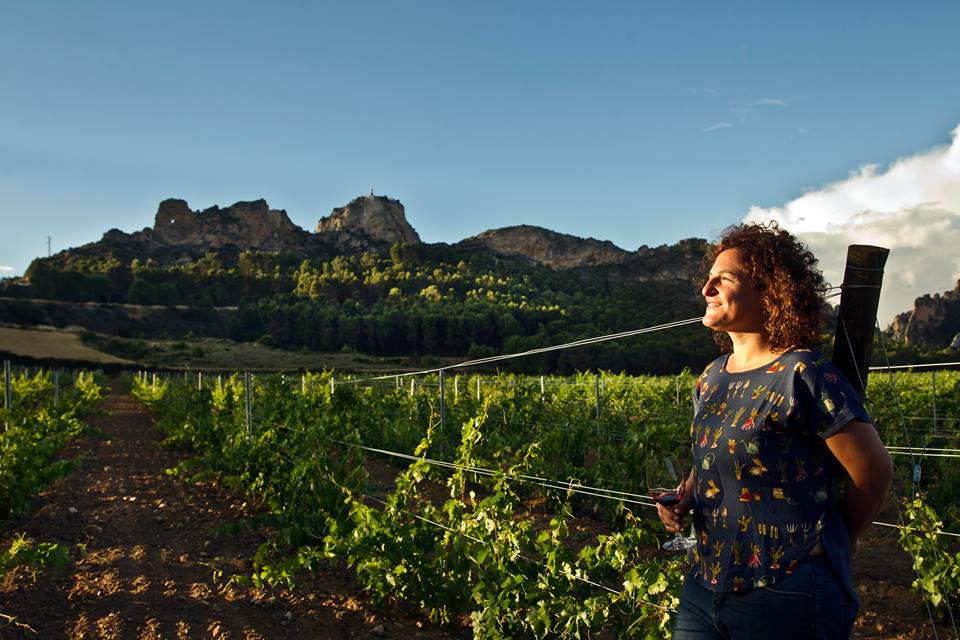 Bárbara Palacios in her vineyard
Barbara Palacios (Barbarot) has wine in her DNA.  Her father Antonio is one of Rioja's best-known winemakers and her uncles are superstar winemakers Rafael in El Bierzo and Álvaro in Priorat.
She is probably Rioja's most widely traveled young winemaker, having done stints in Australia, New Zealand, Chile, Argentina, California and Tuscany. In Rioja: Vinos Silenciosos, Bárbara says, "I was lucky to start out in the world of wine working in Château Margaux, where I learned the importance of viticulture and the quality of grapes.  In Robert Mondavi I realized how different New World winemaking is, and in Pulenta Estate in Mendoza, I understood that I was really capable of starting my own winery."
With those credentials in her resumé it's easy to imagine a spectacular outcome.
Barbara works her father's high altitude vineyards above Haro near San Felices near the site of the famous Batalla del Vino that takes place each June. She vinifies them fifteen kilometers east in Briones.
Her signature wine is Barbarot (Bárbara + Merlot), a highly unusual blend of 85% tempranillo and 15% merlot.  This variety was planted in 1990 as an experimental vineyard sponsored by the Rioja Regulatory Board to study the characteristics of merlot at an altitude of 550 meters above sea level on clay and limestone soil.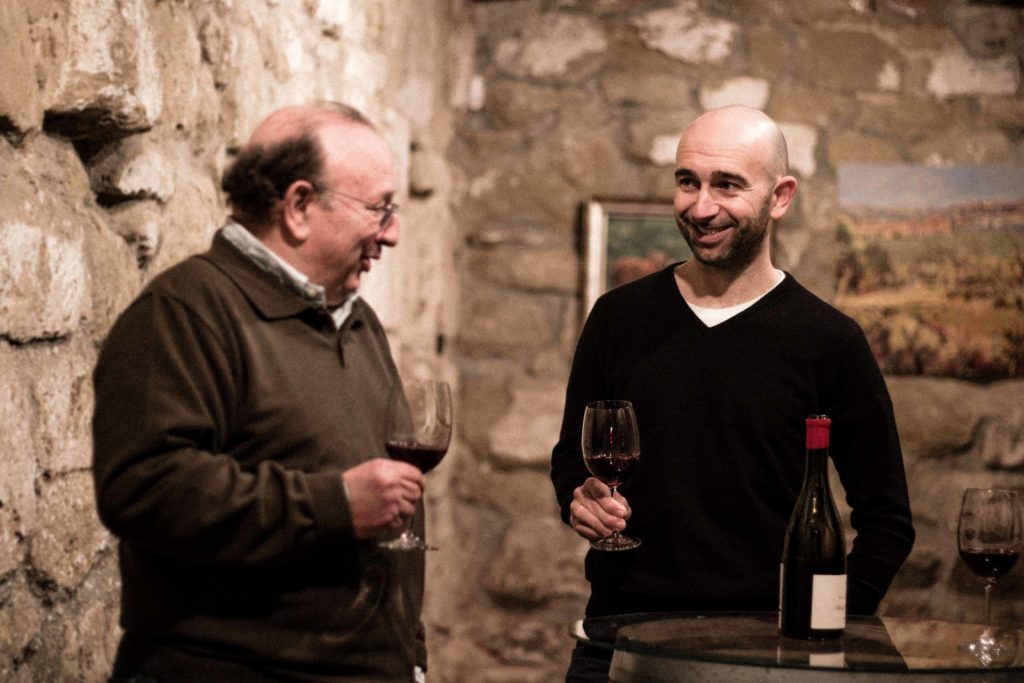 Miguel Merino Sr. and Jr.
Miguel Merino Navajas (Bodega Miguel Merino) has taken over the day-to-day operations at the winery founded by his father, Miguel Sr. in Briones in 1994. Miguel is the quintessential prodigal son, having returned to the winery after several years exploring other pursuits.
He has adopted his father's unique classification system for its grapes, all of which come from the area around Briones:  "infierno" (hell) for bad grapes that are sold off, "purgatorio" (purgatory) for average grapes that are vinified for family consumption and "cielo" (heaven), the grapes that are exclusively used to make Miguel Merino wines.
Miguel Sr. says on the winery website, "Briones, in the heart of the Rioja Alta, gathered all of the conditions I was looking for: old steep vineyards of tempranillo grapes, chalky soil and a climate showing a marked Atlantic influence."
It was a wise choice because Rioja wineries have always sought out grapes from Briones as among of the best in the region.
One of Merino's signature wines is La Quinta Cruz, a plot on the aptly named Monte Calvario near the fifth station of the village's Via Crucis.  It is one of the few Riojas produced exclusively from the mazuelo grape.
Miguel Jr.'s contribution to the family saga includes La Loma, a blend of tempranillo and garnacha from a 1,4 hectare vineyard of the same name, planted in 1946 in Briones.
He was also instrumental in the creation of Miguel Merino blanco, a blend of white garnacha and viura fermented in small barrels followed by ten months on its lees.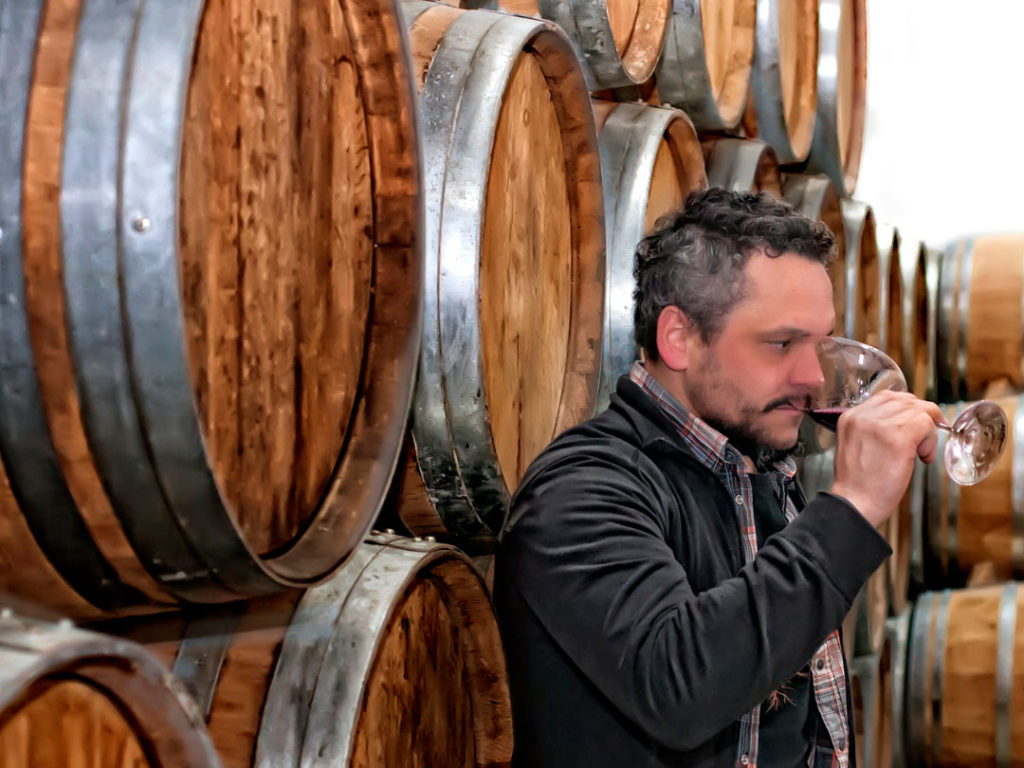 Carlos Fernández
The name of his winery, Bodegas Tierra (earth, land) sums up the company's philosophy for Carlos Fernández. They are first farmers and second, winemakers. When you walk into the winery you see a colorful sign that says "Terroirists".
The company farms 30 hectares facing the slopes of the Toloño mountain above Labastida, one of Rioja Alavesa's highest villages.  The varieties grown are tempranillo, red and white garnacha, viura, graciano and Malvasía.  They are committed to the concept of wines from Rioja Alavesa, village wines from Labastida and at the time of this article, two plots accepted as viñedos singulares:  El Belisario and Tierra Fidel.
To be admitted into the exclusive club of viñedos singulares (singular or unique vineyards), the owner of a plot has to present a detailed agronomic study showing its special characteristics as well as fulfill the following requirements:
The vineyard must be at least 35 years old;
Yields must be significantly smaller than the general requirements for Rioja.

 

In the case of red, 5000 kilograms of grapes per hectare as opposed to 6500; for white, 6922 kilograms per hectare instead of 9000;
The maximum transformation ratio must be less than 65 liters per 100 kg of grapes;
Harvesting must be done by hand.
To be accepted as a wine from a singular vineyard, each year the wine has to pass muster twice by a tasting committee:

 

once just after vinification and once just before the wine is released from the winery.
El Belisario is 100% tempranillo from a plot planted in 1910 and Tierra Fidel is an unusual blend of 50% garnacha and 50% tempranillo.
Photo credits:  wineries
-Tom Perry, Inside Rioja