The Venta Moncalvillo is the perfect place to learn about how a chef and a sommelier work together.  Brothers Carlos Echapresto (the sommelier) and Ignacio (the chef) have been front of house since the restaurant was founded 25 years ago on the site of a country inn ("venta") where their mother Rosi's traditional dishes attracted diners from all over the Rioja region.
Venta Moncalvillo is located in Daroca de Rioja, a hamlet with 32 inhabitants, only 14 kilometers but a world away from the Riojan capital Logroño at the foot of the Moncalvillo mountain range.
The brothers have followed their mother's advice, creating dishes mainly made from local and regional produce.  Rosi said, "Make what the land provides and when it provides it".  One of the centerpieces of the brothers' philosophy is a vegetable and herb garden where over 140 species are grown in this tiny village at 730 meters (almost 2,400 feet) above sea level.
The second centerpiece is the wine cellar, carefully curated by Carlos, with over 1,800 wines from all over the world.
The restaurant has earned numerous awards, including a Michelin star, which it has held since 2010, and two "Suns" from Spain's Repsol guide. In addition, the food and wine world has recognized both brothers, honoring them among others, with the following accolades:
Best Chef 2006 in La Rioja (Ignacio)
Spain's National Gastronomic Prize as the Best Sommelier in 2016 (Carlos)
Finalist in the 2013 Best Sommelier in Spain Awards (Carlos)
The 2016 International Wine Challenge Award as the sommelier who has done the most to promote Rioja wines internationally (Carlos)
The 'Best of Wine Tourism' wine tourism services award from the Great Wine Capitals Global Network in 2013 (restaurant)
The day Bilbao-Rioja dined at the Venta, Carlos was in Madrid to receive yet another accolade as the Best Sommelier from Spain's prestigious Club de Gourmets magazine.
Carlos, Ignacio and their staff work seamlessly to create a unique experience for diners.  We chose the sixteen-dish "Luna creciente" (Waxing Moon) menu, paired with eight spectacular wines from Spain, Austria and Hungary as well as two types of mead  – think the Vikings – (a fermented beverage made with honey) produced at the on-site meadery as well as a local red vermouth.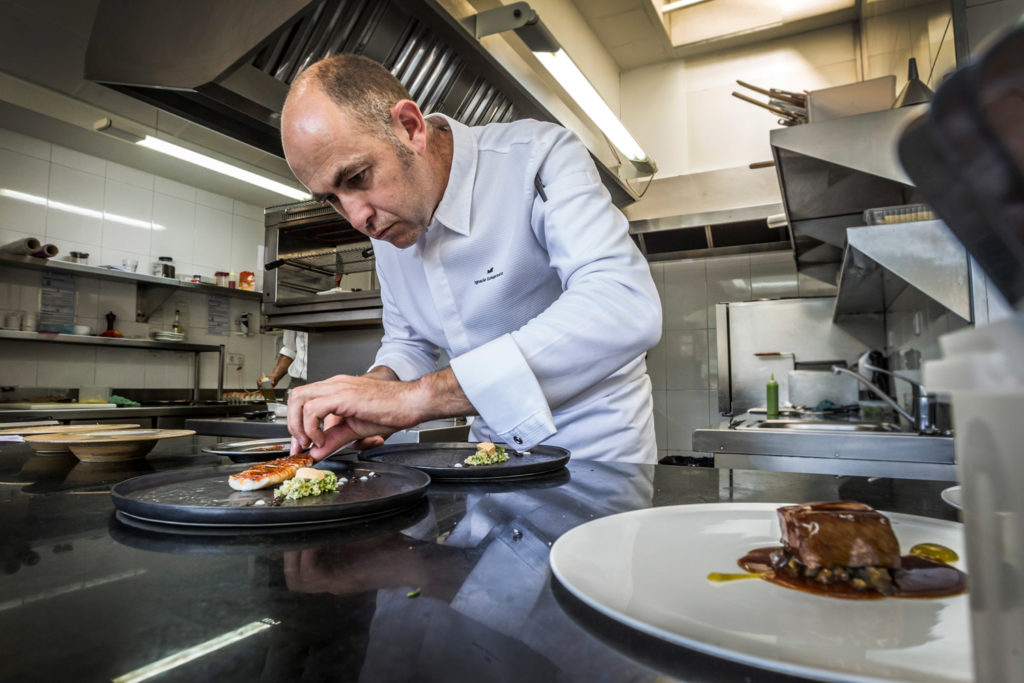 Chef Ignacio Echapresto.  Credit:  Venta Moncalvillo
To discover how a seamless chef-sommelier relationship works, we asked the brothers a few questions:
(BR = Bilbao-Rioja; VM = Venta Moncalvillo)
BR:   You explained to us that your menus vary according to the ripening of the plants in your garden. When planning a new menu, how do you (Carlos the sommelier) and Ignacio (the chef) interact to prepare the food and wine pairings?
VM:   Because we have a very large cellar (more than 1800 different wines from all over the world) it's easier to first plan out the dishes and then adapt the wines to each.
Our menus change according to the phases of the moon.  With each new moon we change four or five dishes on the menu.  These new dishes produce changes in the wine pairings. To give you a general idea, there is a "fresh", more modern wine style of whites and young reds that we serve in spring and summer.  In the colder months in the autumn and winter when our dishes emphasize wild mushrooms, game, traditional stews and grilled meat, we pair them with more aged wines, both whites with long oak ageing along with classical reds from excellent vintages.
BR:   What is your philosophy regarding food and wine pairings?
VM:   Wine has to be harmonious with the food, to go with it, not overpower it. In some cases, with a good food/wine match. In others, to cleanse the palate or create taste sensations that enhance the diner's enjoyment.
It is also important when we discover a wine with special characteristics, to create a dish that goes well with it. The important thing is for the dining experience to be fulfilling, with neither the food nor the wine taking precedence over the other.
I consider myself to be a lucky sommelier because the kitchen respects the sommelier's job and I enjoy the chef's generosity  when he adapts his recipes to a given wine.
BR:   Yesterday we ate two dishes (asparagus and artichokes) whose wine pairings, according to popular belief, are difficult.  Why are these two products so hard to pair with wine?
VM:   They're hard because they contain two substances that clash with wine.  With asparagus, it's acidity, that can be attenuated by experimenting with how the dish is prepared or by pairing the asparagus with white wines made from juice in contact with the grape skins, wines without sulfites or those aged in the presence of oxygen (such as in an oak cask).
Artichokes contain an acid called cynarnin that inhibits taste receptors.  If the artichokes are prepared carefully and are served with wines aged under a layer of flor (yeast cells such as in fino sherry) or in the presence of oxygen like in a barrel aged wine, the bitter sensation is reduced and the wine pairing with asparagus can be enjoyed.
BR:   From both the chef's and the sommelier's point of view, how are successful food and wine pairings made?
VM:   By working on a menu that makes sense, is coherent and where you think more about the diner than on the job of the chef or the sommelier.
A menu cannot be linear, it has to awaken sensations on the part of the diners.  Sometimes a wine has to complement a dish, other times its purpose is to cleanse the palate and in others to smooth out the edges of a dish's ingredients.
BR:   Let's talk about diners' tastes.  About what percentage of your guests decides to choose the sommelier's wine pairing recommendations?
VM:   In our restaurant, it's high – about 65%.
BR:   As for those diners who prefer to choose the wines themselves, is it possible to make a distinction according to where in Spain or which country they come from or by age?  Put another way, what have you observed about how much people are willing to experiment or on the contrary, insisting on picking their favorite wines?
VM:   Our customers are familiar with how our sommeliers work. They have read restaurant guides and reviews on social media.  A lot of young people want us to help them enjoy the experience and put themselves in our hands.  Others look at our wine list in search of a unique wine or from a concrete vineyard, a grape variety or a great old vintage.
BR:   Do you believe in making sauces and gravies in dishes using wines that you pair the dish with?
VM:   If making the dish requires it, yes, but not systematically.  Dishes have to be created naturally, not forced.
Venta Moncalvillo
Hermanos Echapresto
Carretera de Medrano 6
26373 Daroca de Rioja (La Rioja)
T +34 941 444832
E reservas@ventamoncalvillo.com
W ventamoncalvillo.com
Tom Perry, Inside Rioja
Learn more about Bilbao Rioja Great Wine Capital