There are many great restaurants in and around Bordeaux but some of the best chefs are to be found in the chateaux outside the city.  It's worth taking a look behind the chateau doors to discover them.
Chateau Cordeillan-Bages is an iconic stopover amongst the great properties of the Pauillac appellation. It was opened as a Relais and Chateau hotel and restaurant in 1989 by wine tourism pioneer and owner of neighbouring Chateau Lynch Bages, Jean-Michel Cazes.  In 2017, at just 35, Julien Lefebvre joined the team as the Executive Chef, winning a Michelin star in 2018.  Julien is a busy man; he also oversees the menu at Café Lavinal in the village of Bages (given a Bib gourmand in 2018). This village is the wine tourism destination of the Medoc and at Cafe La Vinal you will find wine tourists dining alongside local wine makers. Always a good sign!
Julien hails from Normandy, a region more famous for cheese and Calvados than wine, but that hasn't stopped him embracing his new environment. He spent his first year discovering a passion for local producers and their product: Aquitaine caviar, gambas and oysters from Saint-Vivien de Médoc, Faverolles poultry from the Vertessec farm, white asparagus, and local strawberries, amongst others. His aim is to become the link between the local produce and his guests at Cordeillan Bages. Trained by Frédéric Anton at Le Pré Catelan, Julien Lefebvre worked in Paris with Mathieu Pacaud at the Parisian restaurants Histoires, Hexagone and Le Divellec, all Michelin starred restaurants.
This traditional schooling has not stopped him innovating. In 2018 he introduced a 'balance menu' with a nod to the Ayurveda tradition of good food being the best medicine. But self-indulgence remains on the menu too. The bread, cheese and after-dinner drinks chariots offer a tempting selection to diners.  And then there are the wines, working hand in hand with Chef Sommelier, Arnaud Le Saux, together they offer food and wine pairings that mirror the quality and complexity of the fabulous wines of the region and a few guests from further afield; there's even calvados on that trolley.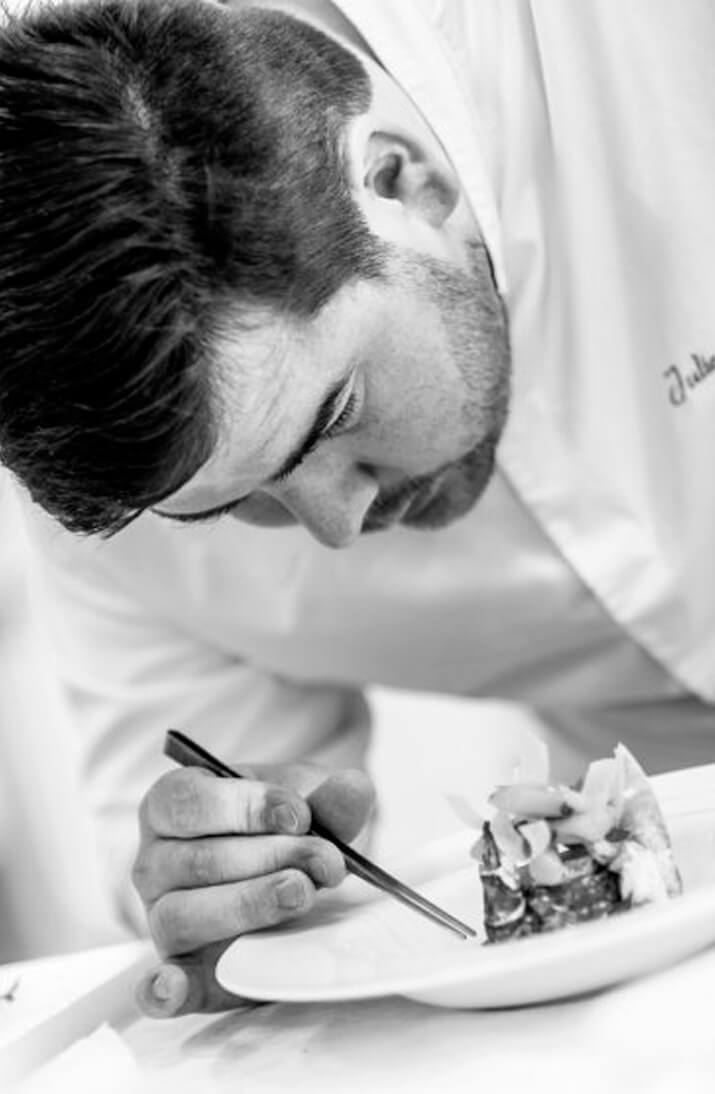 At Château Haut Bailly, you will experience a completely different approach to fine cuisine and regional specialities. This classical chateau is perched at the centre of its 30 ha vineyard in Pessac Léognan, very close to the city of Bordeaux. The Chateau Haut-Bailly team are known for their hospitality, opening up the very elegant private dining room and salons to small groups of wine enthusiasts. It is in this intimate atmosphere that Chef Jean-Charles Poinsot handcrafts wonderful dishes and creates menus to perfectly showcase the wines of this classified growth. Catering for small private groups, his inspiration comes from working closely with his favourite local suppliers and his choices from that morning's market surprise guests every day. Originally from Burgundy, he has bravely crossed the wine divide to reach Bordeaux. After studying in Paris at l'École Supérieure de Gastronomie Grégoire Ferrandihe, he worked in the Burgundian institutions of Chez Camille and Les Jardins de Camille in Beaune and with Michelin star Faugeron, in Paris.
This discreet but passionate artist has also worked alongside some of the greats of French Cuisine bringing them to Bordeaux. Philippe Labbé, Alain Passard, Alain Dutournier and Michel Roth have all graced the kitchens at Chateau Haut Bailly. A private dinning experience at Chateau Haut Bailly is the perfect theatre for Jean-Charles to present local produce, chosen specifically to compliment the fine wines of the property. This is a unique dining experience, the perfect reflection of L'Art de Vivre à la Française.