The richness of aromas, a table full of typical dishes, seasonal ingredients… These are the characteristics that come to mind when we think of the Christmas season. With the gathering of family and friends, there is a greater possibility of choosing wines of various styles and regions. But the best option is to harmonize wine and food, to fully respect the identity of each food. To give the best advices to make the ideal choice of wine, tradition and pairing this Christmas, we interviewed three major landmarks of Porto.
They gave us their vision about Christmas traditions and wines that mark the season. António Reis, owner of Pérola do Bolhão, a traditional grocery store in the city center that has accompanied the people of Porto for 104 years. Bernardete Matos, in representation of Confeitaria do Bolhão, a 121-year-old pastry shop, now counting with a Spanish accent. And Diogo Gonçalves, manager of Pretinho do Japão, a grocery store with more than 70 years of history. His shop is a landmark in the city's traditional commerce, especially in the commercialization of ground coffee and dried codfish.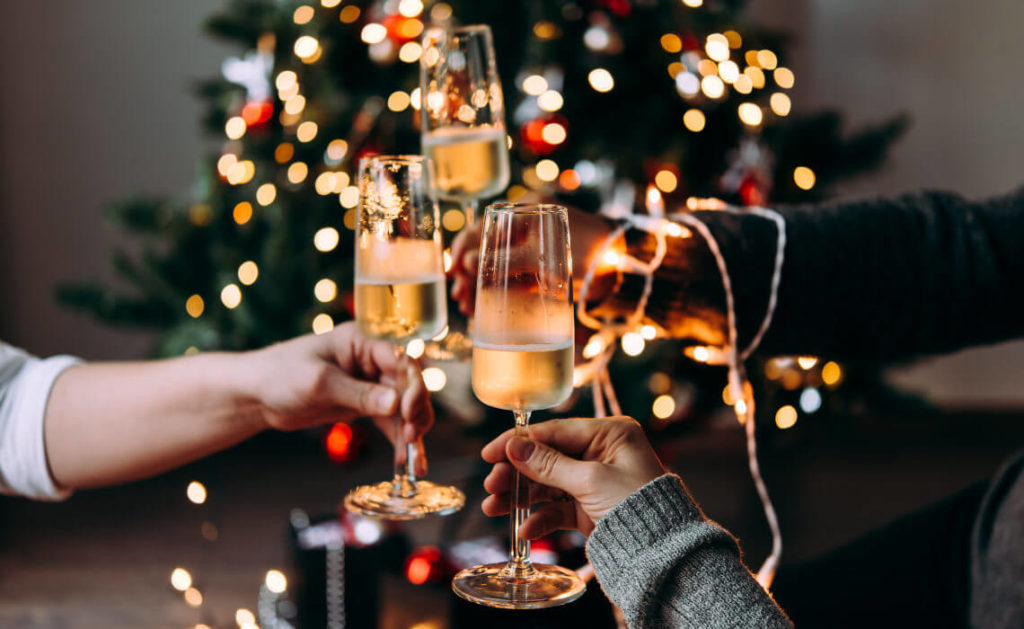 Porto's authentic tradition shop
The Christmas bustle and shopping starts at the beginning of November, Porto is dressed in lights and Christmas decorations. With a historic facade, the Pérola do Bolhão, founded in 1914, is part of the Christmas of the Portuguese and is where the local tradition begins. Among the cod, smoked fish, dried fruit, local wine, and canned foods, António Reis, the owner, makes us feel home. On his Christmas, he can't miss the traditional codfish, bolo-rei (king cake), Aletria. French toast and Dão Red, the wine "that signs his Christmas", his favorite, he confessed that he never exchanges it. Among household smells and sweets, "cinnamon, sweets, and dried fruits" are the smells that most mark his festive season.
António knows the business better than anyone, and it's Christmas that sets the pace of the grocery store. "People seek the establishment for its vast offer of dried fruits, codfish, canned foods, and wine," he confessed.
Customers usually buy Porto Ferreira (to accompany desserts, an authentic wine with strong roots). But also Muralhas of Monção, a Vinho Verde Branco (very balanced, and ideal to accompany the meal). And of course Dão red (normally bought to be enjoyed with the main courses). They buy wines to harmonize with the meal and many times "they buy the wines we suggest", he admitted between chuckles. "However, in the last few years the clients have been increasing their wine knowledge". "They already come with an idea of the wine they want to buy", he concluded.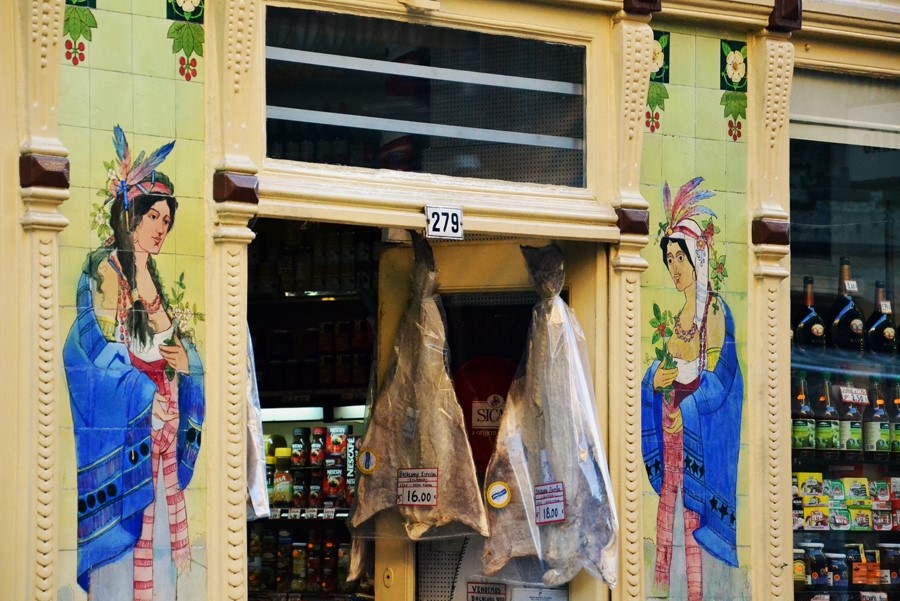 A journey of the senses in Venezuela
Bernardete Matos is Venezuelan, and the Coffee shop represents both nationalities. It is a place of gathering at Christmas and where customers are reunited with their origins. "They find old friends, sweets from home, smells that remind them of their childhood, this is what Christmas is all about", she said.
Because of the Venezuelan origins that are rooted in the confectionery for 22 years, the offer has grown a lot. However, people still seek the Confeitaria do Bolhão at Christmas for what is its strong and traditional points. Bolo-rei (fruit cake), pão-de-ló (sponge cake), and now, many other traditional Venezuelan sweets.
The smell of cinnamon and candied fruit mark her Christmas, which, as in everything in her life, is divided between the two countries. On the Christmas table, cod, French toasts, Aletria, Bolo-Rei (king cake), Pão-de-ló (sponge cake), hallacas. Douro red wine as the special drink of the night.
Uniques wine selection
The wine offer is large in the establishment; however, tourists buy mostly Port wine. Barros Port wines (a celebration of Portuguese talent, with character and uniqueness), of special dates, are the choice of the Portuguese for Christmas Eve, especially some vintages, are unique and special.
Amidst customers and laughter, Bernardete advised the chili puff pastry with walnuts with Tawny red Port Wine as a choice for Christmas Eve. This selection is different from the usual but promises to be a mixture of flavors and a unique tasting.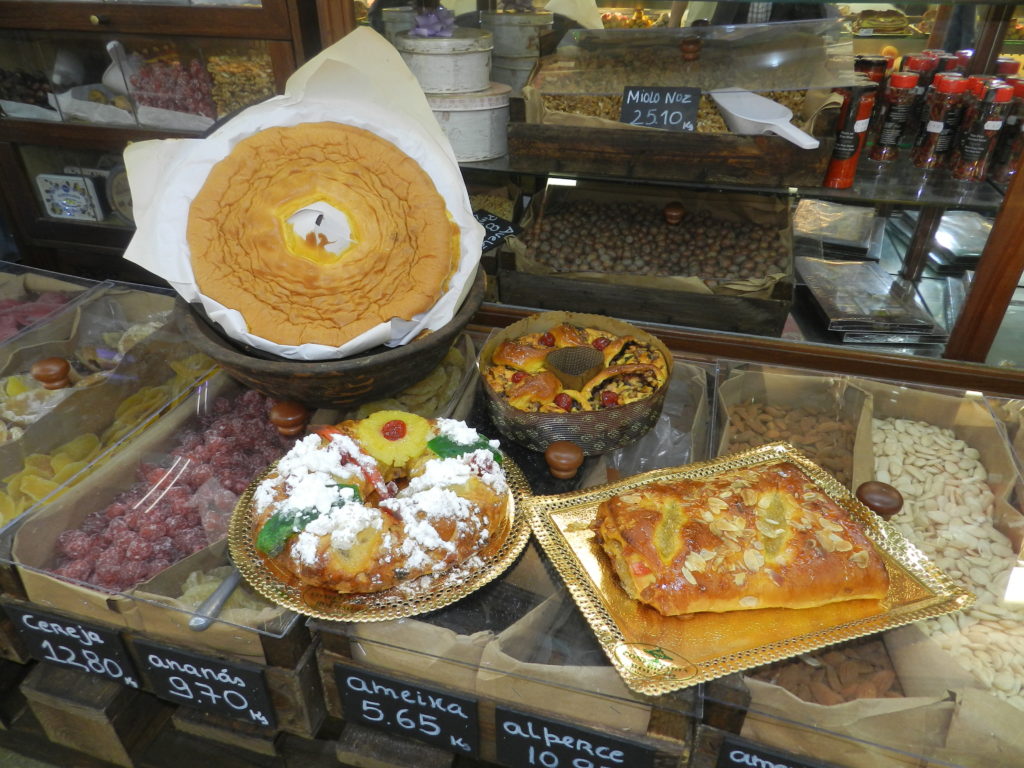 Porto's unforgettable smell
Diogo Gonçalves is the Manager of Pretinho do Japão. He received us with its arms wide open, and shared with us a few details of the store.
While the coffee is being ground and the cod is being cut, stories are being told. This has been the reality of Pretinho do Japão, founded in 1957 and renovated in 2016. A distinctive and traditional grocery store in the center of Porto, and among its vast offer, the canned food and preserves, teas, cookies, jams, spices, olive oils, dehydrated products, and chocolates stand out. "The sale of cod (…), coffee, which is ground on the spot, with 75-year-old mills that were inaugurated with the house, and its possible to make the mixtures that the customer wants, and there's also a characteristic smell in the store that everyone knows", said Diogo.
High demand for excellent quality wines
Rich in wines, Pretinho's cellar gathers wines from regional producers to national and bigger producers. "It is a different wine cellar that covers wines from small and big producers. (…) Casa da Senra has a small production and demand is very high. We are asked several times about the wine that has no production for large commercial stores, and it is of excellent quality," confessed Diogo when asked about the wines from the GWC Portuguese region most acquired in the store.
During the interview Diogo admitted to us that his Christmas table is composed by "dried fruits, cod fish, and olive oil with a lot of quality". As for wines, for food pairing on Christmas Eve, he confessed that he wouldn't trade the Grahams 10-year-old Port Wine, neither "the Alvarinho Casa de Compostela", a wine of good quality and strength that could be an excellent option for the Christmas dinner. And "The red wine Chryseia, is an extraordinary wine that we have in the store, and it is fantastic", with a deep purple color, and notes of red fruits, it is a wine that according to Diogo, "is Christmas".
Home of history and particularities, Pretinho do Japão is an ex-libris of Porto's commerce and feeds the Christmas tradition.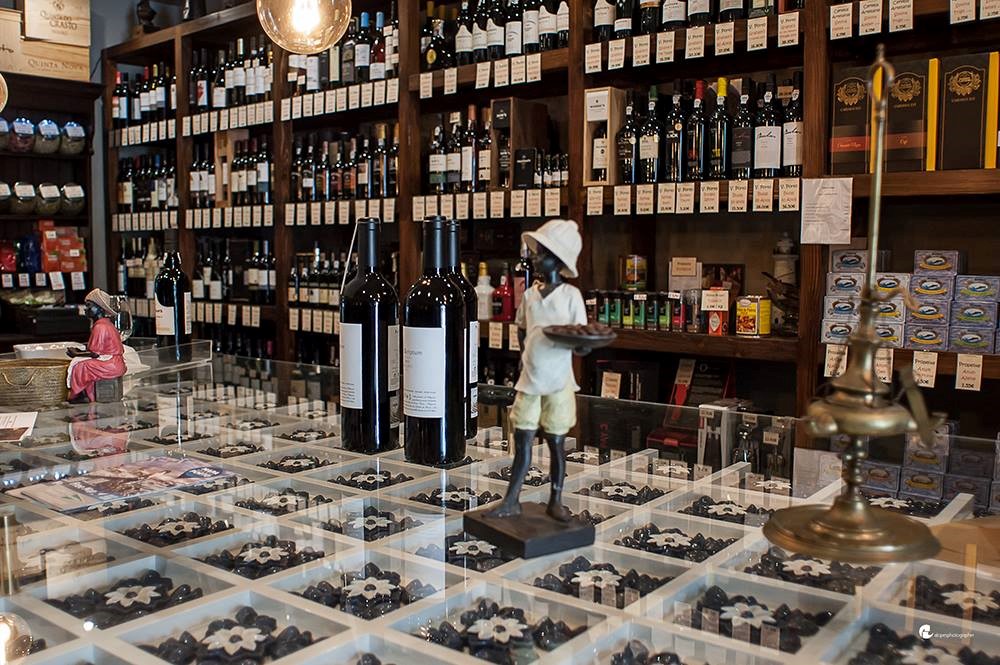 To finish, harmonization.
 For all the questions that may arise we bring three suggestions of wines from the regions of Vinho Verde, Douro, and Porto.
Vinho Verde
From this region, we propose the QM Alvarinho Chardonnay with a strong elegance and acidity. We recommend its pairing with lighter fish, seafood, and of course, roasts, which require the classic creaminess of the wine.
DOURO
We recommend the Red Wine Pacheca Reserva 2016. The Pacheca Reserva wine is a red wine with strong fruit notes, balanced with smooth oak nuances and well introduced spicy. Pervasive and intense, from the Touriga Franca, Touriga Nacional and Tinta Roriz varieties, it goes perfectly with the traditional delicacies of the Christmas dinner.
PORTO
Our suggestion is the Fine Ruby Port wine produced by Cálem Cellars. This wine should be served at a temperature of 16º and has young and fruity aromas. By its character this Port becomes soft and balanced in the mouth, showing great freshness and vigor! Aged in oak casks and vats this wine is ideal to pair with your Christmas desserts.
Visit Porto, and stop by Pérola do Bolhão, the Confeitaria do Bolhão, and Pretinho do Japão, buy your Christmas products, and give this festive season an extra magic touch!
Text by Wine Tourism in Portugal
Photos by Wnie Toruism in Portugal; DMTC
Discover more about Porto Great Wine Capitals.