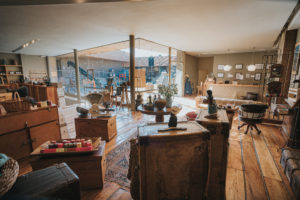 A small family vineyard, formed in 2008, after a long winemaking career, by Pablo Morandé Lavín together with his son and daughters. Bodegas RE offers a concept of wines with a unique character, based on REcreating, REinventing and REvealing, ancestral wines from biblical stories to wines produced in past centuries by the family in noble and beautiful clay jars. Beauty wines are reborn.
Bodegas Re not only produces extraordinary wines, but also combines various factors that show its particularity as a family winery. And it is that since one arrives you can appreciate such relevant details as the sample of small vines with different strains with carefully made wooden signs.
The cozy terrace outside, natural spaces around for a picnic and wine tasting. The beautiful shop of artisanal products of local entrepreneurs attached to the restaurant, added to a cozy and bright cellar to do the tastings, make each space, both inside and outside, an expression of beauty that coexists in perfect harmony with the environment.