The unique setting of the city of Lausanne is dominated by the spectacular view on the Alps and its mirror-like reflections in Lake Geneva.
A Great Wine Capital offering the best of natural cultural and culinary highlights. A city in the countryside – embedded in nature and closely surrounded by the vineyards. Lausanne is a grape's throw away from Lavaux, a UNESCO World Heritage vineyard. "Faster, higher, stronger": Lausanne is the Olympic Capital, and a wonderfully hip, and internationally diverse university city.
Lausanne is the capital of the Swiss canton of Vaud and sits at the Northernmost point of Lake Geneva. It has a compact city centre which is steeped in history and culture, but the student population keeps Lausanne current and vibrant, with theatres, the arts, and night-life on a par with the most beautiful European capitals.
Lausanne is a French-speaking city, so your visit is a great opportunity to speak or practice your French. However, the Swiss are very welcoming of their international guests, and you should find that the level of English spoken enables you to get by with little trouble.
Given its perfect harmony with nature, it will be no surprise that Lausanne is one of Europe's greenest cities with lots of wonderful parks to explore. There is a harmony of architecture as well, with the historic town called "La Cité" and a must-see gothic cathedral (often considered the most beautiful example in Switzerland), as well as a dynamic metropolis with trendy modern districts such as "Le Flon".
Lausanne has been built on 3 hills, so be sure to pack comfortable shoes as you will get a good workout walking around and exploring the city. To help you out the city is all linked by handy bridges, escalators, steps and lifts, as well as the handy Metro M2- the only metro in Switzerland.
Wines
Terraces suspended on slopes, and divided into parcels
The Lausanne wine regions reflect the diversity of the vineyards. The combined forces of glaciers, rivers and mountains have produced diverse soil types and this enormous diversity is reflected in the great number of subtle nuances in the bouquets of the local wines.
They are an integral part of the landscape covering nearly 4,000 hectares, in terraces overlooking Lake Geneva, suspended on slopes, and divided into parcels.
Lausanne has relatively high altitude vineyards, often on steep slopes, offering an alpine terroir. Switzerland is a cool climate wine producer, and in winter it is not unusual to see snow around the vines.
The most abundantly grown grape is the white Chasselas, which makes up two-thirds of the Lausanne region's wine production and thrives on its particular soil and climate. An icon for Switzerland's wine this old variety was originally named Fendant in reference to its grapes that split easily in your fingers. Early and delicate both on the vine and in the cellar, Chasselas gives subtle and elegant wines, to be savoured as an apéritif or with a meal.
Nearly all wine-producing villages have their own cellars, which are generally open for you to visit between Easter and October. Sample different vintages, and try local foods in a warm, friendly environment much like that found in the region's rural restaurants (pintes) and private cellar bars (carnotzets). There are walking paths with lots of signed information explaining the grapes, soil, processes, wines and traditions of the particular area.
www.lausanne-tourisme.ch/en/lausanne-wine
www.ovv.ch/en
www.swisswine.ch/en
Endless
sunkissed terraces
Lausanne is enthusiastic about developing its wine tourism and has been working hard to do so for years – with major projects supported by the Swiss Confederation and attractive facilities in the neighbouring vineyards.
And those vineyards are very close to Lausanne. If you travel for just 10 minutes, going east or west of the city, you are there! Picture yourself in Lavaux's vineyards, admiring the endless sunkissed terraces adorned with mature vines. You have a glass of delicate Chasselas wine in your hand whilst appreciating the magnificence that has made the area a UNESCO world heritage site.
On the second Saturday of December, for over 210 years, the City of Lausanne has given its citizens the first opportunity to purchase wine from the recent harvest. You can take part in this extraordinary sale and bid for any of the lots at auction. This exceptional occasion embodies, promotes and reveals the winemaking heritage of Vaud, built up over the centuries.
There is also a unique winegrowers' festival, Fête des Vignerons, which takes place 4 times a century celebrating the work in the vineyards. The last festival took place in the summer of 2019 (18 July to 11 August), involving thousands of singers, actors and dancers. At all other times, the history of this unique event can be discovered at the "Musée de la Confrérie des Vignerons" in Vevey.
www.region-du-leman.ch/en/Z5300/winetouristic-and-gastronomic-experiences-in-the-canton-of-vaud
Have a look at our
Insiders'
guide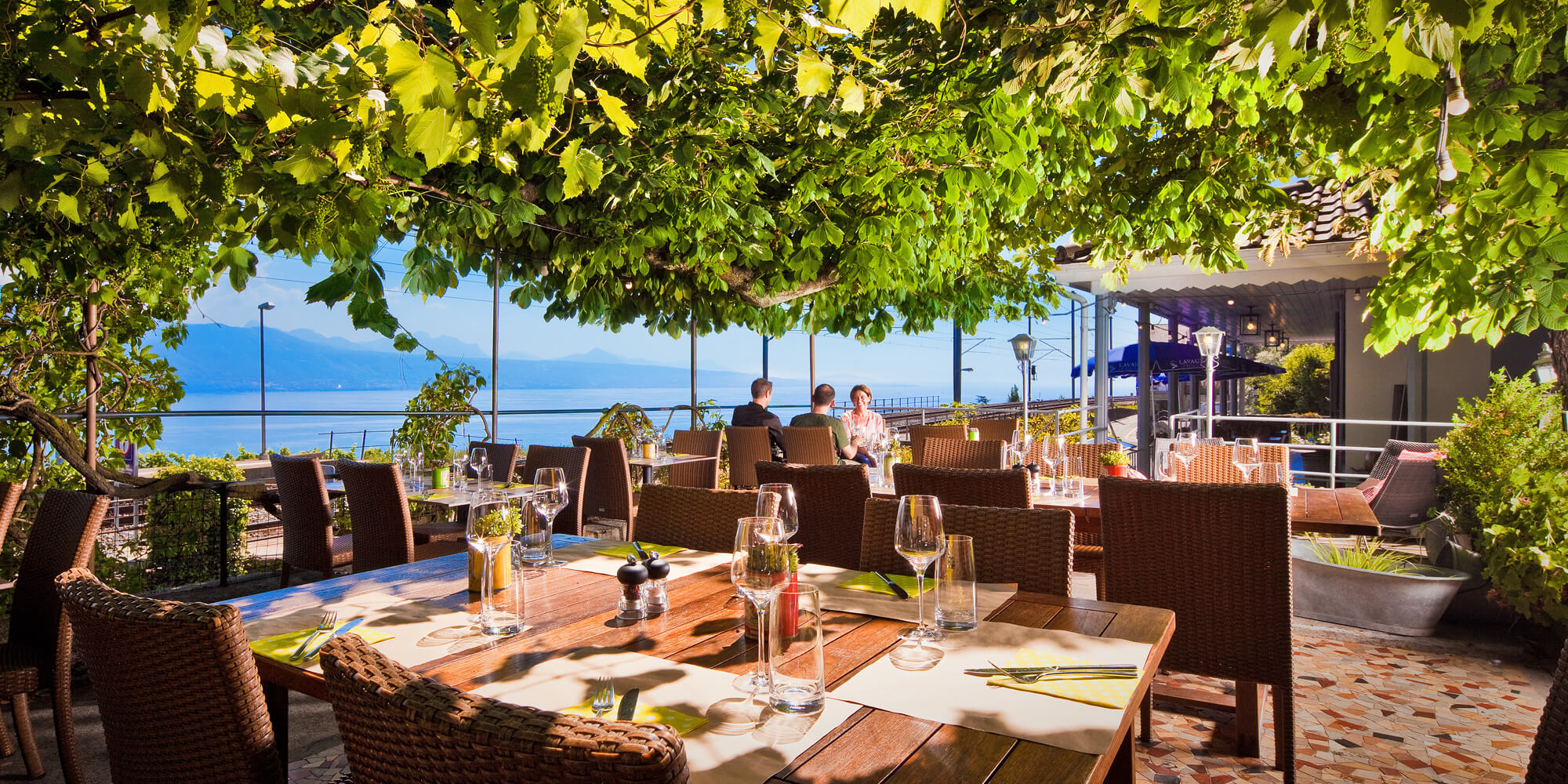 Lausanne and the canton of Vaud, are a paradise of gastronomy and wine which never fail to impress with the diversity and quality of its cuisine. The region boasts an extraordinary number of "toques" (restaurant awards) and Michelin stars. The reputation of the region was headed up by Frédy Girardet, crowned "Chef of the Century", the inventor of "nouvelle cuisine", and acclaimed by his contemporaries as the top chef in Europe year after year. Now retired, but his legacy continues to influence the exceptional quality of world-class chefs and cuisine in the area.
The pride of the region's meat is sausages – such as the legendary "saucisse aux choux" (cabbage sausage), "saucisson vaudois" and the "boutefas", or smoked pork sausage.
The assortment of cheese is plentiful, including delicately-flavoured Tommes, and the stronger tasting Gruyère, Etivaz, and Vacherin Swiss cheeses which have a protected designation of origin (AOP) label.
The "taillé aux greubons" is an experience for those who like savoury pastries. Those with a sweet tooth will succumb to the "bouchons" (confectionary with almond paste), tarte Armandine (almond tart), the special cakes of Goumoens and Le Vully, and the "raisinée" which is a jam-like concentrate made from apples and pears that are cooked for 24-hours.
Luxury food lovers should not miss the truffle market end of October in Bonvillars, or the spectacle of September's Vacherin Mont d'Or Festival in Les Charbonnières to see the cows coming down from the Alps, then you can savour the first cheese, and enjoy typical Swiss entertainment.
www.lausanne-tourisme.ch/en/restaurants/
www.region-du-leman.ch/en/Z5410/the-gourmet-paradise
Up until the end of the 1990s, winegrowers were making widespread use of chemical products to combat vine diseases, pests, deficiencies and viruses. The establishment of integrated production and proof of ecological performance (PEP) for winegrowing, the creation of Vitiswiss (the Swiss federation for developing sustainable winegrowing) and the Vaud association Vitiplus, and the launch of the Vinatura label have all helped to boost vine and wine professionals' considerations and awareness in this area.
With the support of the Changins federal agricultural research institute, more than 90% of Vaud's vineyards no longer use insecticides, which have been replaced in particular by hormone diffusers. However, synthetic insecticides had to be reintroduced in certain very targeted areas in 2014 when "flavescence dorée" arrived from neighbouring countries.
The number and dosage size of treatments have considerably fallen, significantly reducing their side effects on the environment, flora, fauna and humans. The use of herbicides has also been reduced, replaced by techniques that are more respectful of biodiversity and this has enhanced water protection.
Winegrowing has also gained a sustainable development charter that takes the environmental, economic and social aspects of wine estates into account. This covers vine plots and cultivation, winery work, and company management, and specifically targets enhancing the value of products, managing natural resources, balanced management of inputs and waste, sustainable energy management, landscape conservation and biodiversity. Winegrowing that is certified as using organic methods makes up 350 hectares or 11% of Lausanne Region's vineyards. As of 2020, a third of the winegrowing area is registered as a location promoting diversity.
Vaud Oenotourisme Association
info@vaud-oenotourisme.ch
Internships
Internships are open to students currently studying at an academic institution in a Great Wine Capital City
PHOTO CREDITS:
Wines: travelita.ch [ Nicolas Glauser ]
Tourism: LT [ Sébastien Staub ]
Gastronomy: Auberge Grandvaux
Wine & Sustainability: LT [ Laurent Kaczor ]
Internships: [ José Crespo ]