Bilbao, the industrial and cultural capital of northern Spain, is well known for its innovation through technology development centers and a top tourist destination because of its wide range of its cultural attractions led by the Guggenheim museum, diverse geography, and world-famous cuisine.
Rioja is Spain's most famous Designation of origin for wines, producing a wide range of reds, whites and rosés, both blends and single varietals. An exciting recent development is the creation of the singular vineyard category.
Bilbao, the most important industrial, commercial and financial metropolis in northern Spain, lies on the coast of the Bay of Biscay. Originally a seaport, in the 15th and 16th centuries the city became a center of commerce between Spain, Europe and America and the region began to develop iron ore mining.
In the 19th century, the city developed industries such as iron, steel, shipbuilding, ship-owning companies, chemical products, banking and electricity, followed later by paper, cement and glass. In the 20th century the region developed the machine tool, automotive components and aeronautical industries.
The post-industrial age has obliged Basque companies, especially those operating in mature industries, to undergo a process of modernization. This has culminated in the creation of technology centers for advanced R&D projects that employ over 5,000 technicians.
Other important sectors include banking, insurance, transportation, food, machinery, electric and electronic goods, automotive components, aeronautical industries, paper and graphic arts, wood products and furniture.
Among Bilbao's cultural attractions is spectacular architecture, featuring the Guggenheim Museum, the Zubizuri bridge, the Bilbao airport passenger terminal, and the Vizcaya Transporter Bridge connecting the left and right banks of the Nervión river estuary.
Metro Bilbao, the area's ever-expanding subway network, is currently 43.5 kilometers long with 43 stations.
Bilbao is a vibrant cruise ship destination and the Port of Bilbao, Spain's third largest.
More than two million people live in the Bilbao metropolitan area. The GDP generated by the Basque economy is Spain's fifth largest. Per capita GDP is 34,273€, compared with 26,430€ for all of Spain.
Wines of Rioja
The region par excellence in the production of quality wines in Spain
In northern Spain, on both banks of the Ebro River, flanked by the majestic Cantabrian and Demanda Mountains, lies the millennial wine region of Rioja. Centuries ago, the excellent conditions for the cultivation of grapevines made this area the region par excellence in the production of quality wines in Spain.
The Rioja identity took hold at the end of the 19th century when it was discovered that it could produce ready to drink wines with a great aptitude for ageing. This specialisation of ageing wine in 225-litre oak barrels culminated in 1980 with the definition and promotion of the Crianza, Reserva and Gran Reserva categories. Today the region still boasts oenological treasures of several decades and even century-old wines in its cellars.
The elegance and balance of Rioja wines are other aspects that have marked its character; pleasant and very versatile wines able to maintain a very consistent style and quality over time, thanks to the mastery of blending techniques. Thoroughly understanding the characteristics of different varieties, pagos (county districts) and parajes (literally small plots of land) has forged the distinctive style of Rioja wines. The Designation evolves with the times and the consumer's interests, and currently a new emphasis is placed on showing each of the different pieces that make up the puzzle. The great diversity in the plots of land and microclimates takes on greater relevance with the updating and addition of labels such as 'Vino de Zona' (wines from certain areas),'Vino de Municipio' (wines from certain municipalities) and 'Viñedo Singular' (for wines from exclusive vineyards awarded this designation).
Visitors will find lots to do in the Bilbao area. For an overview of the city you can catch the hop-on/hop-off Bilbao City View bus. There are a number of plans catering specifically to young people, seniors, families and couples, or you can walk around yourself because Bilbao is an eminently walkable city.
You can visit some of our famous 'pintxo' (small but amazingly creative shared dishes) bars, restaurants, and other stunning architectural monuments including the Guggenheim museum, Museo de Bellas Artes, Azcuna Zentroa (a 19th century Rioja wine warehouse converted into a cultural center), the Concordia Train Station, the Palacio de la Diputación (regional government) on the city's main street, the Gran Vía, the Campos Elíseos theater, the Café Iruña and old town including the iconic Plaza Nueva (New Square).
Rent a bike, a kayak or a paddleboard, take a scenic boat trip down the Nervión river that bisects the city, visit the San Mamés stadium, home of the Athletic de Bilbao, nicknamed 'La Catedral' or stroll down the Gran Vía where you can shop at boutiques and department stores or marvel at the palatial mansions.
Outside the city proper you can visit the medieval city of Durango, Karrantza, home to churches and spectacular palaces built by returning Basque émigrés to America, Balmaseda – the oldest town in the province, founded in 1199 and many other interesting towns.
You can find information on the Bilbao Turismo Website or at the tourist office at the Plaza Circular, 1.
Have a look at our
Insiders'
guide
860,000 visits a year make Rioja the leading wine tourism destination in Spain. Almost 200 Rioja wineries have enthusiastically embraced wine tourism beginning with the creation of several wineries and hotels designed by architects that blend form and function. Examples are the City of Wine at Marqués de Riscal featuring Canadian Frank Gehry's titanium-roofed Hotel Marqués de Riscal, Riojan Ignacio Quemada's Bodegas Campo Viejo, Philippe Mazières' Bodegas Viña Real, Bodegas Baigorri by Iñaki Aspiazu, Finca de los Arandinos by Javier Arizcuren and David Delfín, Iraqui-Briton Zaha Hadid's tasting room at R. López de Heredia Viña Tondonia and others.
Wine tourism here is more than spectacular modern architecture. The Haro Railway Station District features several one hundred year old wineries such as CVNE, featuring a cellar with an iron roof designed by Eiffel, López de Heredia's cellar with its underground aging cellars where four generations of the founding family have made wines since 1877, or Bodegas Bilbaínas, founded as Sauvignon Frères, a testimony to Rioja's debt to French wineries who found the wine they desperately needed when their own vineyards were devastated by phylloxera.
Tourists can discover the history of winemaking in Rioja in underground cellars such as Bodega Conde de los Andes in Ollauri and Bodegas Lecea in San Asensio.
Other wineries and tour companies offer exciting experiences for the whole family such as bike and hot air balloon tours, picnics in the vineyards, wine blending, wine tastings and many others.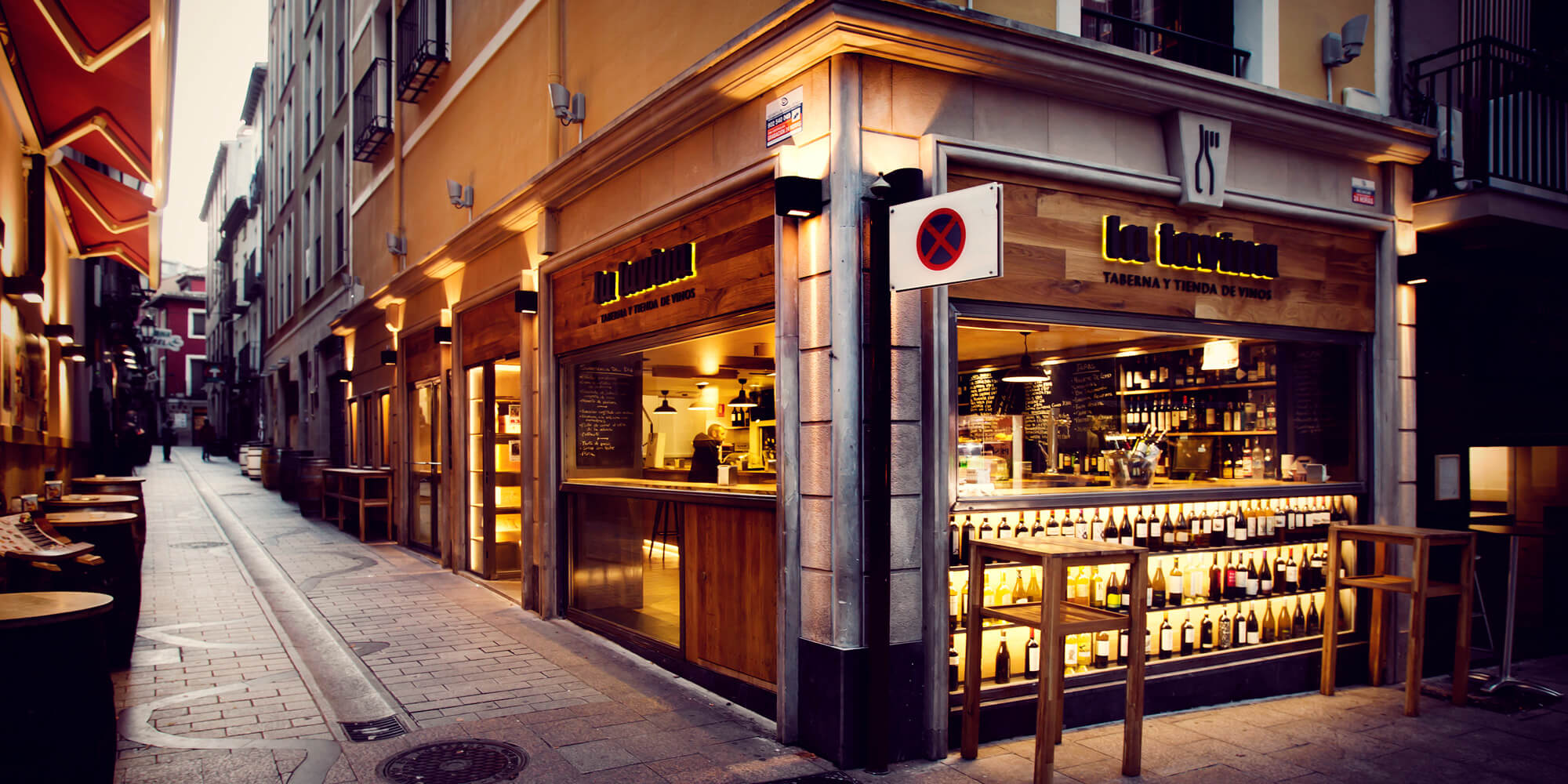 Bilbao, the surrounding province of Bizkaia and the Rioja region, both La Rioja and Rioja Alavesa are meccas for food lovers. The region boasts 20 Michelin stars at 17 restaurants (1 with three***, 1 with 2 ** and 15 with 1*). Besides these temples of fine dining, tourists can find a host of eateries offering not only traditional Basque and Riojan cuisine but hundreds of bars that serve pintxos, both simple ones like the gilda, named after Rita Hayworth with a salted anchovy fillet, an olive and a spicy guindilla pepper skewered on a toothpick, a juicy potato omelette, or complex mini-dishes that are meals unto themselves.
Basque cuisine features fish caught in the cold waters of the North Atlantic and the nearby Bay of Biscay like cod, tuna and hake as well as seafood (spiny lobster, Dublin Bay prawns, mussels and goose barnacles), and beef. These raw materials are the inspiration for dishes like marmitako (Basque fisherman's stew), cod al pil-pil, txangurro (stuffed spider crab) and hake in green sauce.
Riojan specialties feature lamb, pork, vegetables and legumes that are the basis of the classic chuletillas de cordero al sarmiento (baby lamb chops grilled over vine cuttings), pochas (fresh white bean stew), caparrones (a stew made with red beans with an official quality seal from the village of Anguiano, patatas a la riojana (a stew with potatoes, spicy chorizo sausage and peppers) and bacalao a la riojana (desalted cod in a spicy tomato and red pepper based sauce).
Bilbao Chamber of Commerce & Industry
secretaria@bilbao-rioja.com
Internships
Internships are open to students currently studying at an academic institution in a Great Wine Capital City