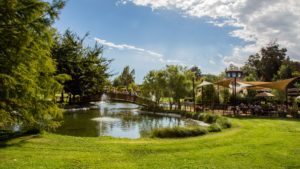 It is a biodynamic boutique winery, it is located in the Rosario Valley, between the coastal valleys of Casablanca and San Antonio. Their first vines were planted in 1999 and are found on the slopes of this protected environment, making them pioneers in cold climate Syrah production in Chile.
Viña Matetic since it's inception has been characterized by its organic and biodynamic practice to produce its wines. Its extensive hectares of vineyards now shine in their maximum splendor with the recently incorporated tour where the visitor can learn about and learn the entire process of the terroir, the cultivation of the grapes and the natural processes that surround the viticultural process of its wines, where The guide explains in a very clear way and details all the processes that are experienced inside the Rosario Valley, where the ecosystem lives in harmony with the environment, taking care of every detail and every process for the sustainable support of all it's production.
An entire experience and philosophy that reflects the identity of Matetic and that today can be lived, understood and learned.