The first step was to find mobility adapted to her needs. In this sense, Mendoza has many companies that offer a transfer service according to the needs of people with mobility limitations.
Once on the road, entering the Uco Valley, the landscape and proximity to the mountain range amazed us and we could breathe the pure and fresh mountain air.
After a little more than an hour from departing the City of Mendoza, we arrived at the Clos de los Siete property. It is a plot of about 850 hectares at 1100 masl, nestled right at the foot of the Andes mountain range with a consortium of four wineries: Monteviejo, Cuvelier de los Andes, Diamandes and Rolland.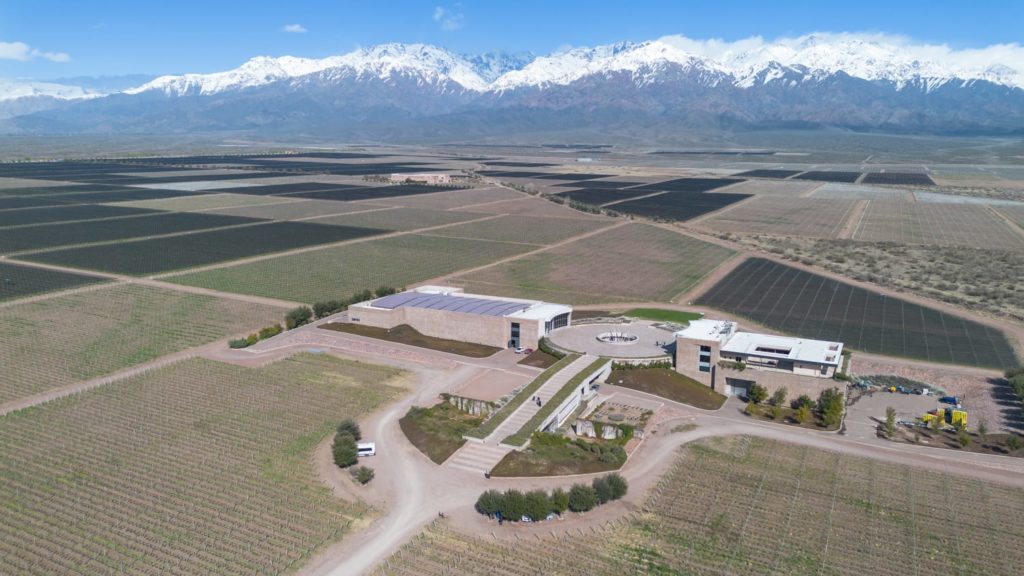 Diamandes is a jewel of architecture. It has two buildings specially designed to blend in with the landscape, the main protagonist here. In this sense, Santiago Orozco Russo, chef of the winery, told us that the owners, the Bonnie family, called the Bórmida & Yanzon studio for the architectural design with a very clear request as a condition: the facilities had to be sustainable, include materials from the area and most importantly, that the building should not interfere with the landscape.
In the center of the two buildings, visitors are struck by a large sculpture that represents a diamond and gives its name to the winery. Orozco explained us that this name arose during a visit that the owners made to the Diamond Lake natural reserve in the area.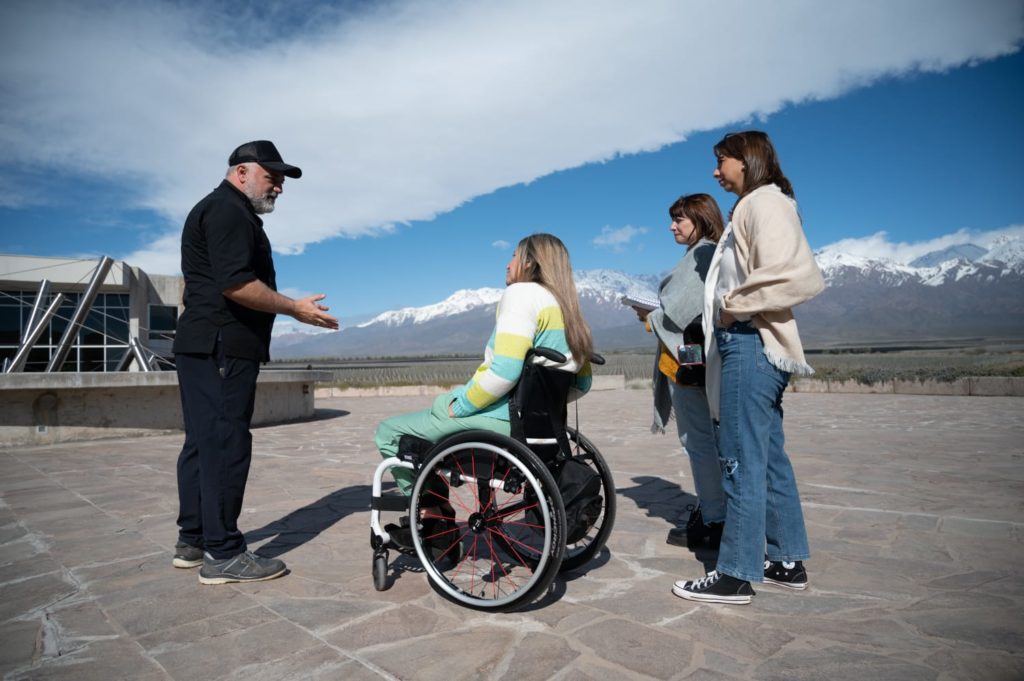 A 100% accessible tour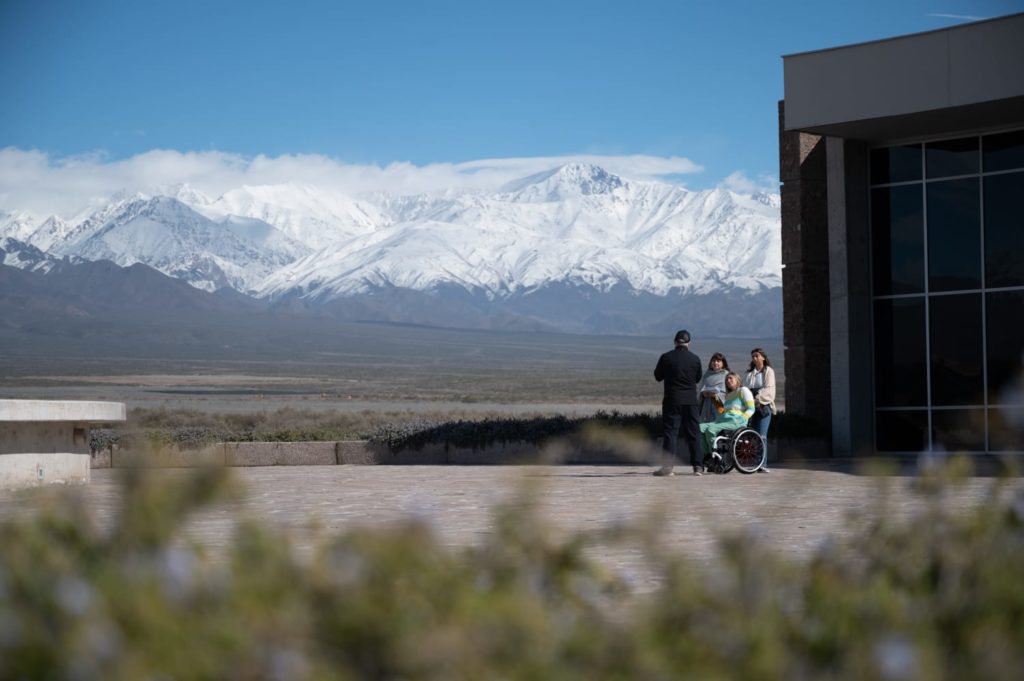 As the entrance to the winery is elevated, we were allowed to reach the entrance esplanade with the vehicle, via a steep ramp. In this way, Naty got out of the vehicle right at the door. She was welcomed there by the chef of the Diamandes winery, Santiago Orozco Russo, who kindly told us the history of the place.
Then -using elevators- we accessed one of the buildings to visit the laboratory and the barrel room meanwhile Orozco Russo explained us in detail the production process of Diamandes wines.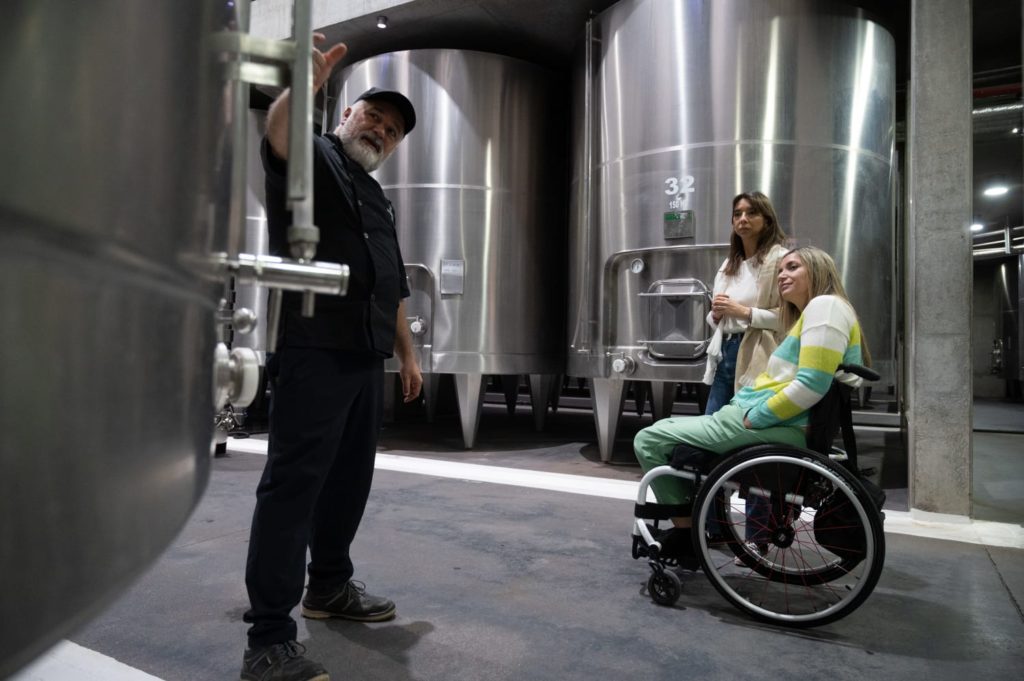 After that, using ramps we entered the tasting room, perhaps the most anticipated moment. Naty joined the rest of the participants in her wheelchair. The room featured a large window from where we could see an unbeatable view of the mountain range. Here, in line with the owners' philosophy on the integration of the property with the landscape, there were no decorative works of art, the views through strategically located viewpoints fulfilled this ornamental function.
Following the tasting, we headed to the "crypt", a spectacular room where the Bonnie family carefully keeps their wine collection. That was the end of the tour.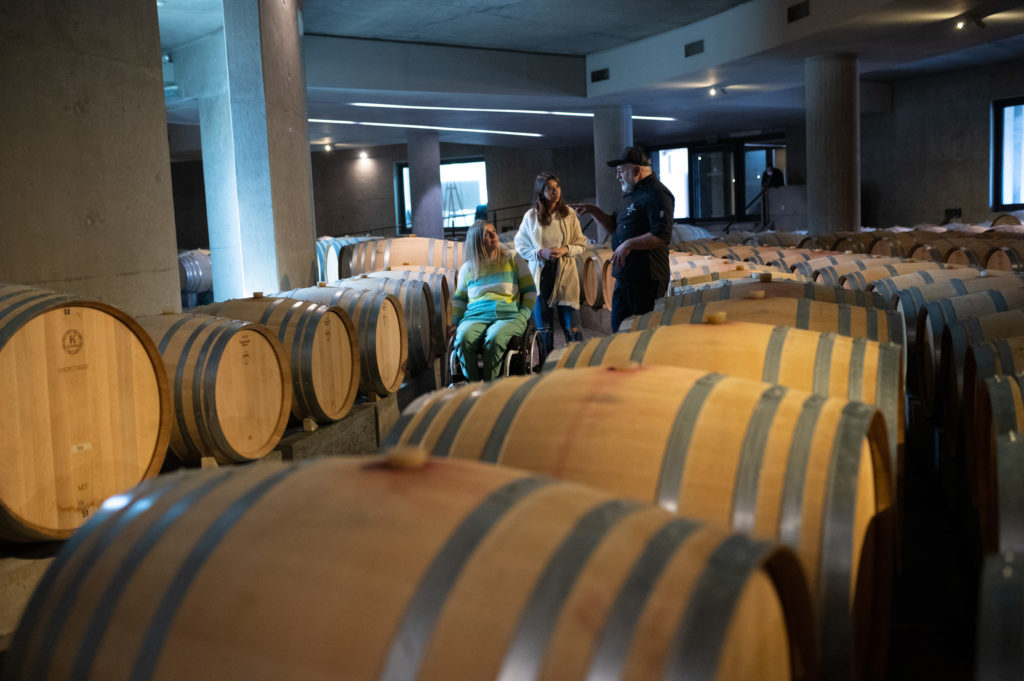 Finally, Santiago invited us to visit the winery's restaurant, that offers seasonal signature cuisine. Important to say that dishes are never repeated and use identity products of Mendoza.
The experience in first person
Once the visit was over, Naty gave us her impression of the tour: "The experience was beautiful, I felt very comfortable because it is a winery where I was able to access all spaces, starting with the entrance, which is super accessible, and including other areas like toilets, ramps, elevators, etc. I had no problem in any stage of the tour. I was able to move freely and independently. "I invite you all to live this unforgettable experience."
We invite you to follow Naty at Naty Acevedo (@neaacevedo) • Fotos y videos de Instagram   and Santiago Orozco Russo at Santiago Orozco Russo (@sorozcorusso) • Fotos y videos de Instagram
Learn more about Mendoza Great Wine Capital
Photo Credits: Ministry of Culture and Tourism
Text by Mariana Alvarez