Château Malromé in the south of the Entre Deux Mers, is situated high up in the beautiful hills above the Garonne River. The 43 ha domaine dates from the 16th century but was named in the 18th century after the then owner, Catherine, widow of Baron de Malromé. In 1883, the  Comtesse Adèle de Toulouse-Lautrec purchased the property, and it became home to its most famous resident, her son, the painter Henri de Toulouse-Lautrec.
Today's owners
When the Huynh family bought the vineyard and château in 2013, they renovated the cellars and the chateau. Their objective was to opened it to the public. The property has been beautifully restored, cleverly integrating clean modern lines whilst taking care to honor and respect its rich artistic history.
The Art & Culture
The apartments of Henri de Toulouse Lautrec have been perfectly preserved, where visitors can discover his life through his works of art and the original 19th century décor, thanks to local historian and guide Pauline Leclercq.
It is now contemporary art that takes pride of place. They have created a 230 square metre gallery in the east wing, that welcomes a different guest artist every season. This year, until January 2023, they are hosting « L'instant d'une vie » by Laurent Pernot with 12 of his creations in the gallery and two more in the park and courtyard.
This fortified courtyard is the heart of the property, with a unique octagonal tower. It is now the perfect venue for events from relaxed musical 'aperos' to full on concerts and shows.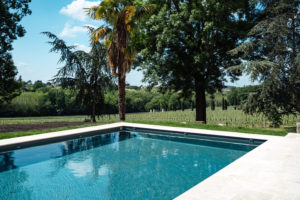 As well as the cellars, tasting room and boutique, the chateau has five guest bedrooms, salons, an art gallery and two restaurants that all come together to create a unique environment.
The restaurants
The restaurant Les Abeilles, (The Bees), is named after the 20 beehives, installed across the estate. This give a clue to the importance the chateau attaches to its natural environment. Guests can enjoy lunch, brunch or cocktail hour in the relaxed and informal .  La Table du Château restaurant offers a more elegant interpretation of the chefs (Camille Dupraz and Pierre-Rémi Blanc) skill with intimate dinners, where art, food and wine come together.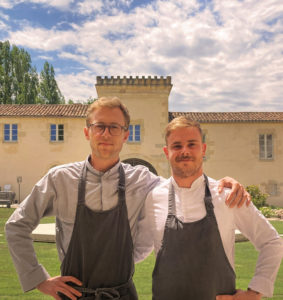 The chefs work with local and organic ingredients building menus with a modern touch. It's not surprising the Château is the 2022 Bordeaux Best of Wine Tourism winner for a restaurant in a wine estate.
The wellness
This theme of wellbeing is echoed throughout the property. They organise regular wellness retreats and wine and yoga discovery days. Co – owner Mélanie Huynh is a well-being expert, with her own skincare brand, Holidermie. Mélanie's products are used for massages and treatments guests can enjoy during the chateau retreats or by appointment .
There is always someting happening at Château Malromé !
Photo crédit ©ANAKA
Wendy Narby