A modern union amidst a 2000-year-old-story
The feeling you get when you arrive at Les Celliers de Sion is special. Located a few minutes from the city of Sion in Switzerland's south western Valais thermal spa and resort region, visitors are often surprised when they learn that the steep slopes trace a grape-growing history back 2000 years. Generations ago, the locals terraced the vineyards to contain the rich soils needed to grow the fruit. Today 3000km of dry-stone walls rising 20 meters high in places, frame the 65 Valais communes and illustrate the ingenuity and hard work needed to transform the landscape by hand.
On this rich tradition, Les Celliers de Sion was founded in 2017. Wine producers Bonvin 1858 and Varone Vins came together to create a wine park with year-round wine tourism experiences, offered 7 days a week. The winery is focused on a cellar door and more approach and gives visitors an extensive list of sensory experiences to discover sumptuous food, wine and the vineyards with their snow-tipped mountain backdrop. Among them is a chance to explore small "guerites" (houses) where visitors can sample local food with a glass or bottle of wine, and where they can hear about the wine making process.
Director David Héritier sees the experience of wine as an emotional and sensory one. "The wine is not all about quality & price," he said. "It's about the moment you drink it, where and with who."
David also believes Swiss wines deserve to be better known in Switzerland and beyond and describes winning a Great Wine Capitals 'People's Choice' Global Best Of Wine Tourism Award is validation for past decisions the team has made and motivation to further evolve their wine tourism experiences for national and international visitors.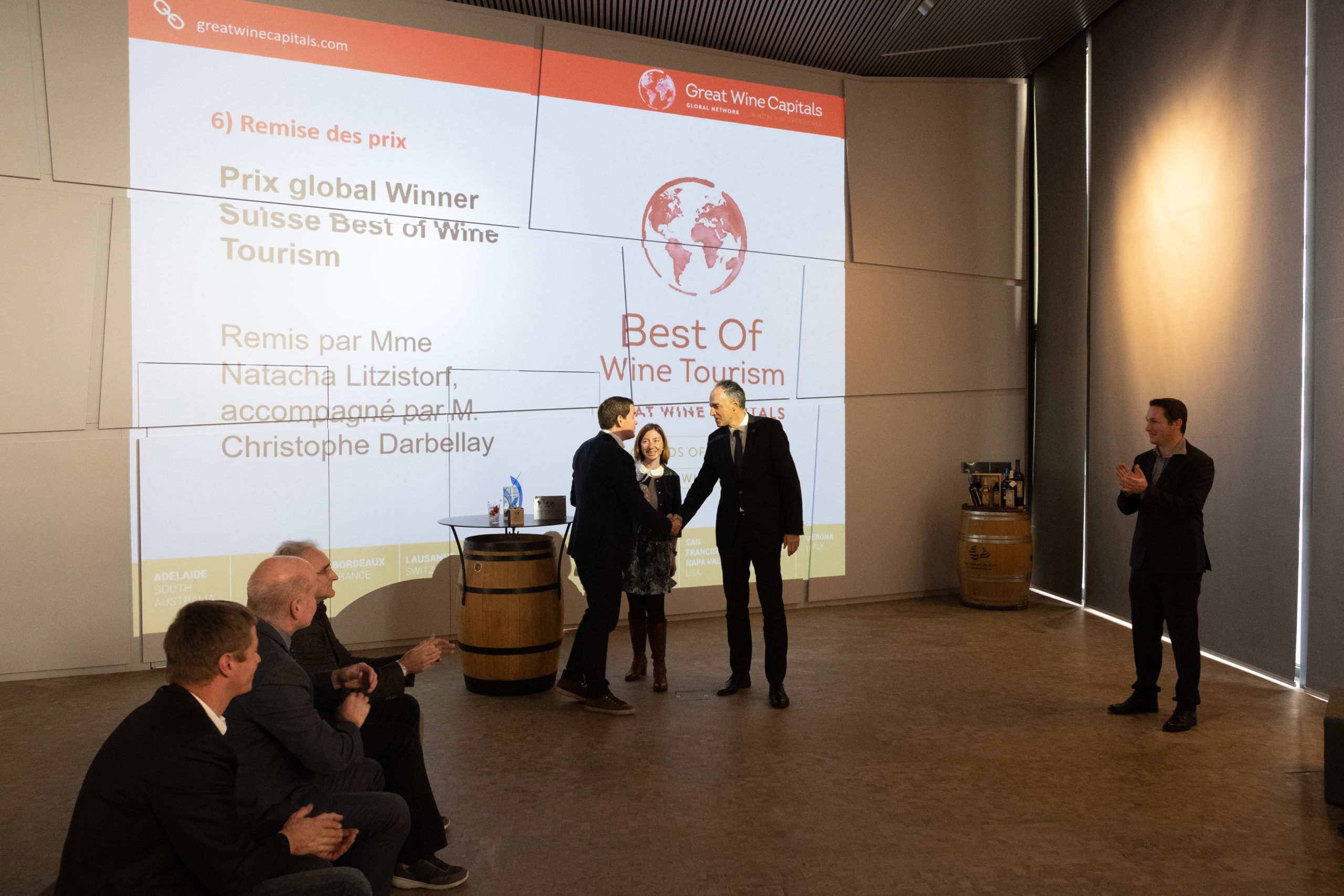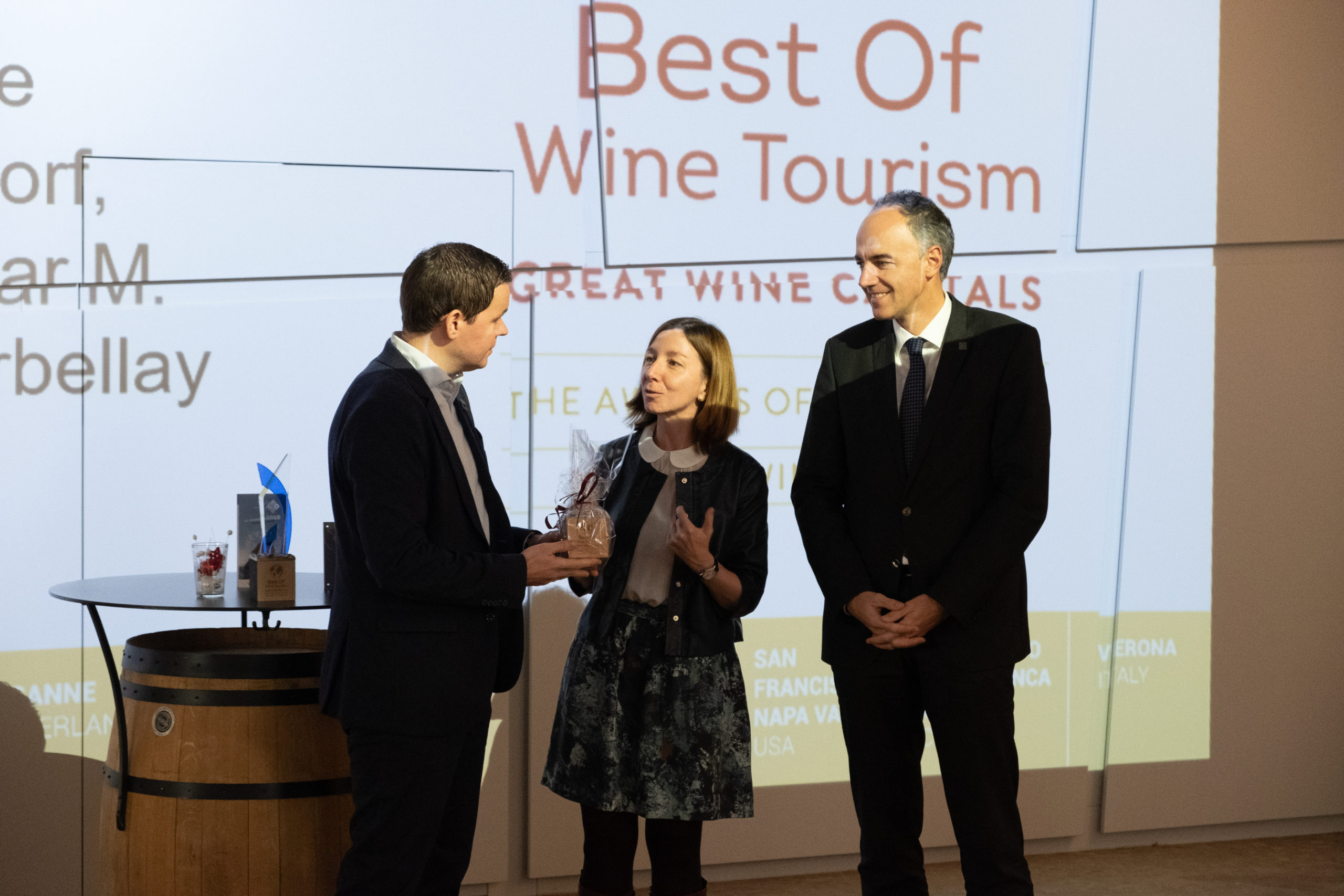 Fifty wines that reflect unique geological characteristics and favorable climate
Sion's climate is sunny and dry, which makes conditions favorable for growing wine-grapes. In addition, geological upheavals, receding glaciers and alluvial deposits of the Rhône river and Alps torrents creates a diversity of soils. The combination is expressed as an exceptional richness in the wines visitors will find at Les Celliers de Sion.
"We have the advantage of offering a lot of variety of wines – there are around 50 different wines to discover," said David. "You can come back a few times if you want to try all our wines. And if you want to book an outside activity, you will have to wear good walking shoes – walking in a vineyard in Switzerland is quiet a sport."
Visitors looking for a more relaxed exploration can choose the hop-on-hop-off wine bus service, with the ticket including wine tastings and a tour of the cellars.
                              "We have an amazing team"                              
The winery employs 25 people and everyone on the team has a role to play, from producing the wines, to sharing their love of how the wine is made and making the visitor experience a positive one during tastings and tours. "We have an amazing team," said David. "It's not enough to have a nice building, activities, and wines. We do need to have professional employees who are helpful and smiling and we have those here. I'd like people to say that they had fun and that they learned something new."
More Information
To learn more about the wine and visitor experiences at Les Celliers de Sion, visit the website and use the 'translate' feature on your search engine to read in your native language or follow them on Facebook or Instagram.
Fact facts
📍 Location: Les Celliers de Sion is about an hour's drive from Lausanne in the city of Sion in Switzerland's south-west. It sits in the heart of the Valais region famed for its vineyards, ski and spa resort options.
📢 Tripadvisor review: "A superb discovery! Located on the edge of the Bisse de Clavau, this gatehouse is a little gem, enjoying a magnificent view. Warm and friendly welcome, by competent and motivated employees. Dishes served of excellent quality. Recommend without hestitation." (Translated from original). More reviews on TripAdvisor.
🍽 Local delicacy to try Raclette is a shepherd's accidental fusion of melted Swiss cheese and potato originating from the Valais region. Served hot and melty at Le Celliers de Sion, the dish is perfect to share on winter day and pairs wonderfully with a white wine such as "Fendant".
🏰 Surrounds to experience: The nearby Matterhorn is world-famous and is one of the most visited sites in Valais and Switzerland. Enjoy the Alps and its ski resorts in Winter or during the rest of the year, opt for a picturesque bicycle or walking tour through the region.
📅 Best time to visit: David recommends August to October as the best time for outdoor activities like their e-Bike tour, which includes scenic views, a meal in the middle of the vineyards for an unforgettable experience.
👸Historical interest: Sion is known for 2 hilltop fortifications: the 13th-century Tourbillon Castle ruins and the Valère Castle complex, with a basilica housing an organ over 500 years old. Tour the 15th-century Cathedral of Notre-Dame-du-Glarier and the conical Witches' Tower in the old town and view the Majorie and Vidomnat towers which house the Valais Art Museum's regional art collection.
 Photos & Video: Courtesy of Les Celliers de Sion
For more information: Les Celliers de Sion