The winery
The Pulenta Estate Winery is based at La Zulema vineyard, in Agrelo, Lujan de cuyo. To achieve the highest quality wines we have invested in different fermentation options, from small stainless steel tanks, to roll fermentor and wood barrels.
The winery is located in 135 hectreas property, 980 masl and has magnificent views to the Andes. The Cordón del Plata, is one of the most magnificent mountain range. The colors use on the exterior of the building were inspired by bluish and  grays of the landscape. The finishes of the walls vary according to the hierarchy of the spaces. The winery was built as part of a landscape enhacement program for the estate and refunctionalizarion and expansión of an existing building complex. Spaces were arranged for winemaking and for tourism. Next to an existing wharehouse a work patio closed by two other bodies similar to the first, with galleries.
The entire construction is earthquake resistant and was carried our with traditional systems, appropriate for the región: reinforced concrete structures, brick, concrete slabs and metallic  roofs, inclined, with skylights for natural lighting of the interiors
Our vineyards
Pulenta Estate has two vineyards located in the main wine-producing areas of Mendoza. Finca La Zulema in Agrelo, Luján de Cuyo and Viñedos Don Antonio in Los Árboles, Tunuyán. The strict care in the work of the vineyard allow us to obtain excellent quality results.
Tourism
The winery offers informative and professional visits of the vineyards, winery, and cellar followed by a tasting of our favorite wines. Just as we look for quality in our wines, we focus on small groups so the guests can feel at home. We invite you to visit us to experience the beauty of Mendoza and of Pulenta Estate, a high- end winery.
Reservations are required. Find our contact info below for bookings and more information: reservas@pulentaestate.com . Specialty tours and tastings available.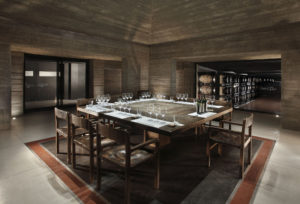 Tours offered in Spanish, English and Portuguese.
Visitor / Reception
The set is completed with two smaller volumes, parallel to the large naves, with the administration and reception of visitors, which  includes an area for tasting and selling products. A simple construction was aimed at, which translated into a contemporary architecture of minimalist lines but it has conveys strength and carácter. This concept guided the design of the spaces and the management of light, materials and details.
Meaningful partnerships
Given the family´s second passion, cars and our long term relationship with Porsche, we produced the wines for every new model launch presentation worldwide.
Learn more about Mendoza Great Wine Capital