We are much more than a boutique wine and culinary destination; we are the embodiment of rustic elegance seamlessly intertwined with contemporary comforts, providing our guests with immersive cultural encounters and authentic Argentine adventures.
Our architectural marvel, crafted by the esteemed Argentine architects Bórmida & Yanzón, comprises 21 sprawling villas. These retreats offer expansive indoor and outdoor living spaces, opulent spa-inspired bathrooms, and private terraces, each boasting panoramic vistas of the Andes and our lush vineyards. Outdoor fireplaces, Roman baths and intimate rooftop terraces enhance the villa experience.
The Villas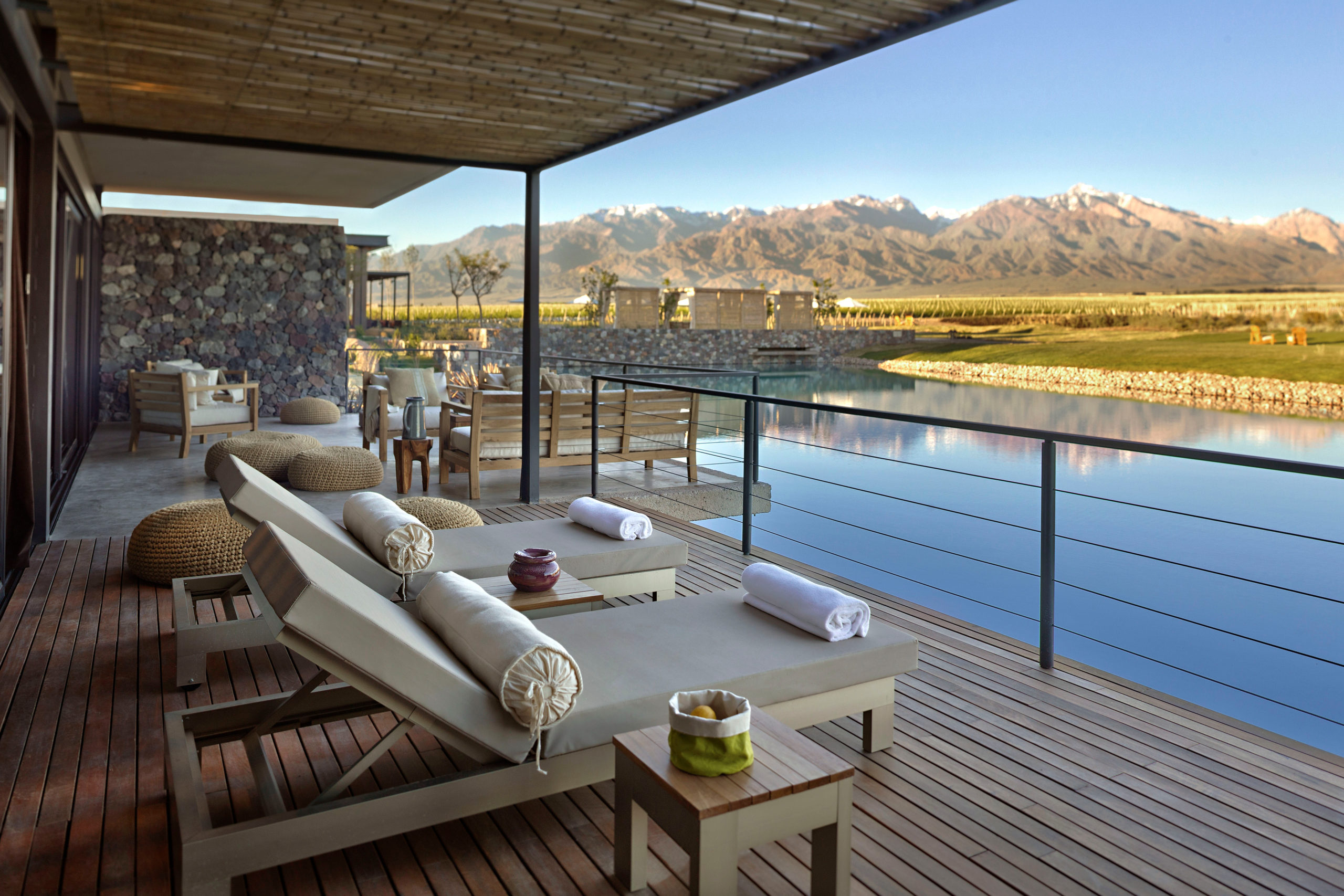 Our portfolio includes three distinctive villa types, ranging from 92 to 250 square meters, providing the full ownership of these villa:
● One Bedroom Villa | 92 sq m | 6 units
● One Bedroom Deluxe Garden View Villa | 180 sq m | 4 units
● One Bedroom Deluxe Lake Andes View Villa | 180 sq m | 4 units
● Two Bedroom Deluxe Garden View Villa | 250 sq m | 3 units
● Two Bedroom Deluxe Lake View Villa | 250 sq m | 4 units
Facilities and Services
We offer the highest level of facilities and services, as expected from a luxury resort.
Wine Tourism Activities
Surrounded by the private vineyards of The Vines of Mendoza, The Vines Resort & Spa extends a rare invitation to partake in every facet of the winemaking journey. You can take part in many of these activities as a guest of the resort, or you may choose to go deeper and own your own vineyard.
Here's a glimpse of what we offer to our wine loving guests:
● Wine Experiences – Vines to Go: In our & Vines to Go tasting room, we welcome all guests to savor high-end wines crafted by our vineyard owners.
● Blending Session: Guests embark on a journey to create a wine blend that reflects their preferences, complete with custom label design, and leave with a bottle ready to be enjoyed
on a special occasion.
● Winemaking Camp: A full-day adventure that encompasses grape harvesting or grape tasting
among The Vines vineyards, grape crushing and grape selection in the winery.
● Varietal Discovery: This activity presents a sensory challenge through a blind tasting, providing a unique opportunity to explore the diversity of the many grape varieties  cultivated at The Vines.
● Oak & Wine: This experience delves into the role of oak in winemaking, unraveling the nuances of wine aromas and textures.
● Winemaker´s Village: Within The Vines lies the Winemaker's  Village, home to four boutique wineries: Sólo Contigo, Corazón del Sol, Super Uco, and Gimenez Riili. Guests can explore distinct and exclusive wine experiences at each of these wineries.
Siete Fuegos Restaurant by Francis Mallmann
Internationally renowned chef Francis Mallmann chose The Vines as the backdrop for his culinary masterpiece, Siete Fuegos. Here, he uses ancient fire-cooking techniques, crafting regional dishes inspired by rustic flavors and showcasing Argentina's world-famous meats. Amidst the gardens and vineyards, we celebrate the natural richness of seasonal local ingredients, thoughtfully paired by our expert sommeliers with exceptional Argentine wines.
Siete Fuegos Experiences:
● Siete Fuegos Experience: The Siete Fuegos Experience offers a communal dining extravaganza for 28 people in the open-air kitchen, or Patio de Fuegos Guests can relish the spectacle of Francis Mallmann's renowned techniques executed to perfection, artistically presented, and expertly paired with the finest Argentine boutique wines.
● Chef & Table: A private table for two is offered at the heart of the action, on the Patio de Fuegos, where guests are in close proximity to our chef's culinary prowess, and our sommelier introduces unique wine pairings with each dish.
● Romantic Vineyard Dinner: For an unforgettable evening, we offer a private dinner amidst the vineyards, accompanied by high-end wine pairings.
● Empanada making class: Guests can learn the art of crafting empanadas with our chef on the Patio de Fuegos, exploring the various folds and flavors of this cherished Argentine specialty.