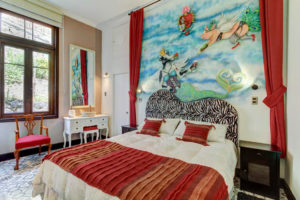 Art & Wine, Boutique Hotel was born from the restoration of a centenary and iconic mansion, which was abandoned for more than a decade and about to become just a memory. This heritage was rescued to turn it into a hotel of art and wine, the soul and the elixir, the inspiration and the work. In this way, each room has been developed by a renowned Chilean artist, understanding it as a global experience, inviting you to sleep inside a work of art.
Each room has its own personality shaped by different artists, architects or designers, who have put their own stamp on the colors and decoration, thus achieving a uniqueness to each room with different themes and settings.
It is quite an experience to stay at Casa Puente, every detail is taken care of, from the reception, the perfect maintenance of the clean, well-cared and decorated spaces. The rooms are comfortable, the breakfast room stands out for its design and uniqueness with a terrace that looks towards the hills of Valparaiso.