The first edition of this international event, launched by Essencia do Vinho, is supported  by Turismo de Portugal, the Portuguese national tourism autorities.
The Great Wine Capitals Global Network is proud to annouce its official support to the Wine & Travel Week, that will put Porto and Portugal at the centre of world wine tourism.
"As an international network, we are delighted to be a privileged partner of the first Porto Wine and Travel Week. The stakes of this event in terms of networking, sales and promotion are very important for us. With 200 hosted buyers welcomed from all over the world, hundreds of BtoB pre-scheduled meetings and 2 forums where best practices in innovative wine tourism and sustainable wine tourism will be presented, no doubt that business will be around the corner!" said Catherine Leparmentier, the Managing Director of GWC.
The Great Wine Capitals will attend with numerous representatives from the 11 member cities and wine regions, including the latest International Best Of Wine Tourism winners, to highlight their wine tourism destinations of excellence but also to open the global market to their regional private operators, wineries and tourism agencies.
On top of the 2-days trade fair, several other activities are organized, including a forum on innovation and sustainability, the wine fair "Essencia do Vinho" and acurated program "experiences".
The Programme :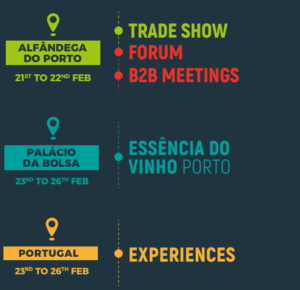 From February 20 to 26, the Wine & Travel Week will showcase a diversity of moments:
– a Trade Show that brings together projects and brands linked to wine tourism, where B2B meetings will be a vital tool for contacting and/or establishing business partners;
– a Forum for brainstorming, trend sharing and international case study presentations;
– a Wine Fair: Essência do Vinho
– a programme of Experiences across different Portuguese regions that will focus on wine tourism, aimed at buyers from various markets and international journalists.
The Trade Show, B2B Meetings and Forum will be held at Alfândega do Porto building, February 21 & 22, featuring an intense programme that will soon be announced.
The Experiences will take place in the different wine regions of Portugal from February 23 to 26.
Find out more details by downloading the programme below :
If you need more details, please send an email to : info@winetravelweek.com
The Project :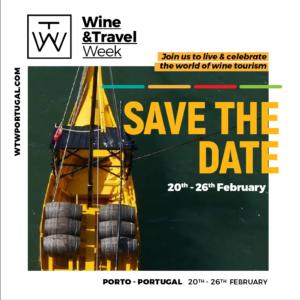 "This is a project with unique characteristics, of exceptional quality and with a great focus on detail," explains Nuno Guedes Vaz Pires, founder of Essência. "It is a complex event, with several activities taking place simultaneously, which is very demanding in terms of logistics and planning. We want each day to be memorable for all participants, especially all the international guests. We intend to evoke the desire to return to Portugal, thus being able to establish Wine & Travel Week as the annual event of reference in the world wine tourism market".
The week will peak with the 19th edition of Essência do Vinho – Porto, "the main wine experience in Portugal", at Palácio da Bolsa, from February 23rd to 26th.
It is worth recalling that wine and gastronomy are among the main reasons for interest among the millions of foreign visitors who come to Portugal and that the global wine tourism industry is currently showing significant growth rates. The most recent estimates suggest that by 2025 there will be 100 million wine tourists worldwide, which may represent a positive impact of EUR 45 billion on the global economy.
The Organisators :
Wine & Travel Week is an event organised by Essência do Vinho, supported by Turismo de Portugal in partnership with Great Wine Capitals Global Network. Find out more about the organisators below :
ESSÊNCIA DO VINHO
Founded in 2004 and owned exclusively since the beginning of 2022 by Nuno Guedes Vaz Pires, Essência is now a benchmark in the production of wine and gastronomy events in Portugal, as well as promoting Portuguese wines in other markets – European, American and Asian. In addition to events, Essência also owns Gula magazine in Brazil, and produces the weekly programmes "A Essência" on the Portuguese TV Channel RTP and the Radio Channel Renascença.
TURISMO DE PORTUGAL
​​​​​​​​​Operating under the auspices of the Ministry of the Economy and Maritime Affairs​​, Turismo de Portugal is Portugal's National Tourism Authority.
Responsible for the promotion, enhancement and sustainability of the tourism business, it brings together all of the institutional competences involved in making tourism more dynamic, from supply to demand.
Enjoying a privileged relationship with other public entities and economic agents in Portugal and abroad, Turismo de Portugal is committed to strengthening tourism as one of the main driving forces for the growth of the Portuguese economy.