In 2022, Bordeaux was awarded the European Capital of Smart Tourism.
This award is an initiative that aims to create a network of attractive and resourceful European cities that share best practices for a more virtuous tourism.  Bordeaux has implemented significant actions in each of the required categories in favour of Smart Tourism.
Sustainability
Wine Tourism without leaving the city
Tram, bus and even bicycle: you are lucky, Bordeaux is a flat city and several wineries are just a bike ride away.
To start, head to Pessac Léognan. Several Best Of Wine Tourism châteaux are easely accessible such as Château Pape Clément, Château Les Carmes Haut-Brion, Château Malartic-Lagravière.
You can also take the tram-bike combo, get off at the tram station "Villenave Pyrénées" stop and you are fifteen minutes from a road that allows you to visit the renowned Châteaux Smith-Haut Lafitte (2019 Best Of Wine Tourism Global Winner), Carbonnieux, La Louvière, Haut Bailly and Larrivet-Haut-Brion in five kilometres.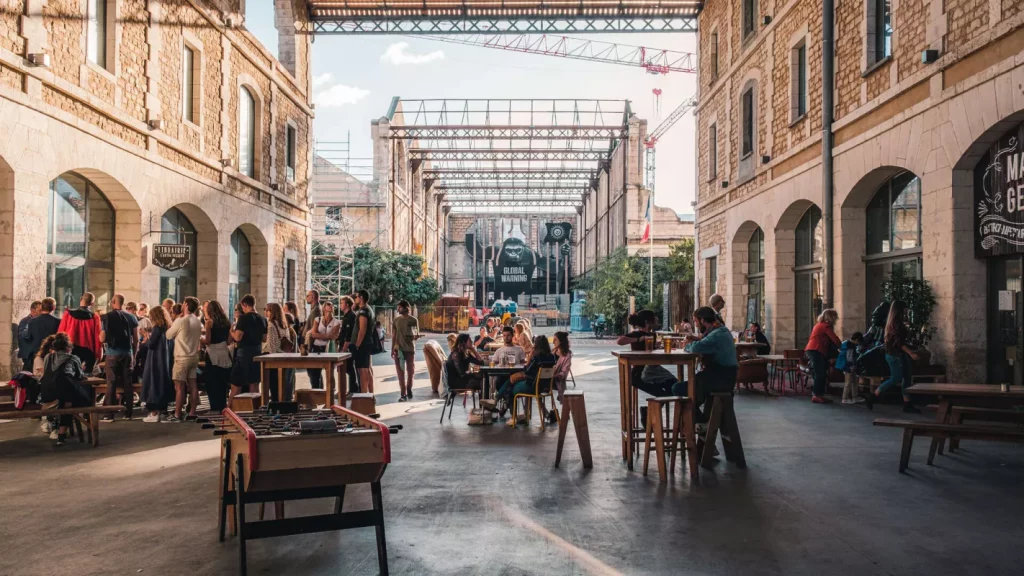 But if you prefer to stay in the city centre, we recommend a place so atypical and diverse that it is difficult to find the words to sum it up: Darwin Eco-system. Darwin attracts as many different profiles as innovative projects. From skateboarders and street-art enthusiasts to green economy entrepreneurs, electro music fans, biodiversity advocates and Sunday brunchers, there is something for everyone. Since 2021, they created an urban winery on site, the Micro-Winery, which produces its own organic wine.
Wine Tourism by train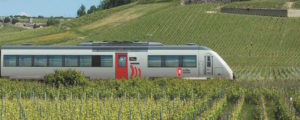 If you are travelling to the Médoc, you can discover Château Maucaillou by stopping directly at the Moulis station. The château is literally next door to the station! The Château has also added widget from the train app so that the visitor can calculate his itinary by train and be encourage to use soft mobility.
If you prefer Saint-Emilion, the commune has a station one kilometre from the village where you can visit several Châteaux and enjoy a picnic at the famous Coître des Cordeliers.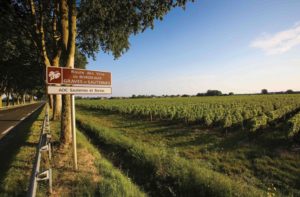 The metropolis continues its projects in terms of mobility: Bordeaux is committed, in association between the metropolis, the region and the SNCF, to improving intermodality between public transport (objective: a single ticket throughout the metropolis), and in the construction of a metropolitan "RER" of 3 lines, which enhances long-abandoned railway lines and stations. The project has began in 2020 and will end in 2028. But we can already benefit from the upgrading of certain stations in the Médoc and the South of Gironde.
Accessibility
Bordeaux is an accessible city, both in terms of disabilities and in financial terms. Label, participative approach, preferential rates and many other initiatives have been implemented.
A city accessible to all
Thanks to the Tourisme & Handicap label, Bordeaux makes it easier to organise the stay of disabled people. Created at a national level, the label provides reliable, descriptive and objective information on the accessibility of tourist sites and facilities, taking into account the 4 types of disability: hearing, mental, visual and motor.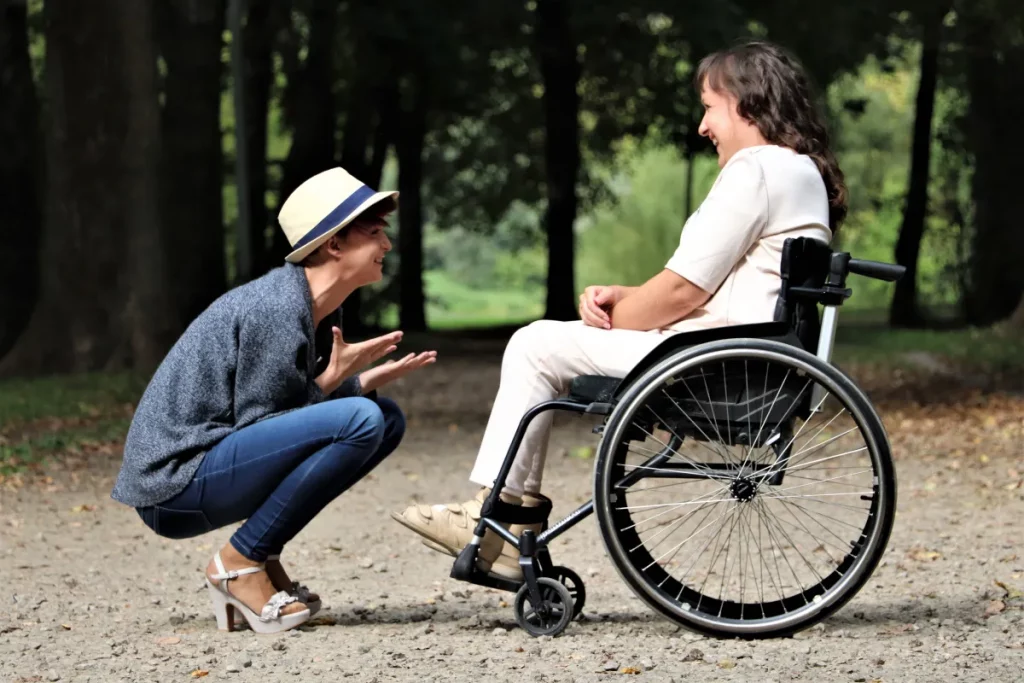 In consultation with its inhabitants
Bordeaux Metropole and the Visitors Bureau have undertaken a participative approach to reflect on and build together the future of urban tourism in a sustainable perspective. More than just a website, the Agora for tourism is an open space for sharing and working on these key issues in a transparent manner. Since 2021, visitors, residents and professionals are invited to exchange their ideas for tomorrow's tourism.
Digitalisation
Digital technology is becoming increasingly important in our daily lives. But how does the city of Bordeaux align digital technology with its eco-responsible commitments?
A city of innovation
Placed in the top 3 metropolises whose population is growing thanks to its high-speed train line, which puts it 2 hours from Paris, Bordeaux intends to boost the opportunities opened up by this growth by placing innovation at the heart of its metropolitan project. As a symbol of this desire, the 27,000 m2 Cité Numérique (photo) opened its doors in Bègles a few months ago, with a number of private-sector flagships such as OnePoint, Sanofi's R&D department, a Microsoft AI school and around thirty start-ups.
Innovation at the heart of the wine industry
The well-know Bernard Magrez has launched in 2020 a start-up incubateur in Bordeaux. It opens the doors of vines, wine, wine tourism and digitalization to the most promising start-ups in the sector, thanks to the first incubator entirely dedicated to this field.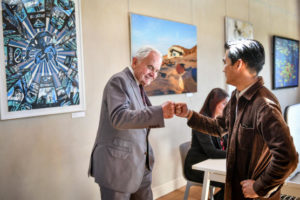 The exceptional setting in which the incubator is located also reinforces the uniqueness of this project. Château le Sartre is surrounded by hundreds of hectares of forest and nature, including 50 hectares of high quality vines in the Pessac Léognan appellation. It thus provides the selected start-ups with a unique work environment allowing exceptional concentration, absolute serenity and an inspiring communion with nature and its secrets of resilience, meditation and knowledge.
Conditions that no other incubator can claim.
Digital for tourism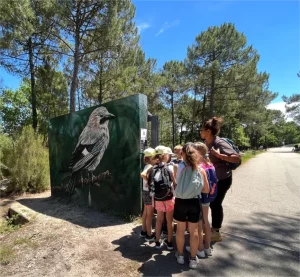 In the form of a treasure hunt that follows the concept of geocaching, Terra Aventura allows you to combine heritage discovery, hiking and challenge, with several hundred possible routes throughout New Aquitaine, including five in the Bordeaux metropolitan area in Lormont, Gradignan, Cenon, Floirac and Pessac. The previous Best Of Wine Tourism Château de Cranne is hosting is part of the program and guaranties a fun, free and open-air game!
Cultural heritage
Between historical and architectural heritage of the 18th century and new alternative movements, Bordeaux has a vibrant cultural heritage.
Smart new Bordeaux
In 2016, the opening of The Cité du Vin, a unique cultural and viticultural space on the banks of the Garonne River, marked a turning point for the waterfront of Bordeaux. It created the impetus behind a smart cultural cluster in what was once the historical industrial beating heart of Bordeaux.
In spring 2020 Les Bassins des Lumieres, the world's largest numeric art centre, opened in the WWII U boat pens. 19 months of transformational work brought light and life to this sinister vestige of the war, creating beautiful and dreamlike experiences. Thanks to 90 projectors, iconic works of art are reflected off 12000m² of walls and the water of four 110m bays. In its first year of opening the centre welcomed over 500 000 visitors. This year the art of Salvador Dali and the architecture of Antonio Gaudi take centre stage to a soundtrack of Pink Floyd. Surreal.
In June 2022, just along the docks, the Musée Mer Marine, opened its doors share thousands of treasures from private collections. The interactive exhibition takes visitors through the cultural and natural history of the oceans. The ultra-modern architecture takes the visitor back through the 19th century history of the port of Bordeaux to its Roman origins. Discovering the exploration, mystery, challenges and fragile beauty of our oceans through photos and art.
All of this new generetion museums are just a short tram or boat ride from the centre of Bordeaux. Or cycle (thanks to the city bike sharing service Vcub) along the boardwalk that now runs along the Garonne waterfront, past old warehouses now home to shops restaurants and exhibition centres. It reconnects Bordeaux to its port history and the river that it had turned its back on for so many years.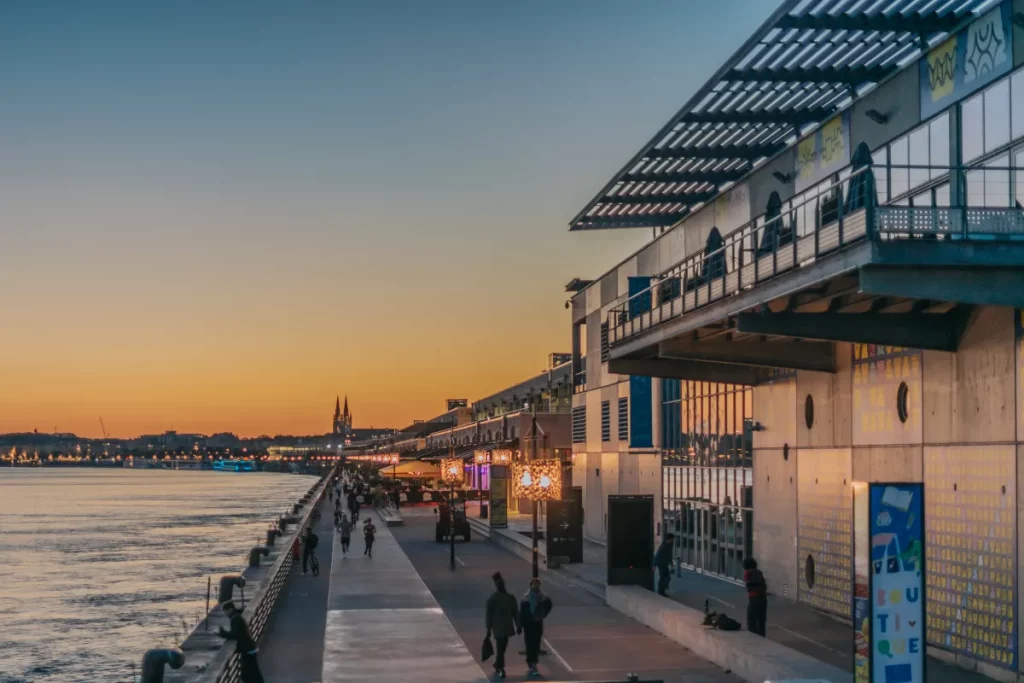 Bordeaux's smart city initiatives demonstrate the city's dedication to leveraging technology to enhance both visitor and inhabitants experience. By promoting those sustainable practices the city showcases it's rich cultural heritage and its commitment to preserve it for future generations.
Sources:
Bordeaux Convention Bureau, Bordeaux Capitale Européenne du Smart Tourism
HUB Institute, Smart City, santé, industrie : les recettes de Bordeaux pour innover
Wendy Narby, Insider Tasting 
Photos Credits :
© Teddy Verneuil / © Lesbroz / © Judita Tamošiūnaitė / © Céline Faure