Getting out into nature offers a unique perspective, not only about vines, but the whole natural environment. An environment that Bordeaux wine makers are striving to protect. With over 75% of Bordeaux vineyards now farming sustainably, there's no shortage of agricultural initiatives and passionate wine makers happy to share them. Properties are as innovative in how they welcome their guests as they are in rising to the challenges of sustainability. Here are some Bordeaux properties that offer you the great outdoors adventures, as well as a glass of wine.
On your bike
Château Marquis de Terme has vineyards spread across the four main terroirs of Margaux. You can discover the unique combinations of soil and grape for yourself as you cycle past the famous names across the appellation. Up close, you'll also see how different viticultural techniques are adapted to each plot, aiming to produce the best grapes possible. You can choose to follow a guide and benefit from their in depth knowledge or, if you want to be free, discover Margaux at your own pace by renting a bike for the day and heading off on your own adventure.
Château Reaut (Best Of Wine Tourism winner in the restaurant category and People's Choice in 2023) makes it a little bit easier with electric bikes to cycle through their 26 hectares of vines. The route takes you through vines and pretty medieval villages of Entre Deux Mers, finishing with a tasting to a backdrop of a breath-taking view across the Garonne river valley.
This spring la Route de Bordeaux Graves et Sauternes has seven properties offering electric bicycle itineraries with La Bulle Verte who also offer their slow exploration experiences across the region from Château Prieuré Lichine in Margaux and Château Guiraud(2022 Best Of Wine Tourism Global Winner) in Sauternes. Now Sigalas Rabaud, Château de Cerons, Château de Portets, Château Carbonnieux, Château L'Arrivet Haut Brion and Doisy Daene have joined the adventure.
Or your scooter
Some Best Of Wine Tourism properties in Sauternes have banded together to create a unique way to discover their unique rolling landscape – on electric scooters ! Châteaux La Tour Blanche, Lafaurie-Peyraguey, Sigalas-Rabaud, Rayne Vigneau have created an accessible circuit through the vines and the heart of all five properties. Or start at Château La Tour Blanche and take a leisurely ride through the appellation in a horse drawn carriag..
Wine walks
For more a sedate discovery, take a walk. With their new app, Château de Cérons will take you on a 2 km walk around the village. You'll discover spots you might otherwise miss, the 12th century church, the old 'lavoir', the 'carrelets' on the banks of the Garonne with the large fishing nets and  the new cereals plantations to be used as green fertilizer as part of the conversion to organic certification.
Go down to the woods today
Château Lestrille (Best Of Wine Tourism winner in the restaurant category in 2023) celebrated their 120th anniversary in 2021 by working  the NGO HISA, to plant a "Miyawaki" micro forest. Micro forests are created by planting indigenous plants very close together, so they are forced to grow high and quick. This baby will be part of their nature trail that should mature just in time for their organic certification next year.
In the Graves they have the advantage of mature forests to share with visitors. Château Malartic Lagraviere includes a visit to the woods on their biodiversity visit, as well as their farm to meet the horses that work the vines. The historic Château Olivier covers 230 ha of Pessac Léognan, of which just 60 are vines. The rest are meadows, ponds and protected woods with trees of over 100 years old, where you can  practice Shinrin-yoku or forest bathing, a Japanese wellness technique proven to help reduce stress levels.
Get high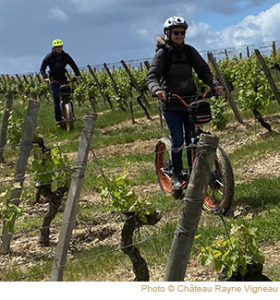 Back in Sauternes, at Château Rayne Vigneau, a professional woodsman will hoist consenting visitors up to a platform high in an 200 year old cedar tree for spectacular views of the appellation, chateau and the Cirons valley. If you prefer the same view with your feet firmly planted on the ground, make your way to the belvedere in the vines of Château La Tour Blanche at sunset for a unique perspective of the  natural environment of Sauternes.
Discover the 50 ha estate of medieval Chateau de Fayolle on foot, by 4×4 or by boat. Amongst the rolling hills of the Dordogne, here's much more than vines to discover; a ruined folie, an old mill and two lakes, one with an island in the middle accessible by pedalo. No surprise that the winery won the "jury's pick" in Bordeaux this year. There's fishing rods for the anglers and a picnic if you've worked up an appetite (and didn't catch any fish!)
Take it lying down
Stroll around the vineyards and parkland of ancient Château Monbazillac, then lay back and relax on the loungers. Château Lamothe Bergeron is also happy for you enjoy a siesta under the trees in the park as is Château de Cérons, they even have special head phones that play relaxed beats as you recline on the loungers made from ancient spirit casks.
Stay over
Perhaps you'd like to spend the night? Château Campion (Best Of Wine Tourism winner for its sustainable practices) in Saint Emilion has a « tiny house » tucked away in the vines? No Wi-Fi, no TV just you, nature and a bottle of wine in your vineyard hideaway.
Bugs
There are almost 1000 species of wild bees in France, vines may be self-pollinating, not relying on bees or other pollinators, but biodiversity is still important for the health of the vineyard. No bees, no biodiversity and vice versa. Look out for the Bee Friendly certification, almost 30 Bordeaux properties are now certified, including Château Lestrille and Château Thieuley in Entre-Deux-Mers and Château Branaire-Ducru in Saint Julien.  Many more sell chateau-bottled honey alongside their bottles of wine. Château Dauzac in Margaux runs workshops with their beekeeper where visitors can learn about the life of a beehive. Château la Dauphine shows off their hives when you visit the park and vines, as well as biodynamics and their unique aquaponics project. Stay outside for the tasting in a living wicker 'cocoon'.
For the brave
While you are at Château Champion. You can stroll around the vineyard in your own time QR codes will guide you along the footpaths helping you discover the flora and fauna, small mammals, bird and insects of the vineyard. There's lots of insects. You can get really up close and personal with the bugs with an entomologist, keen to show what an important role insects have in biodiversity, for pollination but also as food for other animals – including humans. The final tasting will be accompanied by original aperitif of grilled and flavoured insects to accompany the wines.
You see, it's not only about the wine!
Wendy NARBY