The Titans, THE AUDACITY OF PIONEERS
Les Titans wines mature under extreme conditions inside a dam wall in the Swiss high mountains.
The constant low temperatures, the altitude, the low air pressure, and the high humidity make up the technical characteristics of these unique wine cellars. The ageing of the wine slows down, which gives it additional elegance, more expression, and freshness. It also benefits from an amazing storage potential.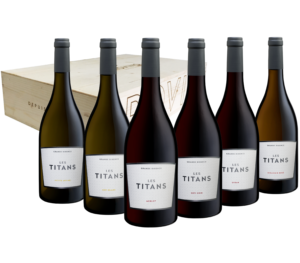 Technical details
– 2'200 meters above see level
– Constant temperature of 4,5°C
– Humidity higher than 100% (104%)
– Low air pressure (-200 hPa / Sion: 950 hPa / Dixence: 750 hPa)
Getaway
On arrival at the Grande Dixence site, the group begins its discovery with a guided "sound and light" tour of the bowels of the dam, following a 1km circuit, accompanied by a dedicated guide. After an hour's visit, they are met by the Titans' oenologist, Luc Sermier, who takes them into the dam's gallery, where the barrels of the range's wines are stored. After a detailed explanation of this unique maturing method, the visitors return to the open air and warmer temperatures. The first tasting glass is served in front of the impressive
8:30 am – Welcome coffee at Provins
9.00 am – Departure by bus: Sion – Grande-Dixence (28km)
10.00 am – Arrival at the Grande-Dixence dam and guided tour of the dam's wall
11:15 – Visit of the barrels "The Titans" presented by Luc Sermier our winemaker and tasting of 2 wines
12.15 pm – Free walk on the top of the dam
1.15 pm – Local meal at the Hôtel Restaurant "The Dam" accompanied by "TheTitans" wines, commented by Luc Sermier
3.30 pm – Departure of the bus
16.30 pm – Last drink at the Wine Barin Provins and surprise giveaway
Learn more
©Provins
Learn more about Lausanne Great Wine Capitals