The Vines Resort & Spa has more than 600 hectares of private vineyards cultivated with the passion and experience of The Vines of Mendoza team located in the Uco Valley, the most recognized wine region in Argentina. Rooted in the joys of making, drinking and sharing wine, The Vines immerses you in the charms of Argentine culture, natural beauty and warm hospitality. It is a boutique wine and gastronomy resort that perfectly blends rustic elegance with modern comfort, offering guests cultural immersion experiences and authentic Argentine adventures.
The resort has 21 spacious villas designed by famous Argentine architects Bórmida & Yanzón. They have wide spaces inside and outside;  spa-inspired bathrooms and private terraces with panoramic views of the Andes and vineyards, along with outdoor fireplaces, Roman tubs and intimate rooftop terraces.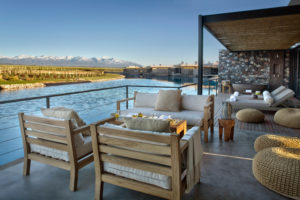 Surrounded by the private vineyards of The Vines of Mendoza, The Vines Resort & Spa offers the exclusive opportunity to participate in any part of the winemaking process, from owning your own vineyard, planting and harvesting activities, tasting, blending, to bottling the came with our world-class winemaking team. Below is just a sample of what we offer:
Wine experiences Vines to Go In our "Vines to Go" tasting room, all guests are welcomed for a tasting of the vineyard owners' premium wines.
Blending Session Guests learn about creating a blended wine and thus discover their own preferences. They design your label and take your bottle of wine ready to be enjoyed on another occasion.
Winemaking camp Full-day activity harvesting and tasting the grapes from The Vines vineyards. Then, they are taken to the winery for treading and grape selection at the mill.
Discovering varietals, the activity consists of a blind tasting challenging all the senses to learn about the variety of grapes that exist in The Vines.
Oak & Wine The oak is the protagonist of this experience in which the aromas and textures of the wine is the way to discover the differences and variety of options when making the wine.
Winemakers' Village within The Vines, there are 4 boutique wineries: Solo Contigo, Corazón del Sol, Super Uco and Gimenez Riili, which the guest can visit and discover different and unique experiences. Siete Fuegos by Francis Mallmann the internationally acclaimed chef Francis Mallmann chose The Vines for the Siete Fuegos restaurant in which he conveys the ancient techniques of using fire in the kitchen.
These are some of the Siete Fuegos experiences:
Siete Fuegos Experience, it  offers dinner at a huge shared table for 28 people in the outdoor kitchen or "Patio de Fuegos". It is interesting to see each of Francis' famous techniques executed to perfection, artistically presented and paired with the best Argentine boutique wines.
The Chef's Table, it is a private table for two is offered in front of our chef and in the heart of the action, the Patio de Fuegos, while our sommelier presents different wines with each course.