Eighteen months after its launch, the Escargot Rouge has made its way. The website dedicated to this brand displays the portraits of about thirty estates, representing all the regions of Vaud, which proudly produce these blends that are increasingly in demand throughout Switzerland. Indeed, last year, no less than 100 000 bottles dressed in the colors of the Escargot Rouge were sold. This ranks our young brand among the best-selling red wines in the country.
On February 2nd, several vintages of the new brand of Vaud wines accompanied Franck Giovannini's kitchen at the Hôtel de ville de Crissier for an exceptional evening reserved for a handful of lucky people. Indeed, to enter the Mecca of gastronomy, one had to be one of the 15 winners – out of more than 12,000 participants in the contest organized at the end of 2022 – drawn at random. "This unique experience, combining Escargot Rouge and an exclusive meal in a great Swiss gastronomic restaurant, will be repeated each year with a different great chef," promises Benjamin Gehrig, director of the OVV (Vaud wine promotion office). Michel Rochat, president of the OVV, took the opportunity to award the insignia of Commander of the Ordre des Vins Vaudois to Franck Giovannini.
Born in the Bernese Jura nearly fifty years ago, Franck Giovannini worked under the orders of three emblematic chefs of the Hôtel de Ville de Crissier – Frédy Girardet, Philippe Rochat and Benoît Violier – before taking over the direction of the restaurant's kitchen in 2017, and then the establishment the following year. Awarded three Michelin stars and a rating of 19/20 by Gault & Millau, Franck Giovannini was also crowned Cook of the Year by the latter guide in 2018.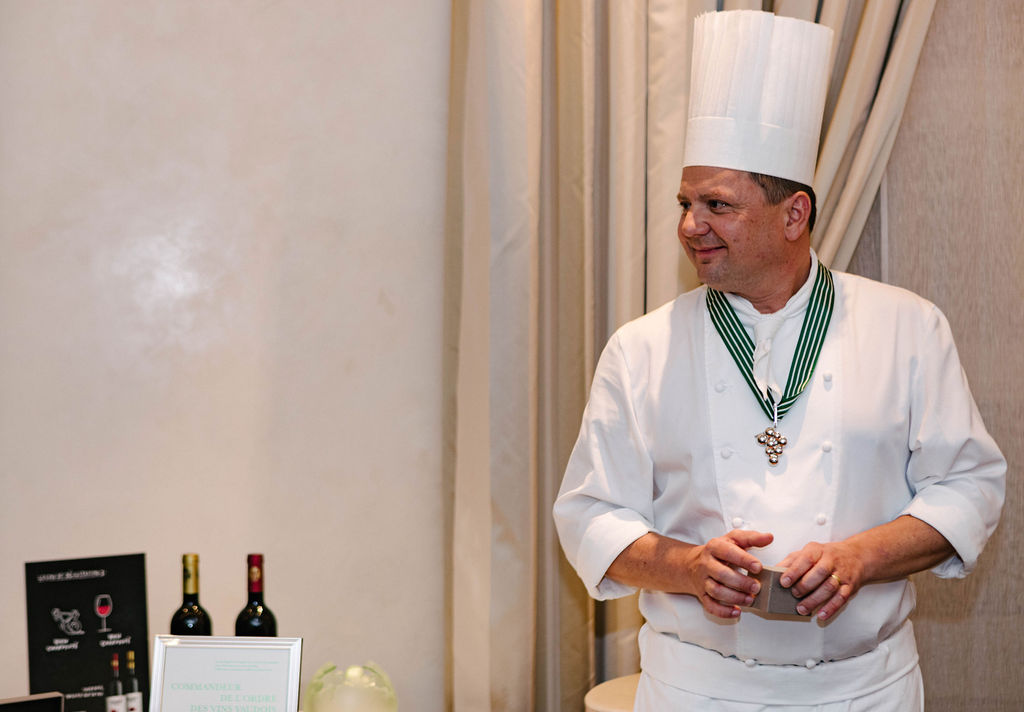 Learn more
©Marion Correvon
Les Vins Vaudois | Escargot Rouge
Learn more about Lausanne Great Wine Capitals