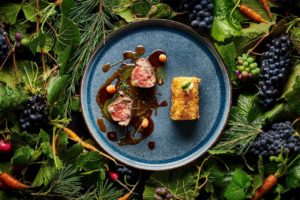 Located in the heart of central Chile, between the ports of Valparaíso and San Antonio, and not far from the capital Santiago, this city of almost 30 thousand people offers a wide variety of internationally renowned vineyards, with excellent and careful culinary proposals.
One of these proposals is offered by Kingston, where you partake in a five-course experience, for which they use local and seasonal ingredients, combined with artisanal wines, to discover the full culinary potential of Chile's coastal cuisine.
Macerado ViñaMar is another available favorite option. They offer an honest, unique and passionate cuisine, which speaks of the land, and those who inhabit Casablanca.
As important and outstanding as the previous ones is the commitment of Estancia El Cuadro, which offers an ideal space to relax and enjoy the valley's imposing beauty, and an unparalleled view of the vineyards and the Cordillera de la Costa. Its restaurant offers liberal consumption of wines and an extensive menu based on the fusion of Chilean flavors, from its own organic and hydroponic garden. There, each dish reflects the richness of Chilean gastronomy with sustainable and natural ingredients.
In Casas del Bosque there are three restaurants from which one can choose. Tanino, which surprises with its excellent gastronomy and service, in an environment surrounded by beautiful gardens and views of the vineyards, has been recognized as one of the 20 best vineyard restaurants in the world by the Canadian magazine Wine Access. Casa Mirador, a magical and unique place, where you can feel the sea breeze coming from the Pacific Ocean, and you can indulge with a 6-course menu. And Bar Bo, a relaxed outdoor space among the vineyards, which offers an abundance of fresh appetizers and authentic Italian pizza.
Finally, the Equilibrio Restaurant of Viña Matetic, which stands out and delights with its warm and delicate design. It is the perfect place to enjoy Chile's excellent gastronomy, with products picked fresh from an organic garden. As they explain, the secret of its flavors lies in its respect for the origin and handling of the ingredients.
Learn more about the Valparaiso | Casablanca Valley Great Wine Capital
Photo credit: Macerado, Casa Valle Viñamar