Château Fleur de Lisse, a proud winner of the 2023 Great Wine Capitals' Best Of Wine Tourism Award in Sustainable Wine Tourism Practices and the People's Choice Award Winner, is a must-visit destination for wine enthusiasts and nature lovers alike. Located in the picturesque region of Bordeaux, France, this esteemed destination is renowned for its commitment to sustainability and responsible winemaking practices.
Château Fleur de Lisse, at the crux of a UNESCO-listed landscape, is actively addressing the challenges posed by environmental issues by – among others – implementing organic and biodynamic farming practices. The estate promotes biodiversity and uses compost and infusions to boost vine health. Visitors can explore the vineyards and cellars, engage in interactive workshops, and indulge in various sensory experiences that offer a fresh perspective on wine appreciation.
Founded in 2015 by Patrick Teycheney and his daughter Caroline, the family-owned vineyard has been dedicated to converting all its estates to High Environmental Value (HVE), Sustainable Viticulture in Bordeaux (SME), and organic practices. Spanning 32 hectares, its "Jade Vineyards" are committed to preserving the unique DNA of each terroir.
The recent modernisation of the cellar is an innovative undertaking, combining tradition and modernity. Designed by Bordeaux architect Thomas Chlebowsky and interior designer Sybille Holmberg, the facilities feature spaces dedicated to tasting and a welcoming shop, reminiscent of American family "wineries."
Why visit Château Fleur de Lisse? This exceptional vineyard offers an immersive experience into sustainable winemaking practices, a beautiful location within a UNESCO-listed landscape, and a range of family-friendly tours and tastings to suit all visitors, including: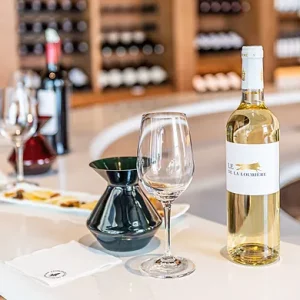 Wine tasting: Experience the essence of their wines at their tasting counter, where a knowledgeable host will present their vineyards using interactive maps to showcase the main aspects of their terroirs. Taste two emblematic wines from Saint-Emilion and Bordeaux as you discuss various topics. Available with or without reservation during their boutique's opening hours.
Duration: 30-45 minutes. Price: €7 per person.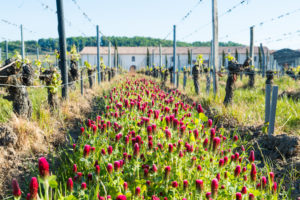 Château Fleur de Lisse's 'In Our Nature' Tour starting in the vineyard, will provide you with a 360° view of the winery and learnings of the natural vine cycle and organic/biodynamic vineyard practices by their Fleur de Lisse ambassador. Visit the cellar to explore the winemaking and ageing processes that turn grapes into wine, and finish with an expert-led tasting of four vintages.
Duration: 1h15. Price: €14 per person.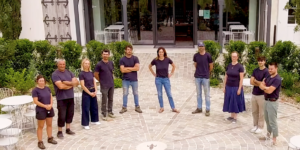 The "Jade Experience" is ideal for wine enthusiasts seeking a behind-the-scenes tour.  The tour delves into our philosophy, methods, and cherished wine ecosystem. Step into the winemaker's shoes with the Fleur de Lisse ambassador as you explore the terroir, examine the vine and soil, and learn about the challenges of winemaking and ageing in the winery. The exclusive visit varies with the winemaker's seasons, schedule, and work.
Duration: 2h00. Price: €50 per person.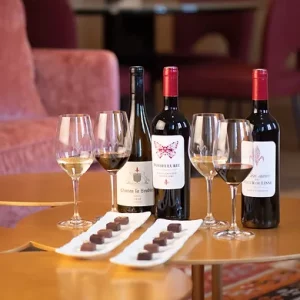 The Wine & Chocolate Experience enables you to discover the close relationship between fine wine and chocolate in a delightful workshop that will tantalize your taste buds. Explore the stages of grape and cocoa bean transformation, the concept of terroir and blending, and precise tasting vocabulary.
Duration: 1h30. Price: 30 € per person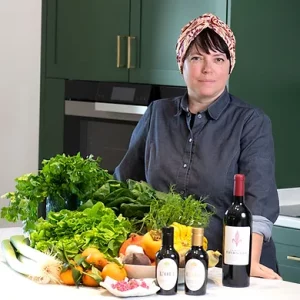 The "Cooking Class at the Château" invites the visitor to take part in a friendly class gathering seasonal products and essential chef's techniques to cook a bistronomic meal together with passionate gourmets! Their olive oil and great wines are featured in recipes that the visitor can reproduce at home. The culinary experience with the chef is followed by lunch so that the visitor gets to enjoy its morning work and learn about food and wine pairings.
Duration : 3h30. Price : 150€ per person.
Don't miss out on these unique opportunities to explore the world of sustainable viticulture at Château Fleur de Lisse in Bordeaux.
To plan your visit, contact:
Château Fleur de Lisse, Lieu-dit Gaillard, 33330 SAINT-HIPPOLYTE
Phone: +33 5 33 03 09 30
Website: https://www.vignoblesjade.com
Photos credits : © Julien Empaire / François Blazquez