Get the insights of female wine professionnals who work in the wine industry in our Great Wine Capitals.
Is the gender an issue?
Ntsiki Biyela, Winemaker and Owner, Aslina Wine Company
For Ntsiki Biyela, setting out to be South Africa's first Black, female winemaker was never a goal of hers. Neither was becoming a winemaker. "I got a scholarship to study winemaking. It wasn't something I was interested in." But what did catch the former domestic worker's interest was the opportunity the scholarship presented to her. "For me, it was a matter of changing my life."
Ntsiki grew up in Mahlabathini, a rural village in KwaZulu-Natal, and matriculated from high school in 1996. Having spent a year as a domestic worker, she was awarded a scholarship to study winemaking at Stellenbosch University in 1999.
She graduated in 2003 with a BSc in Agriculture (Viticulture and Oenology) and joined boutique winery Stellekaya as their winemaker the following year.
Ntsiki's ambition to create her own wines grew following a collaboration with Californian winemaker, Helen Kiplinger, as part of Mika Bulmash's Wine for the World initiative.
It was over dinner and a glass of wine with her new colleagues in the USA that she shared the story of the inspiration behind her ambition.
Her beloved grandmother was the guiding light in her life and it became obvious that her new brand should be named Aslina in the matriarch's honour.
Website: www.aslinawines.com
Christelle Conne, winemaker in the vineyards of Lavaux UNESCO World Heritage.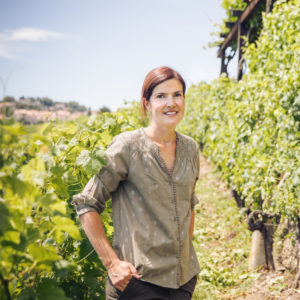 After completing her studies in tourism and working for 10 years in the events industry, Christelle Conne took over her parents' 12-hectare vineyard in Lavaux, a UNESCO World Heritage site, in 2013. With the vineyard, she inherited a craft and savoir-faire that have been passed down from father to son since the 15thcentury. Accepting a daughter instead of a son to take over the wine growing estate was difficult for her father.
"All the same, I never for a second imagined I would do anything else with my life. This land is part of my DNA and I've surrounded myself with competent people to work with me. I obviously don't have the same physical strength as a man and I've often had to work harder to prove myself. It was important to me to ensure that visitors to our tasting cellar received a professional reception, and my previous experiences came in very handy here. I also quickly set to work redesigning and modernising our labels. While it's true that my feminine or creative side comes out in this aspect of my work, I don't think that somehow makes the wines themselves more feminine. I don't see myself as making 'women's wine'; that doesn't make sense to me."
Nathalie Escuredo, owner of Château Boutinet in Bordeaux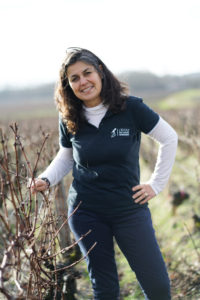 I have not always worked in the wine industry. I changed career in 2008, after obtaining a DUAD (University Diploma in Wine Tasting Aptitude) from the Bordeaux Faculty of Oenology. Out of 42 students, we were only seven women. At the time, I was already wondering why this was the case. Was it due to women's lack of interest in this course or wine in general? I used to work in the tourism sector, and even then, I soon realised that many women were employed at the front desk, as guides, and in sales and marketing roles, but very few worked on the management board, particularly at tourist offices. And as for wine estates? I cannot say I suffered from sexism or was excluded for being a woman. In any case, never directly. Nowadays, I work alongside my husband. We each have our own well-defined roles. I personally decided I did not want to "ride the tractor". I admit that attaching implements is a physical task. But it was my choice. We do not have the same tastes or approach to winemaking. But we do share our ideas to make joint decisions.
During conversations with female estate managers, cellarmasters, vineyard managers, or oenologists, I often sense a certain disdain on the part of men, or even opinions that are swept aside. During meetings, I observe that women work in marketing, sales and, of course, wine tourism. But gender equality on boards, administrative committees and other managing bodies is far from being achieved. Should we look for gender equality and parity at all costs? I don't think so. I believe it is every woman's responsibility to assert themselves according to their choices and aspirations. It is about being in your rightful place and knowing how to stand your ground while remaining true to yourself.
Chiara Recchia, Recchia Vini, Valpolicella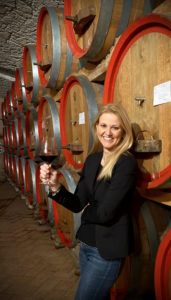 I could say that I was born in the vineyard, as I belong to the fourth generation of the Recchia family which has owned since 1906 a winery in the heart of Valpolicella Classica, in the province of Verona, which today covers over 130 hectares. But the choice to work in the family business and in the wine sector was only mine, after maturity. Twenty years ago our farm was different from today because it mainly produced wine for local customers. I was able to bring my innovative ideas especially in wine marketing and exports. I developed the export of our wine production all over the world, starting from Switzerland where I went with my car – I was twenty-one years old – to meet those who would become our first importers. Intuition, open mind and determination — qualities typical of women — gave me the enthusiasm and courage to open up new scenarios for our company. I never missed the desire to get involved and the dedication to work. I was also lucky to have a family that supported my projects and gave me the opportunity to carry on my ideas. In our company everyone has their own tasks, I am administrative manager, commercial and marketing.The world of wine is changing with producers increasingly close to consumers, who at the same time are more informed and prepared. Consumers are looking for direct contact with wine producers, want to visit the wineries and participate in wine tastings guided by the winemaker. It should also be noted that among them the number of women is getting higher and higher. Wine tourism, initiatives in the cellar, and international fairs constantly offer the opportunity for dialogue with customers. Thanks to this relationship with the consumer, women find more space to express their personal skills,  preparation and knowledge of wine. Women, then, have strong attention to environmental sustainability issues and communication. According to the latest Cribris report of 2020, the number of wineries managed by women has now exceeded 25% of the Italian primary sector, producing, together with agricultural entrepreneurs, 28% of agricultural GDP.
Amaya Cervera, Jounalist – Bilbao Rioja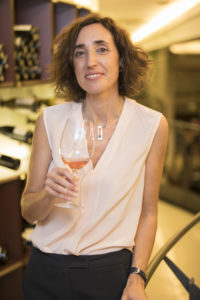 When I started my career as a wine journalist in the late 1990s, the Spanish wine industry was very much a male domain. Despite the fact that back then there were some outstanding female winemakers, sommeliers and wine writers, it was not unusual for me to be the only woman in wine tastings.
Luckily, my first boss, José Peñín, chose to surround himself with hard-working, wine-passionate professionals. From the very first day, he introduced me to everyone in the business as a professional journalist. Gonzalo Verdera, my second boss and the founder of Todovino wine club, did not withdraw his job offer when I told him that I intended to have a second child -in fact, I found out I was pregnant on my third week at work. But not everybody was so supportive. At times, I felt looked down on or aware of the disappointment of some producers who expected my boss visiting them rather than me. But I must also add that most times they relaxed and felt at ease when they realised that I fully shared their passion for wine. The number of women working in the many different areas of the wine industry has grown significantly over the last 25 years but their presence in decision-making positions is still very low. The glass ceiling is pretty much intact. It is particularly obvious in conferences, seminars and awards ceremonies in Spain. Moreover, in 2020 we have witnessed a considerable number of women drawing attention to sexism and sexual harassment situations in the wine business worldwide. We have been made aware of some terrible stories, but it is important that they are told. I experienced a significant leap forward when I founded www.spanishwinelover.com in 2014. Building a bilingual site involves a great deal of effort and I could not have done it without another wonderful woman, SWL English editor Yolanda Ortiz de Arri. Despite all the hard work, the very best of this venture is that it has allowed me to find a voice of my own. And I guess this is what we women should fight for: a voice of our own within the wine industry.
Maria João de Almeida, Wine Journalist in Portugal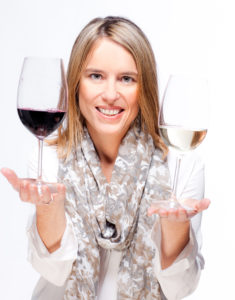 After taking a Communication Course at University, I began my career as a freelance journalist, which led me, one day, to the School of Hospitality and Tourism of Estoril to do a report on the first wine courses that were emerging at the time. We are talking about the 90s, the decade of the wine revolution in Portugal. However, wine in our country was still very much seen as a food, there was no talk of its organoleptic features (sight, smell, taste). It was a new emerging concept. At the time, I thought I did not even like wine; but, in that course, I realized that I had been drinking bad wines (in the end I did like wine, but the good ones!). Having said that, I did the report, and soon after I enrolled to continue doing the course.
From then on, I have not stopped. A whole new world opened up. I did more similar courses with other oenologists; I read a lot; I travelled the world to visit wine cellars; I went to fairs; I wrote on the subject for various publications; and later I started to participate as a jury in national and international competitions. It started to get so serious that, in my last years at "Expresso", where I worked for over a decade, I only wrote about wine, gastronomy and wine tourism. In addition, I also started providing training courses, lectures, writing books (some already awarded), guiding wine tourism trips, making documentaries for television, among other jobs that I love to do. Even today, I am still deeply passionate about the world of wine, wine tourism and my profession.
This whole journey seems to have been easy, but it was not. In the 1990s, there were still few women dedicated to the world of wine. In Portugal, I was the only female journalist working in this area! Have I ever felt discriminated against? Yes, of course, me and many women, most of the time by men who did not take us seriously. The wine sector was still dominated by 'bearded' men. Any woman oenologist, producer, commercial director or with other functions in this area has experienced situations of this type. However, this gave me more strength. The most important thing is to be persistent, to work well, and it is good to have gained experience to set people straight, when necessary.
Obviously, the world of wine and wine tourism has changed a lot today, and just as well, as it was about time. There are many women working in these sectors and doing excellent work. I value them very much, because I am sure that most of them have worked three times harder than any man in the same conditions to get where they are.
[/et_pb_text][/et_pb_column][/et_pb_row]
Rebecca and Lucy Willson, Co-General Managers Bremerton Wines, Langhorne Creek  – South Australia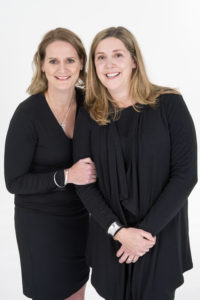 Bremerton Wines is in the safe hands of the Willson sisters, with Lucy and Rebecca sharing the role of co- General Manger. Lucy is the custode of the company brand and Winemaker Rebecca responsible for all things wine production.
The family business at Langhorne Creek has grown from a hobby to one of the best known brands in the region.
Lucy : When we were at school and living in Whyalla, in regional South Australia, moving to Langhorne Creek and being involved in the wine industry couldn't have been further from our minds. It all changed in the 90s. Bec and I returned from overseas, Dad put the idea of growing the business to us. We agreed it was a great opportunity so we did it – and here we are today!
Rebecca : We both have a real understanding of each other's areas and we share ideas. We are very lucky as dad was in a family business before and told us in clear terms the benefits and pitfalls. Our success is due to our openness with each other and our passion for what we do.
We have a great capacity to respond to what Mother Nature sends our way. The drought was a reminder of the fragile nature of vineyards and the importance of sustainable practices.
Lucy : The most important thing with marketing is you have to be genuine. For me it is not hard to market our brand. We stick to our guns and concentrate on what we know we do well. We are firm believers in not chasing trends.
Rebecca : My smartest decision was to study oenology as a mature-aged student. I was already making wine but this gave me the additional science-based knowledge to remain confident in my more artistic winemaking decisions!
Lucy : One thing I've learned is don't expect anything to be handed to you – work hard and you will enjoy the rewards a whole lot more.
Both : Our best advice to women is you really choose how much 'being a woman' will affect your career/life. The only real challenge it has thrown to us has been the ability to be the mothers we want to be and run a business we want to run. It's a juggling act. You know what they say about it taking a village to raise a child. Well, that's our philosophy within our extended family here at the winery.
Quote : "The tagline for Bremerton is 'It's our Life!' – and it is."
Voices from Mendoza

GRACIELA RETA – Senior Winemaker with proven International Business Development
Making wines is my way of life.
At the beginning, we only did wine analysis but I had the possibility of making wines from the beginning participating with men as equals.  Every harvest is a rebirth.
SANDRA NEME – Wine export manager
"To be part of this industry since I was a very little kid was one of the biggest challenges of my life. My greatest pride was to experience the development of this industry and of our beautiful province. To see and live the world's industry growth and world recognition of our country's products through such a noble and pleasant beverage are treasures I'm proud of as a wine woman."
CRISTINA PANDOLFI – Wine Consultant and International Wine Jury
While I have been and continue to be closely linked to the wine industry, I have always been in support activities and acted as technical controller of exports and regulatory aspects.
I have been part of bilateral and multilateral negotiations, where international agreements were discussed. Our mission was to reach agreements that favored our industry in general and created more beneficial conditions for exporting wine products. I did this as technical support for our Ministry of Foreign Relations and Ministry of Agriculture and also as International Wine Jury and as a Wine Consultant.
EUGENIA BAIGORRIA – Winemaker of 'Mi Terruño' Winery
'Today, while I was driving from one vineyard to the other, I thought about what would be  the role as a woman in the wine industry….
Driving, enjoying the harvest and this period full of adrenaline, where everything change in a minute …
Personally, I live this in a super natural way. I don't feel that I have to think about my gender, since it's a passion and I enjoy doing what I like. For me, the most important point is courage and professionalism that I like to put on every decision I make. That attitude, maybe it's what makes the difference not the gender"
ADRIANA MARTÍNEZ – WINEMAKER AND OWNER OF MYTHOS WINES. FOUNDER OF AMUVA (Association of Women of Wine of Argentina). Representative of Sylvain Famille Groupe in Argentina.
"For me, to work in the wine industry in one of the Great Capitals of the World as Mendoza, it has always been a privilege that entails great responsibility and commitment.
Privilege: because Mendoza is the perfect combination of high mountains, luminosity and semi-desert climate that result in high quality grapes and a great life quality for the inhabitants of Mendoza.
Responsibility: because it involves overcoming adversities of all kinds, without negotiating consistency in wine quality.
Commitment: because my work requires a constant renewal and updating of knowledge that keeps me vital and able to face new challenges.
Being a wine woman has allowed me to develop a range of skills and expand my vision of a globally recognized and permanently growing activity such as winemaking."
"Female Wine – The First Generation" in Rheinhessen – Germany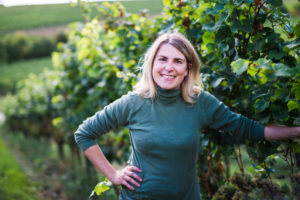 Rheinhessen wine is known for its quality, and the region's vintners for progress and innovation. Many of the region's vintners within the vicinity of the wine capital of Mainz are female: these successful vintners have developed convincing ways to produce wine.
How female vintners think has been captured in the film "Female Wine – The First Generation" ("Weinweiblich – die erste Generation"). In the movie, Eva Vollmer from Mainz and a number of other female vintners work together with Steve Pigott to create a new Riesling 2018. The film (2020) not only demonstrates the beauty of wine itself, but also the extraordinary approach and innovative design pursued by these vineyards, by means of which the female vintners manage to introduce a new wine era. Not only should wine taste great, but the enjoyment of wine should be a holistic experience for all of the senses.
The vintner Dr. Eva Vollmer is very much committed to creating something new. Here, the enjoyment of wine is promoted as an active experience, for which she has won the Best of Wine Tourism Award in 2017 (Innovative wine tourism experiences). Be it yoga with wine, wine tastings in the dark, wine picnics or winegrowing itself – Eva Vollmer is very much focused on new movements and her fresh approach helps to break through traditional ways of thinking. Actual project is a network for sustainable winegrowing, winemaking and marketing for all sorts of biodynamic products of the region. As Eva says:  "Sustainability is not only a seal, it ´s a promise to nature. Visiting her vineyard promises to be a true adventure.